Do's and Don'ts for JEE Advanced 2018
JEE Advanced 2018 is just a few days away! With so much effort and time spent to turn the IIT dream into reality, the day of JEE Advanced is one which is very much looked forward by engineering aspirants. Most of you have been burning the midnight oil trying to give your best efforts so that you emerge out in flying colours. At present, however, the stakes are too high and mistakes cannot be afforded as you write JEE Advanced - one of the toughest engineering entrance exams at the undergraduate level. It is a competition everyone has been preparing for to give their best shot. It is important that you should be equipped with a strategy for the exam that includes a knowhow of Dos and Don'ts during JEE Advanced 2018. We at Careers360 have compiled a list of Dos and Don'ts for JEE advanced 2018 that should not just help you know all rules and guidelines but also help you execute a good exam plan.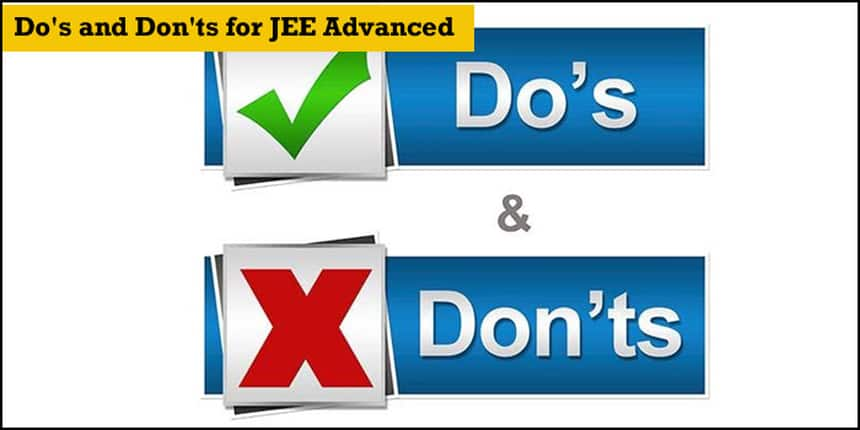 JEE Advanced 2018, will be conducted by IIT Kanpur on May 20, 2018. For the first time, JEE Advanced will be conducted in online mode i.e., it will be a Computer Based Test. The exam has two papers and candidates will have to appear for both. The two papers will be held on the same day in two shifts – one for each paper.
JEE Advanced Exam Day Schedule
| | | |
| --- | --- | --- |
| S.No | Papers | Time |
| 1. | Paper 1 | 9: 00 PM - 12: 00 PM |
| 2. | Paper 2 | 2: 00 PM- 5:00 PM |
List of items prohibited in the JEE Advanced exam hall
DO's before the JEE Advanced 2018 exam
Know your JEE Advanced Exam Centre- Visit your designated exam centre for JEE Advanced a day or two in advance so you know its exact location. It will allow you to have an idea of the time it takes to reach the centre from your home as well as the time when you should start on the exam day.
Exam Day Check List- Make a checklist and use it to assemble your exam day kit. Ensure you carry your JEE Advanced Admit card 2018 and original Photo ID on the day of the exam. Keep this ready a day before the exam so that you don't forget anything.
Report well on time at the exam centre- Reach the test centre of JEE Advanced 2018 by 7:30 a.m. Latecomers will not be allowed to write the exam and you don't want that to happen.
What are you allowed to carry to the exam hall? The admit card and photo identity proof (Aadhaar Card, PAN Card, School/College ID, Driving License, Voter ID and Passport) will be allowed inside the examination hall
What are you allowed to wear to the exam? Wear open footwear like sandals or slippers to the examination hall. Wear half sleeved clothes
Keep your finger clean – Since your fingerprints will be taken before the exam to be matched during admissions, make sure they are clean, non-greasy or sticky.
DON'TS before JEE Advanced 2018 exam
Do not impersonate – Impersonation will result in immediate disqualification so avoid it.
Don't carry the following items- Know what items will get you disqualified and leave them at home.
| | | | |
| --- | --- | --- | --- |
| Electronic and other gadgets | Stationery Items | Jewellery and clothing | Sundry stuff |
| Mobile phone | Log books | Pendants | Wallets |
| iPads | Abacus | Bracelets | Pouches |
| Smart Phone | Slide rule | Rings | Handbag |
| Digital watches | Written or blank white paper/ piece of paper | Earrings | Googles |
| Tabs | Geometry or pencil box | No high heels or shoes | Big buttons on clothes |
| Calculators | Any type of study material | Charms | Long sleeved clothes |
| Blue tooth devices | - | Veil | Henna on hands |
| Microphones | - | Nose Ring | - |
| Health band | - | Hair Pin | - |
| -Electronic Pen | - | Hair Band | - |
| - | - | Brooch | - |
| - | - | Chain/Necklace | - |
Don't wear- Clothes with big buttons, full-sleeved clothes, shoes or high heels.
Dos and Don'ts during JEE Advanced 2018 exam
Do's for JEE Advanced 2018
Do arrive at the examination centre by 7:30 a.m 

Do keep your admit card on your desk

Do listen to the instructions given in the examination hall carefully

Do check for your name, photograph and JEE Advanced 2018 roll number in front of the computer system assigned to you. 

Do read the instructions given in the computer system carefully

Do read all the questions carefully

Do all of your rough work in the provided scribble pad.

Do remain in the examination hall during both the papers

Do sign the attendance sheet at the correct place

Do clear your doubts if any

Do cooperate with the authorities, while they frisk you before you enter the examination hall

Do remember to collect your JEE Advanced admit card once the exam is over.
Don'ts during JEE Advanced 2018 exam
Don't rush through the guidelines that are given in the allotted computer

Do not indulge in any unfair practice in the exam hall

Do not misbehave with the invigilator at any point of time

Do not hurry while answering the questions

Do not disturb other candidates

Don't answer in a hurry. On the other hand, don't waste time also

Don't spare more than the required amount of time on an answer.

Don't answer questions simply as you could lose marks if you answer negatively marked questions.

Do not take the scribble pad with you. It has to be submitted to the invigilator after the examination ends.
What happens at the JEE Advanced Centre?
You will be frisked and your admit card along with photo ID will be checked.

After you get into the exam hall, your fingerprints will be recorded for admission purposes.

It is imperative that you be alert and ensure every formality is completed.
Note-If the invigilators have any doubt about your identity then you may not be allowed to write the exam. Since this is completely at the discretion of the authorities concerned, they may provisionally allow you to write the exam on completion of certain formalities.
Questions related to JEE Advanced
Showing 13149 out of 13150 Questions