Explore these options before making a decision after JEE Main
Explore these options before making a decision for JEE Main - The Joint Entrance Examination (JEE) Main is an engineering entrance exam conducted by NTA for admissions into top engineering institutes like NITs, IIITs, GFTIs, etc. Because of being a national level entrance examination, the competition is high and many students fail to achieve what they aimed for with the JEE Main exam at the beginning. As per statistics, many JEE Main aspirants drop a year in order to appear for the next session not checking upon the other options available. For such students who did not get the suitable result may note that this is not the end but beginning of a race and there are plenty of options available after JEE Main. The article below contains what lies next and thus, students may explore these options before making a decision after JEE Main.
Latest: JEE Main 2021 Application form to be released soon. Check JEE Main 2021 exam date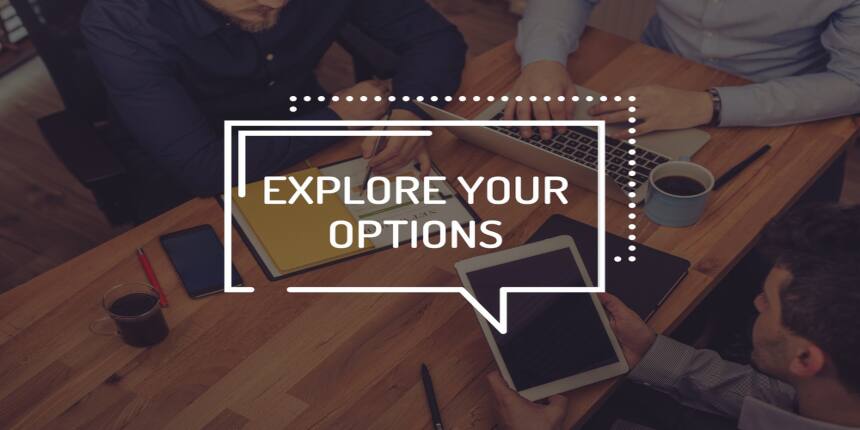 Expert Advice
Before taking any decision after JEE Main in terms of admission, candidates should calm their mind and think of who can help them out of the dilemma. They should think about the teachers, friends, seniors, etc. who have ever discussed with them about JEE Main and may suggest them on deciding what should be done after JEE Main. Expert advice will help students explore more options that they might have not thought of or would have taken lightly. It is not at all suggested to blindly follow what these experts say, but students should at least discuss because it will open up their brain on the plenty of options available after JEE Main.
Drop a Year
However it is not always advisable, but those students who are stubborn enough to compromise and think that they have that much patience and plan to work harder in the coming session, they can drop a year. But, it should be kept in mind that what they studied in this session will be the same as what they will have to study in the year that follows, because the JEE Main syllabus will not change. Repeating what has been studied several times attracts boredom and thus, students at such times need to find ways on how they can make this time more recoverable. It is not at all to pull down the spirits but one academic year does matter. That is why even experts suggest not to waste a year but pursue some other course while side by preparing for the entrance exam so that even if the next year they do not succeed, at least the year is saved and by then, understanding of more options can be understood.
Other Entrance Exams
JEE Main is the national level entrance exam conducted by National Testing Agency for engineering courses, that is why lakhs of students appear for this exam due to which, the level of competition is very high. But students willing to pursue engineering should not be limited to JEE Main but should also apply for other entrance examinations which can help them land at renowned engineering institutes. So that even if they do not perform in the entrance as expected, they should not be at complete loss with no other option. The variety of entrance examinations that can be tried are:
-->
Institutes Accepting Low JEE Main Scores
If you wished to grab the top participating institutes of JEE Main but could not make it to the desired ones, there will be no harm in checking out the ones that offer comparatively lower cutoff marks. This is because sometimes the name and fame is high but at the end, the institute offers the same courses as others. So if a student makes sure to work harder in an institute with a lower rank, it will not at all affect his or her future. Hence, students are always suggested to save an academic year and pursue what is there in hand rather than aiming towards the uncertain times when they don't even know what kind of situation may happen and if they will actually be able to get what they could not in the present session.
Private Institutes
If a student has a target to get into one of the government institutes for pursuing engineering through JEE Main, but could not make it due to low JEE Main score, he/ she can go for admissions into private institutes offering engineering. There are many private institutes that offer engineering courses directly on merit basis or through a separate entrance test which is comparatively easier than JEE Main. These days, the private institutes are more serious with conducting regular classes, imparting practical knowledge, etc. So, there would not be much harm if a student starts off engineering studies through a private institute.
Other Courses
Not all but there are always some students who keep a backup plan on what all options they should keep open to be pursued after completing their schooling. Some of them also take additional subjects like Biology at the 10+2 level. Thus, for those thinking about the options available before making a decision after JEE Main may know that this is the right time to pull up those other options that they had in mind. The plan B may include pursuing bachelor of science if interested in the particular specializations, for those interested in computers may start with computer applications. There are many such courses that can be pursued and have a great demand as well. Even if the student thinks of changing the stream completely and has interest in humanities but is afraid of the society, it should be noted that the society never shows up to question when you do well in any respective field. So, as long as a person ends up being self satisfied and does his or her best in that field, best results are a must to come.
Questions related to JEE Main
Showing 112397 out of 112398 Questions