JEE Main 2017 Topper Interview - Vasu Jain (AIR - 2) - "Quality-focused Preparation is Hallmark of My Success"
Delhi boy Vasu Jain clinched the much coveted second position in the recently declared JEE Main 2017 results. But Vasu isn't done yet and is busy with his preparations for JEE Advanced, which has his maximim attention at the moment. We caught up with the busy boy and managed to steal a few moments from his busy calendar and got a few quick answers from him. After the results were announced, he found himself splashed all across the internet and TV and became a hero for many, but it appears stardom sits lightly on the shoulders of this young achiever. He was measured in his reponse and came across as very determined. Vasu also has a very unique philosophy towards how one should prepare for JEE Main or for that matter any exam: follow what works best for you and not what others tell you to follow. This simple motto has helped Vasu immensely in life.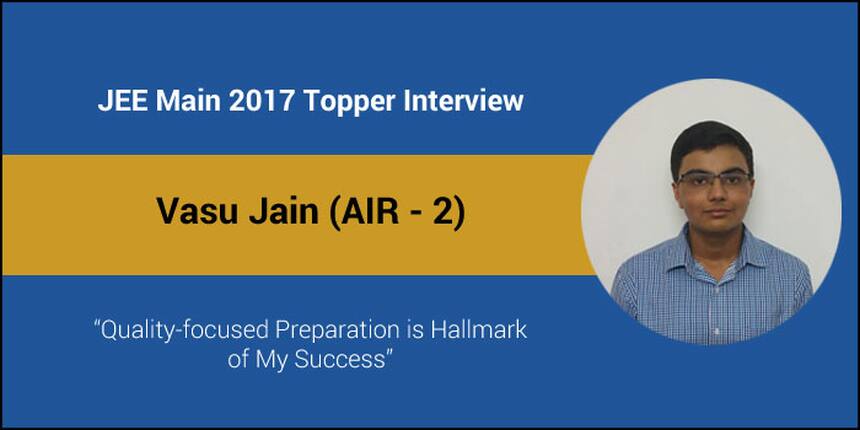 Readers can find out what else this achiever believes and how did he prepare for JEE Main 2017 in the interview below!
Careers360 congratulates Vasu and other qualified candidates of JEE Main. You can also Know about JEE Main toppers 2017 here!.
Watch video interview of JEE Main 2017 Topper (Vasu Jain)
JEE Main 2017 Toppers Interview Questionnaire:
Careers360: Congratulations on your outstanding performance in JEE Main 2017! What was your reaction upon knowing your rank?
Vasu: Thank you so much. I really felt a sense of satisfaction and celebrated this achievement with my family members.
Careers360: Tell us something about yourself. Which board have you studied under? Which school have you studied in?
Vasu: I studied at Modern School, Barakhamba Road, which is affiliated to CBSE.
Careers360: What is your score in JEE Main 2017? What is your all India rank and category rank?
Vasu:I scored 350 marks out of 360 in JEE Main 2017 and came second in the All India Rankings (AIRs). I belong to General Category.
-->
Careers360: Why do you want to study engineering? When did you decided to study engineering? Which branch would you be interested in? Any reason?
Vasu: At this point, I am not looking too far ahead and am just focusing on scoring well in JEE Advanced.
Careers360: When did you start your JEE Main preparation? Tell us something about your preparation strategy and daily routine for JEE Main?
Vasu: I joined Vidyamandir Classes when I was in the 9th standard; however, it wasn't until I was in the 11th standadard that I became serious about the exam. The faculty members of Vidyamandir Classes had a big role in motivating me.
Careers360: Was there a difference in the preparation strategy in the last months of JEE Main considering that the board exams also are during this period? How did you manage preparation for both?
Vasu: I honestly don't want that people take my technique as some sort of modus operandi, because I personally believe everyone has to find out what works best for them and not blindly follow any notions.
Careers360: Did you take coaching for JEE Main and if yes from where? What are the benefits of coaching according to you?
Vasu: Yes, I joined Vidyamandir Classes for a 4-year program starting from class 9th onwards.
Careers360: Mock tests and sample papers – how extensively did you practise with the help of these? Do you think practising from the previous years' papers help and how?
Vasu: Taking mock tests actually helps in enhancing one's ability to perform well. We used to get regular test series from Vidyamandir Classes.
Careers360: Are there any special books that you feel have helped with your JEE Main preparation? Are the school text books adequate for preparing for JEE Main and Class XII?
Vasu: I followed books recommended by my school. Other than that the only books and modules I followed were those provided by Vidyamandir Classes.
Careers360: Did you face any problem during the JEE Main examination?  Which subject was the easiest and which was the toughest in JEE Main? What do you think is a tough thing to manage during the JEE Main exam?
Vasu: I found Mathematics to be the easiest, which probably had to do with the fact that it is also my favourite subject. Also, I am of the view that if one studies hard and is focused, one can easily tackle even difficult looking topics easily.
Careers360: What do you think are the key factors behind your stupendous success in JEE Main?
Vasu: I think the credit for my success goes to my focusing on quality rather than on quantity.
Careers360: How did you de-stress yourself during the preparation? What are your hobbies? How often could you pursue them?
Vasu: My mantra to de-stress is to read books.
Careers360: Who is your ideal or biggest inspiration in life and why?
Vasu: The biggest inspirations in life have been my parents.
Careers360: You know you are an inspiration to thousands of students across the country. Do you have any message for future aspirants on tackling the JEE Main exam?
Vasu: I have never studied for long hours, but personally believed in limited and focused preparation instead of a broad based and extensive coursework.
Stay tuned to engineering.careers360.com for more news and updates on JEE Main Topper 2017.
Also Read:
JEE Main 2017 Topper Interview- Deepank Agrawal (AIR 15)
JEE Main 2017 Topper Interview – Raval Vedant Sanjay (AIR 4)
Questions related to JEE Main
Showing 112259 out of 112260 Questions