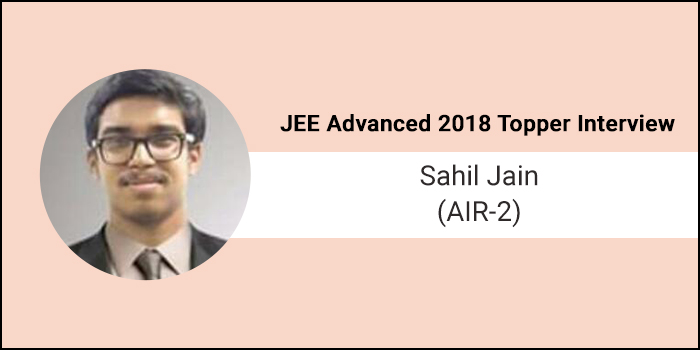 June 10 was the day Sahil Jain was looking forward to since the past month. Having appeared for JEE Advanced 2018 where he was expecting to be one of the top ten rankers, the Delhi zone topper bagged an All India rank of 2 in the exam. Sahil whose favourite subjects are Physics and Mathematics wishes to pursue Computer science at IIT Bombay. He credits his parents with his success and feels that his daily routine of yoga and meditation did help him keep calm and steady during the two years of preparation for JEE Advanced. In an candid interview with Careers360, JEE Advanced 2018 Topper Sahil Jain talks about how he forged ahead with his preparation, glitches and problems faced in the exam, books that he feels are a must to read as well as tips for future aspirants. Read JEE Advanced 2018 Topper Interview Sahil Jain (AIR-2) below.
B.Tech Admissions Open 2019
Manipal Institute of Technology
JEE Advanced Sample Paper
Download Free Sample Paper for JEE Advanced
Download Now
Careers360: Congratulations for your outstanding performance in JEE Advanced2018! What was your reaction upon knowing your rank?
Sahil Jain: I was very excited when I got to know my rank in JEE Advanced 2018. I was expecting a rank within the top ten, but getting a second rank is like a dream come true.
Careers360:  Tell us something about yourself. Which board have you studied under? Which school have you studied in?
Sahil Jain:  I am the only child of my parents. My father is a lecturer in Physics and my mother is a homemaker. I studied in Kota's SR Public Senior Secondary school and it is affiliated to the CBSE board.
Careers360: What is your score in JEE Advanced2018? What is your all India rank and category rank?
Sahil Jain:  In JEE Advanced 2018, I have scored, 326/ 360.  My All India and Category rank is AIR 2.  I am also the Delhi Zone Topper.
Careers360: Why do you want to study engineering? When did you decide to study engineering? Which branch would you be interested in?Any reason?
Sahil Jain:  I had always been interested in Maths and Physics. I had made up my mind to pursue Computer Science from IIT Bombay when I was in Class 9th.  My mother wanted me to become a doctor. However, I always wanted to study computer science from IIT Bombay.
Careers360: JEE Advanced went online this year. What is your opinion about it? Did it change your preparation strategy for the exam?
Sahil Jain: Personally I am in favour of the computer based. One of the advantages of computer based test is that one can change their answer which was not the case in offline mode.
Careers360: When did you start your JEE Advanced preparation? Tell us something about your preparation strategy and daily routine for JEE Advanced?
Sahil Jain: I started preparation for JEE Advanced  in 2016 when I was in class XI. I joined the two years JEE programme of Vibrant Academy. As far as my daily routine is concerned, I do yoga and meditation. Every day, I would study for six to seven hours while during vacations, I would study for eight to ten hours.
Careers360: How was the preparation for JEE Advanced different from JEE Main?
Sahil Jain: When I was preparing for JEE Main 2018, the focus was on speed and accuracy while for JEE Advanced it required in-depth study. There are a few topics in JEE Advanced which are not part of JEE Main syllabus. 
Careers360: Since there was just a month after the JEE Main, elaborate on your preparation strategy?
Sahil Jain: I had joined Vibrant Academy's Intensive Revision Programme for JEE Advanced. In the last month, I solved a lot of questions as well as revised from my notes.  I also used to also study from the NCERT books.
Careers360: Did you take coaching for JEE and if yes from where? What are the benefits of coaching according to you?'
Sahil Jain: I took coaching from Vibrant Academy and was part of their classroom programme. One of the biggest advantages of coaching is that it prepares you for competitive exams. While in school, the exams are mostly subjective, at the coaching we are taught the strategy that needs to be adopted while preparing for JEE Main and JEE Advanced.   
Careers360:  Mock tests and sample papers – how extensively did you practise with the help of these? Do you think practicing from the previous year papers help and how?
Sahil Jain: In the initial stages, two to three mock tests were conducted on a regular basis. During the Intensive Research Programme, a JEE Advanced mock test was conducted daily. I feel that mock tests help us assess our knowledge and ability to understand the subject. It is important that candidates practice the JEE Advanced question papers of the previous years in a time bound manner. It also helps in gauging the difficulty level of the question papers.
Careers360: Are there any special books that you feel have helped with your JEE Advanced preparation?
Sahil Jain: Some of the important books which the candidates can consult during their course of preparation are given below:
List of Books for JEE Advanced 2018
| | | |
| --- | --- | --- |
| S.No | Name of the book/ Subject | Author |
| 1. | Physics | IV Irodov |
| 2 | Physics | SS Krotov |
| 3. | University Physics | Directors of Vibrant Aacdemy |
| 4. | Maths – Algebra | Hall and Knight |
| 5. | Maths- Calculus | G N Berman |
| 6. | Maths- Coordinate geometry | S L Loney |
| 7. | Maths- Trignometry | Directors opf Vibrant Academy |
| 8. | Chemistry | Coaching study material |
Careers360: Did you face any problem during the JEE Advanced examination?  Which subject was the easiest and which was the toughest in JEE Advanced? What do you think is a tough thing to manage during the JEE Advanced exam?
Sahil Jain: I faced a lot of technical problems in both the JEE Advanced 2018 papers. The system was so bad that if my leg even touched the CPU, it used to shut down. The monitor was problematic and it used to get switched off. My system was changed four times and I was not given any extra time as compensation.
The authorities should first inspect the centre where it would be conducted to ensure that all the facilities are upto mark. One of the biggest merits of computer based test is that one has the option to change the answer as compared to the offline exam..
The toughest thing during the JEE Advanced exam was to manage the time and anxiety.  As for subject analysis, Chemistry was tough but Physics was easy as compared to the past years.
Careers360: What is the main difference between both the two papers in JEE Advanced?
Sahil Jain: I did not find much difference in both the papers of JEE Advanced in terms of the difficulty levels. The only challenge was the interval that we got between the two papers. Since we had to be seated pretty early for the next round, the time was barely enough.  
Careers360: Did you face any technical glitches during the exam? What is your opinion on the way the exam was conducted?
Sahil Jain: There is a need to improve the facilities provided.  I did face a lot of problems with my system and the people out there did not how to address it. There was no drinking water also.
Careers360: What do you think are the key factors behind your stupendous success in JEE Advanced?
Sahil Jain: I think regular hard work, keeping away from social media and smart phone helped me to focus on my goal and achieve it.
Careers360: How did you de-stress yourself during the preparation? What are your hobbies? How often could you pursue them?
Sahil Jain: My parents are my biggest support system. I would talk to them to feel very relaxed.  I enjoy reading books and listening to music. These activities helped me relieve the pressure.
Careers360: Who is your ideal or biggest inspiration in life and why?
Sahil Jain: My biggest inspiration is my mother who is also my mentor. She used to help, guide, and support me in whatever I did. She showed me the right path.  
Careers360: You know you and are an inspiration to thousands of students across the country. Do you have any message for future aspirants on tackling the JEE Advanced exam?
Sahil Jain:  To all the future aspirants I would like to say only one thing and that is to study and work hard. Do not get demotivated by failure; instead make your failure your strength.