JEE Advanced 2018 Topper Interview - Pranav Goyal (AIR-1) "Focus, Be Calm –Success is yours"
June 10 was not just another day in the life of Pranav Goyal. IIT Kanpur released the JEE Advanced 2018 result on this day at 10 am but the wait was agonizing for this Panchkula boy as he was expecting his good performance to pay off well. The results brought in such a high measure of happiness considering that he had topped the JEE Advanced 2018 exam with an AIR of 1. Pranav who had secured AIR 4 in JEE Main 2018 talks to Careers360 about his success run reiterating that he couldn't have performed that well without the tremendous support of his parents and teachers. Not only that, his strategy to tweak his preparation for JEE Advanced has paid off hugely. Some factors that he attributes his success to are the zeal to focus on one's goal, right approach and dedication throughout the preparation. Read on JEE Advanced 2018 Topper Interview -Pranav Goyal to know his preparation strategies, books that he referred, and more.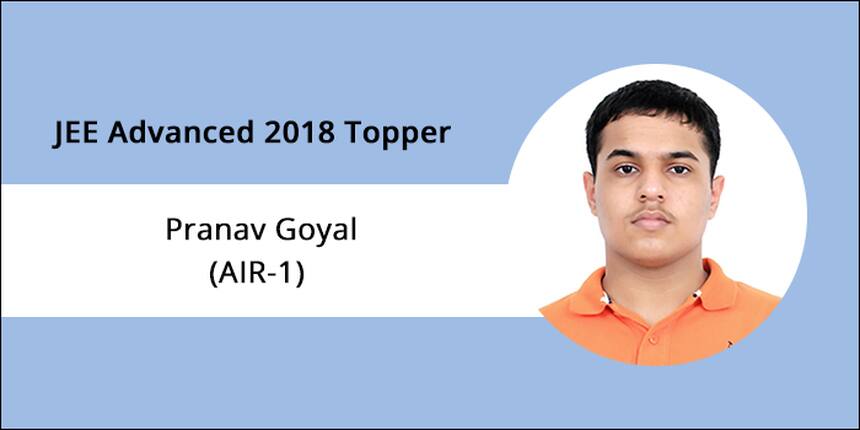 Careers360: Congratulations for your outstanding performance in JEE Advanced 2018! What was your reaction upon knowing your rank?
Pranav Goyal: I was extremely happy when I came to know about my rank. It was unbelievable and I felt as if I have achieved my aim.
Careers360: Tell us something about yourself. Which board have you studied under? Which school have you studied in?
Pranav Goyal: I am from CBSE board and I studied at Bhavan Vidyalaya Panchkula.
Careers360: What is your score in JEE Advanced 2018? What is your all India rank and category rank?
Pranav Goyal: My score in JEE Advanced 2018 is 337. I have got AIR 1. 
Careers360: Why do you want to study engineering? When did you decided to study engineering? Which branch would you be interested in? Any reason?
Pranav Goyal: I was always interested in pursuing engineering due to my interest in Physics and Mathematics. I had made up my mind in class 9th itself that I would pursue engineering. I would like to take up Computer Science (CS) in IIT because of my interest in programming.
Careers360: JEE Advanced went online this year. What is your opinion about it? Did it change your preparation strategy for the exam?
Pranav Goyal: I believe that there are both advantages and disadvantages of having the entrance exam in online mode. For example, IIT Kanpur ensured that the exam was conducted in an efficient manner. On the contrary, JEE Advanced exam questions require a lot of calculation and that can be done better in offline mode. Having JEE Advanced 2018 in online mode did not affect my preparation strategy. However, I did take up several JEE Advanced mock tests in online mode to be better prepared.
Careers360: When did you start your JEE Advanced preparation? Tell us something about your preparation strategy and daily routine for JEE Advanced?
Pranav Goyal: I started preparing for JEE when I was in Class XI. Before that I used to just focus on the National Talent Search Exam. I adopted an extremely simple preparation strategy wherein initially I focussed on understanding the concepts. As for memorizing formulae and such, I kept for the end. My main focus was on Chemistry.
I used to generally start studying from 9:00 a.m in the morning. In between, I would take short breaks and I followed this routine till 10:00 p.m. After that I would watch television just to relax. Overall, I used to study nine hours a day.
Careers360: How was the preparation for JEE Advanced different from JEE Main?
Pranav Goyal: In JEE Advanced, I focussed more on conceptual understanding rather than memorizing which works more for JEE Main. I also skipped some topics in JEE Advanced 2018 that were not included in JEE Advanced 2018 syllabus.
Careers360: Since there was just a month after the JEE Main, elaborate on your preparation strategy?
Pranav Goyal: I adopted a different preparation strategy once JEE Main 2018 was completed. I increased my study hours and I preferred to time the tests so that I could increase my speed. I simply focussed on JEE Advanced syllabus and did not try to go in for too much of extra knowledge.
Careers360: Did you take coaching for JEE and if yes from where? What are the benefits of coaching according to you?'
Pranav Goyal: I took coaching from Sri Chaitanya Institute, Chandigarh. According to me, coaching is extremely essential for any JEE aspirant. The institute helps candidates to study from the right books and they also provide an appropriate atmosphere for preparation.
Our institute also focussed on recreation activities in addition to Test series, online tests as well as timing tests are extremely important. Such things can be provided only by coaching institutes. Apart from this, the support of the teachers, guidance and help will aid the students to accomplish their goal.
Careers360: Mock tests and sample papers – how extensively did you practise with the help of these? Do you think practising from the previous year papers help and how?
Pranav Goyal: During the last three weeks, I extensively took JEE Advanced mock tests and solved a lot of JEE Advanced 2018 sample papers. I gave all these in the form of timed tests. All the JEE aspirants must solve at least eight to nine years of previous years question papers. Solving the JEE Advanced question papers will give the students an idea about the difficulty levels of the entrance exam and it will also help the students to decide how much time they should allocate to each subject while writing the exam. Solving the past years JEE Advanced question papers will help the candidates to know the topics which they need to practise more and revise as well.
Careers360: Are there any special books that you feel have helped with your JEE Advanced preparation?
Pranav Goyal: Some of the important books from which I studied are:
| | | |
| --- | --- | --- |
| S.No | Name of the Book/ Subject | Author |
| 1. | Physics | H. C Verma |
| 2. | Chemistry and Physics Theory | Pradeep |
| 3. | Organic Chemistry | Solomon |
| 4. | Mathematics | S L Loney |
The books that are listed above are major reference books. Apart from the books, I thoroughly studied from the class notes which were given by my teachers at the coaching institute.
Careers360: Did you face any problem during the JEE Advanced examination? Which subject was the easiest and which was the toughest in JEE Advanced? What do you think is a tough thing to manage during the JEE Advanced exam?
Pranav Goyal: One of the problems that I faced during the JEE Advanced 2018 was the small screen of the computer as it did not allow me to view the entire question at one go.In JEE Advanced 2018, Physics was the easiest and Maths was the toughest. The toughest factors of JEE Advanced exam are time management and maintaining accuracy.
Careers360: What is the main difference between both the two papers in JEE Advanced?
Pranav Goyal: The primary difference is the fatigue levels of the student. By the time the first paper is over and the second starts, fatigue sets in on account of the pressure and expectations. The difficulty level of both the papers is almost the same.
Careers360: Did you face any technical glitches during the exam? What is your opinion on the way the exam was conducted?
Pranav Goyal: I was quite impressed with the efficiency with which the JEE Advanced 2018 was conducted. I have no complaints.
Careers360: What do you think are the key factors behind your stupendous success in JEE Advanced?
Pranav Goyal: I would attribute my success in JEE Advanced to my teachers who were just amazing. Apart from the right guidance, they motivated me and helped me a lot. My parents also played a vital role in my success as my mother used to sleep late and get up early to ensure that I could focus completely on my studies. I owe my success to her.
Careers360: How did you de-stress yourself during the preparation? What are your hobbies? How often could you pursue them?
Pranav Goyal: I used to de-stress myself by watching television and used to often check face book and watch you tube. I used to also play cricket with my batch mates as well as table tennis. I love reading mythological books. However, during the two years of my preparation, I could not pursue some of my hobbies.
Careers360: Who is your ideal or biggest inspiration in life and why?
Pranav Goyal: My biggest inspiration is Narayana Murthy, co-founder of Infosys. His intelligence and diligence inspired me. He was able to build such a super-giant company with sheer hard work. I also love the way he donates and gives back to society.
Careers360: You know you are an inspiration to thousands of students across the country. Do you have any message for future aspirants on tackling the JEE Advanced exam? 
Pranav Goyal: My mesage to the future aspirants is "if you focus well, your study hours will not matter. The quality of study matter more than quantity. Also remain calm and focussed. Your concepts should be strong. Do solve the previous year's question papers of JEE Advanced".
Questions related to JEE Advanced
Showing 13149 out of 13150 Questions