GATE 2021 Preparation Material
GATE 2021 Preparation Material - Candidates preparing for Graduate Aptitude Test of Engineering are always curious about finding preparation material for the GATE exam. There are different subjects for which the exam is conducted separately and finding relevant material proves to be a great task for students. Preparation is the most crucial phase for any exam and GATE preparation material is important because choosing the right sources helps to understand the concepts better and thus perform well in GATE. The top most and inevitable GATE exam preparation material contains the books to be referred, mock tests and previous year question papers as released by authorities. The right weapons surely assist in winning the battle. Thus, those who aspire to appear in the upcoming session of exam may check out the GATE 2021 preparation material as provided under providing vital information that shall help students score better in GATE.
Stay up-to date with GATE News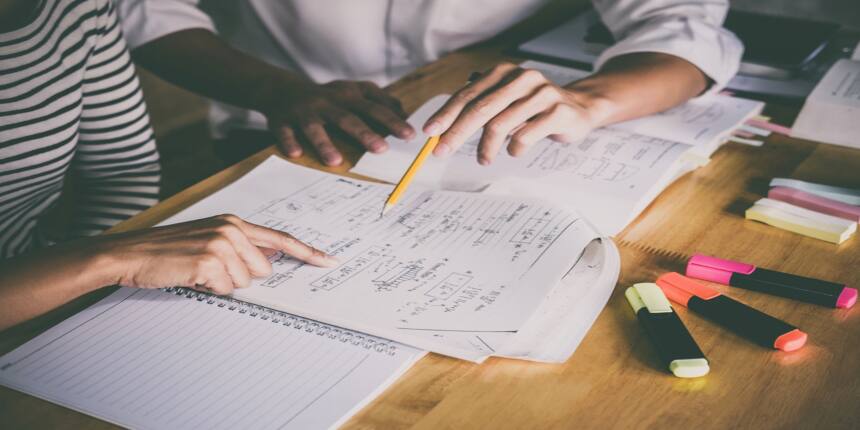 GATE Books
Those who are looking for GATE exam preparation material 2021 should first of all check out the best books for GATE preparation available. A book can be regarded as the best if it is easily understandable, with concepts explained concisely, containing accurate information in simplest language that the students read a page and the single reading clarifies all the concepts in their mind. Given below are some paper/subject-specific books for GATE preparation:
Subject

Topics

Author

Fluid Mechanics

R.K. Bansal

Open channel flow and engineering hydrology

K. Subramanya

Soil mechanics and foundation engineering

Gopal and Ranjan

Best Books for GATE Computer Science Engineering and Information Technology (CS)

Architecture

Hamacher

Operating System

Galvin

Algorithm

Cormen

Electrical Machines

Nagrath, Kothari

Power Electronics

PS Bimbhra

Mathematics

Erwin Kreyszig




Quantitative Aptitude

R.S. Agarwal

Micro Electronics circuit

Sedra & Smith




Theory of Machine

S.S.Ratan

Production Engineering

Swadesh Singh
Thus, students should be vigilant enough while choosing the preparation material for GATE examination while focussing upon what exact subject specialization they are going to appear for. And therefore go for the one that seems the most suitable one.
GATE Mock Tests
The Indian Institute of technology that conducts the GATE exam for a particular session releases the mock tests which prove to be unavoidable GATE preparation material for those who are going to appear in the session that follows. As the mock test papers reflect the exam to be conducted, these help candidates to become familiar with the GATE exam pattern as well as the prospective question paper. Just like the question paper, the mock tests are also conducted for a duration of 3 hours and shall consist of objective type of questions. In order to attempt the online GATE mock test papers, candidates will have to visit the official website of conducting IIT and click on the link to mock test paper to that particular subject which they wish to appear for in the GATE exam. They will be required to log in and thereby take up the mock test which will be the exact dummy of the exam to be conducted along with options to select or mark the answer along with the timer. It is considered the best GATE preparation material because candidates know the level of their preparation and also know how to deal with time management. Thus, it is always advisable to GATE aspirants to practice mock tests in order to ensure better preparation.
GATE Question Papers
After the GATE examination is held, the conducting authorities release the question paper along with the answer keys and candidate response sheets to be used by candidates for comparison. For the prospective candidates, these GATE question papers prove to be a footprint to be followed as it is another GATE exam preparation material. Usually, the trends and questions asked in a year are repeated or somewhat moulded in a similar way. This helps the aspirants who have practised previous years of GATE question papers to attempt the paper well and score better. Given below is the table containing links to GATE question papers of 2020 session for all the subjects.
GATE 2020 Question Papers
| | |
| --- | --- |
| GATE Subject | Question Paper Link |
| Aerospace Engineering (AE) | |
| Agricultural Engineering (AG) | |
| Architecture and Planning (AR) | |
| Biotechnology (BT) | |
| Biomedical Engineering (BM) | |
| Civil Engineering (CE) | |
| Chemical Engineering (CH) | |
| Computer Science and Information Technology (CS) | |
| Chemistry (CY) | |
| Electronics and Communication Engineering (EC) | |
| Electrical Engineering (EE) | |
| Ecology and Evolution (EY) | |
| Geology and Geophysics (GG) | |
| Instrumentation Engineering (IN) | |
| Mathematics (MA) | |
| Mechanical Engineering (ME) | |
| Mining Engineering (MN) | |
| Metallurgical Engineering (MT) | |
| Petroleum Engineering (PE) | |
| Physics (PH) | |
| Production and Industrial Engineering (PI) | |
| Statistics (ST) | |
| Textile Engineering and Fibre Science (TF) | |
| Engineering Sciences (XE-A, B, C, D, E, F, G, H) | |
| Life Sciences (XL-P, Q, R, S, T, U) | |
Questions related to GATE
Showing 15916 out of 15916 Questions