Best Books for GATE CSE 2022 - GATE CSE Preparation Strategy
Best Books for GATE CSE 2022 - Candidates preparing for GATE Computer Science Engineering paper should refer to the best GATE study material for CSE. How to get the best GATE computer science study material is the first thing that comes to mind of a person preparing for the GATE exam. Choosing the best GATE books for CSE is important because there is enough time till the GATE 2022 is conducted and it's the right time to strategize for the preparation and follow the same. As Computer Science is not that easy a subject and not only the students with the same but different backgrounds also pursue CSE. Hence, searching for the best books for GATE becomes tough. Hence, it becomes a basic tool to have the best preparation books for GATE CSE students. The article below provides the answer to 'what are the best books for GATE CSE' and the GATE exam pattern that students should be aware of before kick starting their GATE 2022 preparation.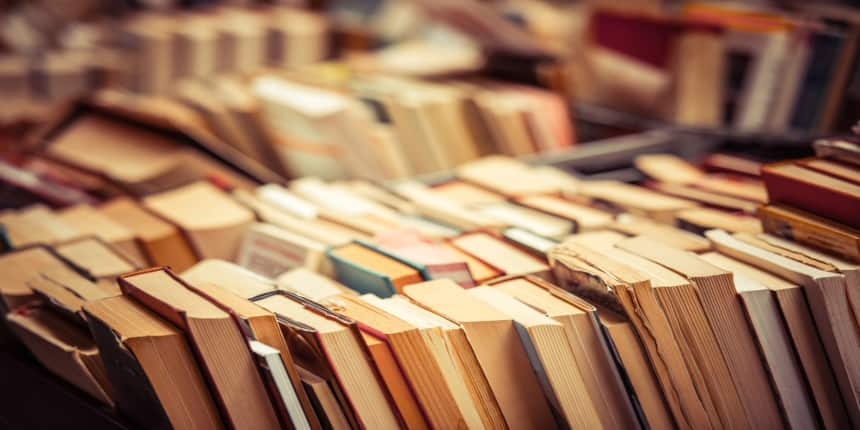 Best Books for GATE CSE 2022
There are many people including those of toppers who will bring in a list of best GATE 2022 Computer Science books. However, there are students who have a different question on what are the best books for GATE who want it all to be covered at one place as they have studied it all but need some revision material. Thus, for such students, given below are the few GATE CSE books 2022 that are totally relevant for the whole of GATE syllabus.
List of GATE CSE Books 2022
Digital Logic and Number representation by Morris Mano

Theory of Computer Science: Automata, Languages and Computation by Mishra K.L.P.

GATE Practice Sets by Pearson

Software Engineering: A Practitioner's Approach by Pressman
Best Books for GATE CSE 2022 - Topic Wise
For those students who think that they need some more focus for some of the specific topics/ subjects and need in depth knowledge. For such students, given below is the list of best books for GATE CSE along with the names of authors that deal with the specific topics, or say subjects of Computer Science.
Quick Links -
How to prepare for GATE 2022 without coaching?
GATE qualified? Multiple options for you!
GATE Books for CSE (Topic-wise)
Topic Covered

Name of the Book

Author

Algorithm

Introduction to Algorithms

Thomas H. Cormen

Theory of Computation

An Introduction to Formal Languages and Automata

Peter Linz

Computer Organization and Architecture

Computer Organization and Architecture

William Stallings

Operating System

Operating System Concepts

Galvin

Computer Networks

Computer Networks

Andrew S. Tanenbaum and David J. Wetherall

Networks by Fourozon

Fourozon

Database Management Systems

Database System Concepts

Henry Korth

Discrete Mathematics

Discrete Mathematics and its Applications

Kenneth H Rosen

Digital Logic and Number representation

Logic and Computer Design Fundamentals

Morris Mano
How to Study with the Best Books for GATE CSE?
Candidates who have found a bundle of preparation books for GATE CSE in order to study well but do not have an idea on where to start from should follow the pointers below:
First check out the syllabus and exam pattern of GATE

Now go through the old GATE question papers to know which topics have been asked repeatedly as per the previous trends

Now those topics that have been asked more should be started with while preparing with the best books for GATE CSE

While preparing for such topics, students are advised not to end up studying a handful of topics. To deal with this, they should make a time table to give portioned time.

Students are advised to analyze their knowledge with the help of question papers and GATE mock test while they prepare with the help of the best books for GATE CSE.
GATE Exam Pattern 2022
Candidates who are preparing to appear for the exam should be aware of the exam pattern of GATE 2022 in order to perform well. It shall allow them to know about the duration of the exam, total questions asked and the marks held by them, types of questions, etc. Thus, refer to the table below containing the GATE exam pattern and understand the strategy:
Must Read -
What are the best GATE Practice Tests?
GATE 2022 Exam Pattern
Particulars

Details

Duration of Exam

3 hours

Total Number of Questions

65 Questions

Total Marks

100

Type of Questions

Multiple Choice Questions (MCQs)

Numerical Answer Type (NAT) Questions

General Aptitude Section

General Aptitude (GA) section consisting of 10 questions (5 questions carry 1 mark and the rest 5 will carry 2 marks each. Total marks - 15).

Marking Scheme

MCQs - 1 mark for each correct answer; 1/3 mark deducted for every wrong answer.

MCQs - 2 marks for each correct answer; 2/3 mark will be deducted for every incorrect response.

There is no negative marking for Numerical Answer Type (NAT) questions
Other Relevant Links
Questions related to GATE
Showing 15674 out of 15674 Questions