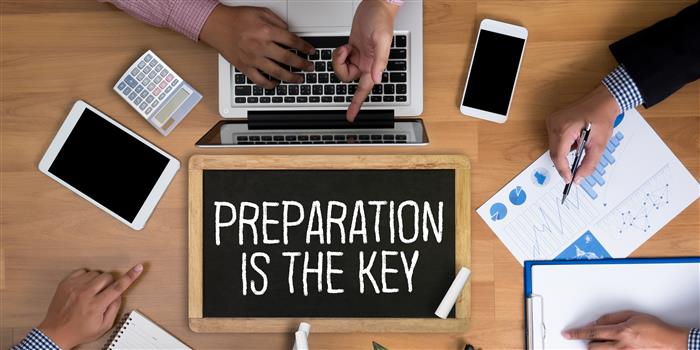 How to Prepare for GATE 2019? - A big question that crops up in the mind of all GATE aspirants is how to prepare for GATE 2019? Well, each one has his or her own idea about it. While some think of rigid timetables and intense learning, others offer advice from their own GATE experiences. However, all the advice is to no avail if the determination, dedication and the will to succeed doesn't come from within you. GATE 2019 was held by IIT Madras on February 2, 3, 9 & 10 for 24 papers - including the newly announced paper "Statistics (ST)". The application process for GATE 2019 is now over. How to prepare for GATE 2019? The fact is that GATE 2019 syllabus encompasses the syllabus of the undergraduate courses and as you know, it is vast. Therefore to crack GATE 2019, you need to be well prepared on all fronts. This will require a plan that incorporates all aspects of GATE while chalking out a preparation strategy to crack the exam.
Careers360 presents a simple and doable preparation plan compiled from the guidelines given by various experts, toppers tips that will ensure success in the exam. GATE is the not just entrance test for M.Tech admissions but also is one route to PSU recruitment making it the reason for the huge competition seen in GATE in recent years. With so much at stake, only the well-prepared candidates will make it past the qualifying stage. Take a look below on the simple but detailed steps on how to prepare for GATE 2019.
Latest: GATE 2019 concluded for all subjects, Check GATE 2019 Analysis and GATE 2019 Answer Key
Latest: To check college and subject-wise cutoff for top colleges- Here
How to Prepare for GATE 2019 
Tip 1: "Begin the preparation"
Take the first step by understanding what you are up against, the information you need before you plan and then begin the actual preparation. The first thing to do before you start is to know the GATE 2019 eligibility. Check if you fulfil it and can appear for the exam.
GATE College Predictor with PSU Chances
Know your 2019 admission chances in Colleges/PSUs with this Score
Use Now
"One important key to success is self-confidence. An important key to self-confidence is preparation." - Arthur Ashe
While having a dream is a great way to start, it is more important to actually begin to walk on the path towards achieving it. Every success story has a dedicated plan and strategy that has contributed to its success. What you become tomorrow largely depends upon how you start today. Consider every day to be a new one but ensure that no day is wasted either.
Tip 2: Know your GATE 2019 Syllabus, Exam Pattern thoroughly
"Life is like a game of chess. To win you have to make a move. Knowing which move to make comes with IN-SIGHT and knowledge, and by learning the lessons that are accumulated along the way" - Allan Rufus
 Know your GATE Syllabus 2019: IIT Madras has released the syllabus for GATE 2019. Candidates can refer to the syllabus of their GATE paper as prescribed to know the topics they have to prepare on. The GATE 2019 syllabus is detailed topic wise for each of the 24 papers and this makes it easier for candidates to segregate the topics into easy, difficult.
 Know your GATE 2019 Exam Pattern: An understanding of the exam pattern of GATE will go a long way to aid your preparation. Since a total of 65 questions will be asked for 100 marks with a mix of 1 and 2 marks questions in the form of MCQs and numerical questions, it is generally a mammoth task to complete the paper on time. Moreover, the compulsory sections for some papers differ in GATE. So it is ideal to take stock of what you are up against and then start your preparation. The exam pattern of GATE 2019 can be summarised as follows
 GATE has two types of questions –
Multiple Choice questions (MCQs): These questions have options and candidates must choose carefully as there is negative marking for these questions

Numerical Answer Type (NAT) questions: These questions have to be calculated and carry no negative marking.
Check out the GATE Sample Papers and Previous Year Question Papers
 Most toppers endorse practising with the previous year question papers. Not only do you get a good idea of how the exam will be like, you also get a very good know-how on the weightage of topics, how better to work, your levels of preparation and a further need to improvise.
Tip 3: Know the Weightage of Topics in GATE 2019
 It is important to cover the complete GATE Syllabus 2019. However, one can do a small exercise to gauge which sections, topics are much more important in terms of weightage as this allows you to focus on these more than the others. Many toppers have indicated in their tips on how to prepare for GATE 2019 that this exercise be undertaken first. Rather than search the internet for an easy solution, you should sit and check the past three-year GATE question papers. A good picture will emerge and you will get a fair idea of the topics you need to stress more on and the topics they need to know well. Even if this is a bit of a time-consuming exercise, it is truly beneficial in all terms and aspects.
 Tip 4: Make your Study Plan for GATE 2019
 Planning is bringing the future into the present so that you can do something about it now. It is important to have a study plan in place only if you are the kind of person who adheres to timetables and such. Else it is good to just have a broad understanding of how to prepare for GATE 2019 and to go with the flow.
What to remember while formulating your GATE 2019 Preparation plan?
Check the past year papers and exam analysis.

Divide the Topics broadly into Strong, Weak and to be read properly.

Keep daily, weekly and monthly targets. Try to adhere to them as far as possible.

Next schedule your preparation such that you revise the easy ones along with the tough ones and the "never read before" ones. This will ensure you have a clear view of what is to be studied and how you are going to do it.

While many advise checking the weightage and study accordingly, it is really not the correct way to go. Check the weightage by all means and understand the important topics but don't neglect to study the not so important topics

Make Short Notes while you study as this is will be helpful during revision.

Write down Formulae that you find difficult to remember so that they are handy for revision.

Don't wait for completing a portion of the syllabus. Start practising with test papers as soon as you done with a section or topic. Little steps of water make the mighty ocean.

Keep the solved problems separately indexed so that you can refresh and revise later when required.

Another tip for final year students is that you can match the topics that you will be studying in your graduation and club the studying part so you cover these to get a better hold on them

It is not just the previous year papers or online test series. Answer the questions at the back of your text book, check the nptel lectures to get a good grasp.
What to avoid during GATE Preparation?
In your zest for preparing well, don't overdo things.

When you start by solving previous year questions papers, you may get very low marks. Don't get demotivated. It is just an indication of the level you are at. Analyse and strengthen the areas where you haven't scored well. You do have a long way to go before you can relax.

Don't do one subject or some specific topics and then forget about them. That way, you will really forget what you learnt. Instead, revise them every 15 days. It won't take much but will keep you prepared and steady.

Don't blindly go on answering the question papers from previous years. Try to check your problem-solving ability instead. You never know how the questions will turn out. So it is important you understand how to solve them rather than just the solution.

Don't ask everyone on how to prepare for GATE 2019. Formulate your own plan as you know best what works for you. Also, don't compare your progress with the others.
Tip 5: Which Books & Resources to use for GATE Preparation?
While preparing for GATE, it is important to check for the books to refer and prepare from. One alternative for you is to refer to your textbooks but most toppers suggest that textbooks are very comprehensive with regard to the subject matter. Therefore it is advisable to first check the book list before starting the preparation.
 Careers360 has compiled a list of the best books for GATE 2019 Preparation. These books are suggested by toppers over the years and experts.
Best Books for GATE Preparation
What other Resources to refer besides books:
 Most toppers have come forth with interviews or blogs, Facebook pages where they have detailed their experiences during GATE preparation. They can be looked at to see if any idea or tip works for you. NPTEL is one recommended source to check. However, you must know that it is run by IITs and for a better part contains lectures on video. These can help greatly to understand the topics on hand. The best part is that it is free so you can check up the videos, tutorials and more. There are closed groups on Facebook for each GATE paper. Join one and ask your doubts, prepare in a group with a similar agenda. You can be part of an amazing network of like-minded students from different corners of the country working towards a common goal. 
Tip 6: Also Focus on Engineering Mathematics and General Aptitude
 What many forget in their planning are these two sections. Well, it so happens that these two sections constitute for 30 marks of the paper. Moreover, they are generally said to be easy since both cover basic topics that can be generally covered in tandem with the other subject topics. Mathematics is said to be as per engineering standards while general aptitude can be honed with the help of practice papers of CAT or any competitive exam.
Some books to refer for Engineering Mathematics
Engineering Mathematics by BS Garewal;

Engineering Mathematics by Erwin Kreyszig

Discrete Mathematics and Its Applications by Kenneth Rosen
For General aptitude, you can refer to the various books available in the market for competitive exams. In fact if you check and practise with the previous year papers, you can get a very good idea as well as plenty of practice on how to tackle this section.
Tip 7: Strengthen your concepts and calculations
 While studying, make it a practice to understand and strengthen your conceptual knowledge. Hone your calculations skills at the same time. While the virtual calculator is a mandatory feature of the GATE exam, it is a bit cumbersome to understand and use unlike the physical calculator which is a device whose usage is mastered in the four years of graduation.
The conceptual understanding will stand you in good stead when you are not sure of an answer but can figure it out based on your understanding of the topics. Honing your calculation skills will hold you in good stead in the actual exam when speed is of essence.
What to do about your Doubts? It will be natural to have doubts while you are preparing for GATE. Approach the professors of your college, ask your seniors/ classmates or join Facebook groups pertaining to GATE exam in your chosen paper and ask there – you will get the answers. It is just a matter of reaching out to the right people and there are a plenty of them around. If you have joined a coaching class, the doubts can also be resolved there. With the help of social media, connecting to people is very easy and beneficial.
Tip 8: Revise and evaluate yourself at every step
 Don't forget this important tip of how to prepare for GATE 2019. It is all well and good to prepare well. However, it is equally important to remember all that you learnt. Hence revision is a mandatory step that you should put in your GATE 2019 plan. It is also equally important to evaluate yourself at the end of every topic you complete. This will aid you in understanding your level of preparation for GATE 2019
 During preparation, try to learn, and test yourself after learning the topics/subject well. Any doubts/hiccups should be ironed during this period. Once your hold on the subject is strong enough, you can start to revise. While revising, make sure to make reference or short notes on topics you feel you need to re-brush before the exam or topics that you think you need to check again. Ensure you run as per the targets and schedules you have set yourself. GATE is all about proper preparation and if you go as planned, there is no reason why you won't crack it.
Tip 9: Work for efficient Time Management
 "Time Flies but you can run through it with purpose".
 This has to be an integral part of your plan on how to prepare for GATE 2019. Divide the months left into periods like preparation, first revision, second revision and so on. Plan such that you complete the first stage of learning by October end. Start with serious revision after evaluating your preparation from November. Don't panic at any stage even if you don't seem to have done very well. Just follow your plan and work towards achieving it.
Tip 10: Other Factors to be considered in your GATE Preparation
 Some golden rules well laid by toppers and experts deal with factors that have nothing to do with the exam paper or subject. However, they play a very important role, therefore, it is important to keep them in mind.
Never lose track of your goal. You may have a bad day but try and recoup the very next day to get back on track.

Keep yourself motivated enough to last through your GATE journey. Don't compare yourself with others.

Revision is important but analysis is much more important. You should know where you stand in terms of your preparation at every stage as then you can improve where needed to march towards success.

Take good care of yourself. A healthy you can conquer the exam. To do so, ensure you eat properly, have enough sleep and are not stressed out.

Take breaks to break the monotony – "All work and no play makes Jack a dull boy". Pursue your hobbies, take up meditation to keep calm; in short pursue those activities that help you relax in between.
"Success is an attitude, a mindset, a decision, a commitment, a promise. A belief that it can be done, should be done and will be done" - George Akomas Jr
Lastly some motivation….. 
GATE Topper Interviews: For inspiration, you could read up some of the GATE preparation journeys of the toppers of different papers. You can see that various facets of their GATE journey, books they have prepared from and some of their insights. Moreover, you can be inspired to be like them.
GATE Topper Interviews
| | | |
| --- | --- | --- |
| Name of Topper | GATE Paper | Interview Link |
| Ravi Shankar Mishra | CS | |
| Siddhant Khopkar | EE | |
| Divyanshu Jha | ME | |
| Revanth Dogre | CH | |
| Ankur Tripathi | CE | |
| Ameya Dravid | BT | |
| Muthuraj Pillai | EC | |
| Arpit Garg | MN | |
| Nilesh Agrawal | PE | |
| Suman Kumar Paul | AG | |
| Anuj Gupta | TF | |
We hope that the above-mentioned GATE preparation tips and guidelines are beneficial for you to kick start your GATE journey. All the Best!