JEE Main 2021 Chemistry Preparation Tips By Mr. Ram Ratan Dwivedi
JEE Main 2021 Chemistry Preparation Tips By Mr. Ram Ratan Dwivedi - Joint Entrance Exam Main (JEE Main) is the national level test conducted by the National Testing Agency (NTA). Top engineering institutes in India like National Institutes of Technology (NIT), IIITs and GFTIs accept JEE Main scores for admissions to the B.Tech courses. NTA JEE Main is also a qualifier test for IIT JEE (JEE Advanced). JEE Main exam has a fixed exam structure and consists of three subjects – physics, chemistry, and maths. Paper-1 is of three hours and consists of thirty multiple-choice questions, 4 marks are awarded for correct answers and 1 mark is deducted for incorrect answers. The authorities have introduced a new JEE Main pattern.
Latest JEE Main Update: NTA JEE Main 2021 exam date announced; JEE Registration has started.
Important: Start the preparation by covering JEE Main 2021 Syllabus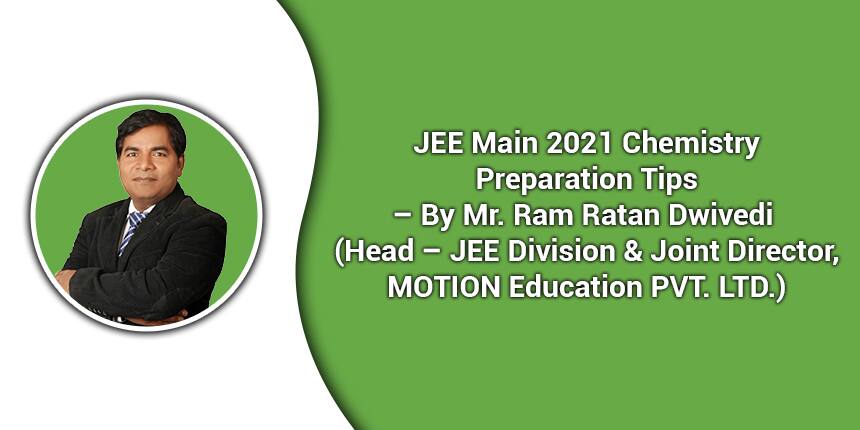 Also Check
JEE Main 2021 Chemistry Syllabus
Tips for JEE Main chemistry 2021:
JEE Main chemistry section is considered the most fruitful section in obtaining good marks in comparison to physics and mathematics. It requires a lot of practice of chemical equations, bonds and numerical. One should make a habit of learning by writing the equations as frequently as possible because they cannot be remembered orally.
It is considered as the rank deciding subject in most competitive exams because it comprises mostly theoretical based questions in comparison to physics and mathematics and so it is also the most scoring subject. The main strategy to score well is to analyse previous year JEE Main question papers and strengthen the topics which have mostly occurred. To make the study process more efficient you can check your performance through online test series which are based on the exam pattern. There are 15-18 tests papers for JEE Mains and 9-10 tests papers of JEE Advance, after giving tests you will get your performance report which will help you find your area of improvements and your speed.
JEE Main Chemistry Weightage Topics: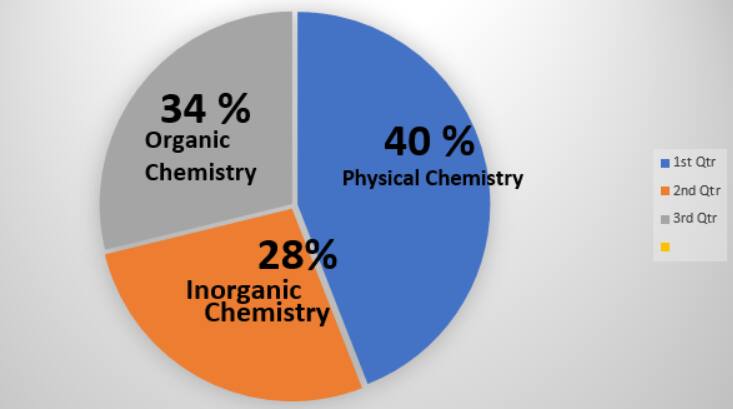 Physical Chemistry:
This section deals with the understanding and observing of the physical and chemical properties of different matter around us. It covers 40% of the JEE Main Chemistry paper and includes the basic concepts and formulae. A good tip is to make detailed notes on each topic and avoid skipping regular practice to crack these numerical questions.
-->
Some important concepts in physical chemistry are:
Organic Chemistry:
It might seem difficult at first, but you can master this part with regular studying. The more you remember the reactions, structures and compounds thoroughly, the better. Do you know you can actually attempt this section in just 20 minutes if studied well? The trick would be to understand the fundamentals and mechanisms rather than learning by heart. Don't forget to make notes on the important topics and keep revising them every week.
Some important sub-topics for chemistry are:
Organic compounds containing Halogens, Oxygens, Nitrogen

Purification and Characterization of Organic Compounds.

Nomenclature
Inorganic Chemistry:
This is relatively much easier than any other section and doesn't include any problem-solving questions. Therefore, this is a very time-saving section. Moreover, it contains very simple and straightforward questions that you can easily cover from NCERT XI and XII books.
Study the methods of preparation, uses, chemical reactions of compounds thoroughly as they are the important topics and cannot be missed.
Some important sun-topics in inorganic chemistry are:
Coordination Compounds

Classification of Elements and Periodicity in Properties

s-block elements (Alkali and Alkaline earth)

p-block elements

d and f block elements

Hydrogen
Practise conversions and reagents daily along with chemical reactions and their mechanisms. Daily practise and revision will help you make your mind stronger until JEE Main Exam.
With the right procedures, you can crack this hard nut without fail. You simply need to have self-confidence and keep practising via mock exams, which are extremely helpful. Remember, that this is the paper that can bring you the maximum scores, so do it well.
Also Read-
Questions related to JEE Main
Showing 112259 out of 112260 Questions