How to Score Good Marks in JEE Advanced 2021?
Joint Entrance Exam (JEE) Advanced is the entrance test for admission in Indian Institutes of Technology. Students have to qualify JEE Main and rank among the top 2,50,000 students in order to be eligible for appearing in JEE Advanced. The JEE Advanced exam is undoubtedly very difficult, with questions framed in a way which requires a deep understanding of subjects, expertise and skills to answer. There are around 13,000 seats in all the 23 IITs and with 2.5 lakh students appearing for the exam, one can imagine the level of competition in getting a seat in college. Most students aspiring admission in any IIT start their preparation early from class 11. The syllabus of JEE Advanced is vast and the level of exam is difficult and thus students require more time to prepare. In this situation, students might have doubts like how to score good marks in JEE Advanced 2021.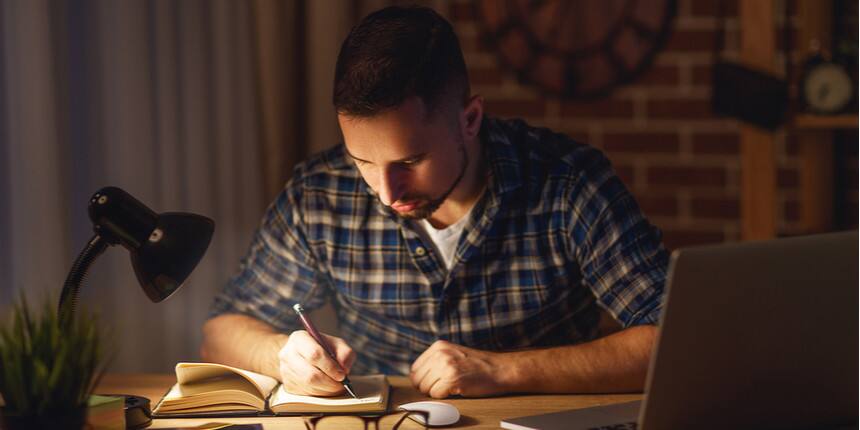 Pattern of JEE Advanced Exam
JEE Advanced test has two papers, Paper 1 and Paper 2, both having questions from Physics, Chemistry and Mathematics. Total duration of each paper is 3 hours and thus students have to spend 6 hours in solving the JEE Advanced exam. Both the papers will be held in two slots, one in morning and another in the evening.
Questions in both the exam will be of four types, Multiple Choice Questions (MCQs) having one correct answers, Multiple Choices Questions (MCQs) having more than one correct answers, Questions having answers in numerical value and Questions where Answers have to be matched (Match the correct answer type).
The marking scheme of both Paper 1 and Paper 2 varies where questions having one correct answer will carry 3 marks, questions with more than one answer correct will carry 4 marks, questions of matching answers will carry 3 marks and numerical value answers also carrying 3 marks.
Students are awarded partial marks in questions with more than one correct answer if not all the correct answers have been answered in place of all correct answers. Students have to obtain the minimum prescribed marks in each subject collectively of both papers in order to qualify the exam.
How to Score Good Marks in JEE Advanced 2021?
Now since the students are aware of the exam pattern of JEE Advanced, it would be easier to understand what had to be done to prepare for the exam in order to score good marks in JEE Advanced 2021.
Preparation for any exam requires dedication and determination beside subject knowledge. And so, students need to have an attitude that they have to qualify this exam no matter what. With this level of seriousness, students have to begin their journey of JEE Advanced. Candidates are provided here tips and suggestions on how to score good marks in JEE Advanced 2021 recommended by various coaching institutes, previous year JEE Advanced toppers, subject experts and test takers. Check below the preparation tips on how to score good marks in JEE Advanced 2021
Solve Previous Year Question Papers
Every student preparing for the entrance test must practice the previous year JEE Advanced question papers. This will help in understanding the exam pattern, difficulty level of exam, topics with weightage and most importantly, solving it will give ideas on their preparation level. Previous year question papers are very useful as solving them will help prepare the type of questions which have been asked in previous years, of the same difficulty level which will be asked in exam and ultimately help prepare for the exam.
Learn Basic Concepts and Solve Numerical Problems
Students preparing for JEE Advanced or any other exam must always learn the basic concepts and should avoid rote memorization. Questions in JEE Advanced are of high level, requiring skills and expertise to solve problems and all this can be attained only through basic understanding of fundamental concepts.
Numerical problems are another important tool which enhances the preparation level of the exam. JEE Advanced exam will have most questions in form of numericals, requiring analytical and logical thinking to arrive at a solution. Students must be aware of the formulas, the constants values, log, squares, cubes and other basic concepts to solve problems.
Practice Mock Tests and Sample Papers
Mock tests are very important in evaluating the preparation level. Students must solve chapter-wise mock tests after the completion of a chapter and full length JEE Advanced mock tests on completion of the entire syllabus of a subject. Solving mock tests in a complete test environment of 3 hour duration must be practiced. When the entire syllabus of all the three subjects is completed, practice the full paper mock test.
Evaluate Your Performance and Work On It
This is the most important part of exam preparation, to evaluate your preparation level and work on the shortcomings. Whenever you feel difficulty in solving a problem from any particular topic, don't panic but revise the concerned topic again thoroughly. If it happens more often, try learning another topic and give some time to yourself.
Practice Time Management
Proper time management is one of the biggest advantages one can get during the exam. Giving extra time to a question which you are not able to answer will reduce time for questions which you can answer with little or no effort. Remember that you have a fixed amount of time and wasting unnecessary time on questions will reduce your marks. Many students are left with little or less time just because of the poor time management. Students must note that they need to devote only a certain amount of time to each question. DO NOT waste time on a question which you are not able to solve and move to the next question.
Stay Motivated
Always keep yourself motivated and enthusiastic towards achieving the success in clearing JEE Advanced. Read the topper interviews, motivational books and columns in newspapers or magazines. Remember, no success can be achieved without will power, determination and dedication.
Questions related to JEE Advanced
Showing 13026 out of 13026 Questions