Two Months Preparation Plan for JEE Main and JEE Advanced 2021
Two Months Preparation Plan for JEE Main and JEE Advanced 2021 - Examination season is arriving and the students are busy creating or carrying out their preparation plan for the upcoming JEE Main and JEE Advanced exams. With just over two months left for the exams to commence, students may feel confused regarding the next step to take as per their current preparation level. The question that may arise is 'What is the two months preparation plan for JEE Main and JEE Advanced 2021?'. To answer this question, Careers360 conducted a live session with Mr. Jeevan Jyoti Agarwal (Vice President, Allen Career Institute) where he talked about the various paths of preparation that the students can undertake depending on his/her current situation. Read the full article to know more about Two Months Preparation Plan for JEE Main and JEE Advanced 2021.
Latest: JEE Main 2021 Application form to be released soon. Check JEE Main 2021 exam date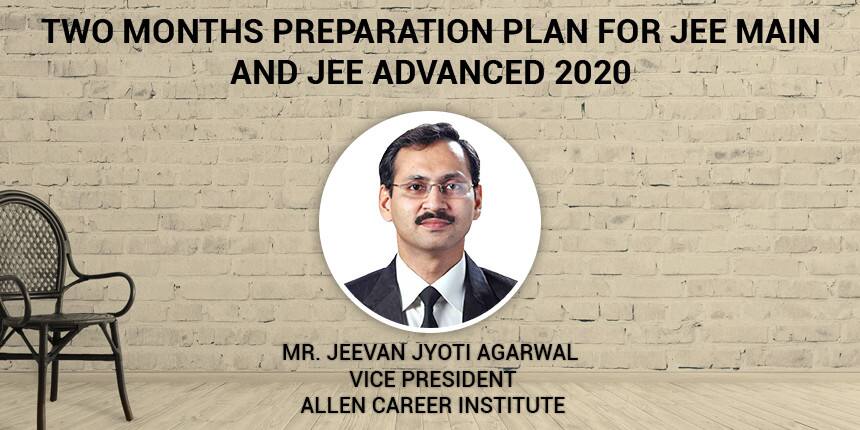 What should be the two months preparation plan for JEE Main and JEE Advanced 2021?
Two months may not seem like a lot of time for some students to finish off their preparation for JEE Main and JEE Advanced 2021. However, if the right plan is created and followed then it will be enough for the students to prepare and score well during the examination Mr. Jeevan Jyoti Agarwal has broken down the two months preparation plan for JEE Main and JEE Advanced 2021 as per the level of preparation that the students have done.
For students who are not prepared at all
According to Mr. Jeevan Jyoti Agarwal, those students who have not started their preparation for JEE Main and JEE Advanced 2021 due to being focused on board examinations should not fall into a state of panic. On the contrary, they should be mentally motivated to pledge their efforts on completing their preparation for the national level entrance examinations over the next two months.
Students should focus on learning and understanding all subjects and topics in the next two months.

Mr, Jeevan Jyoti Agarwal emphasizes that the students should regularly solve a handful of problems from any decent literature. JEE papers which are chapter-wise segregated should also be attempted and it can be found easily for reference in any online source.

Students are advised to keep solving these papers after studying the theories as per the syllabus. This will help the students to complete the syllabus comfortably in two months

The students should also keep attempting full syllabus tests from reliable sources to know their progress. These tests will allow the students to know their current stance in regards to the full syllabus

While analyzing their attempted papers and mock tests, the students should be professional. 'Correct mistakes and progress everyday' - Mr, Jeevan Jyoti .
For students who are semi-prepared
There may be a group of students who are half-prepared for JEE Main 2021 and are confused about how to move forward. This type of student should first of all have a strong mind to go ahead with their preparation and should abandon the prejudice that no improvement can be done in the next two months.
-->
Firstly, the students should know that there is enough time to prepare for the examination.

Students should be self-confident and there are better chances of performing well. By being confident, the students will be able to prepare their study schedule and follow it for good results.

Students should attempt chapter-wise sample papers on a regular basis. Full syllabus tests should be done periodically after each 5 or 7 days.
For students who have put a hold on their preparation
For those students who had been preparing well but have all of a sudden stopped studying during the lockdown should boost their motivation. According to Mr. Jeevan Jyoti Agarwal 'The students should not be rabbits and start taking naps. They should understand that there is always a tortoise somewhere who is slowly moving forward and may soon overtake. So the students should also always move forward.' The best way to prepare for this group of students is to attempt chapter tests of JEE Advanced level if they have already completed the syllabus of JEE Main. This will allow them to be prepared for questions which are of a higher difficulty level and will ensure that good results will be produced at the end.
Questions related to JEE Main
Showing 112401 out of 112402 Questions