Time Table for NTA JEE Main 2021 : JEE Mains Preparation Routine
Time table for NTA JEE Main 2021 - With the approaching exam season and postponement of the JEE Main session last year, there might be a panic on how to schedule your preparation for the JEE Main 2021 (session 1). Preparing a time table for JEE Main 2021 first session will ease the stress and provide a direction to your JEE Main preparation. Segregating the topics subject-wise and class-wise and preparing a NTA JEE Main time table will ensure that every topic is covered and nothing is left for the last moment. All engineering aspirants should start working hard day and night to achieve their goal to crack JEE Main. Read the full article to go through the time table for NTA JEE Main 2021 and direct your preparation towards a smooth journey of cracking the exam.
JEE Main Latest Update- JEE Main registration 2021 will tentatively start in the last week of December. Check JEE Main 2021 exam dates.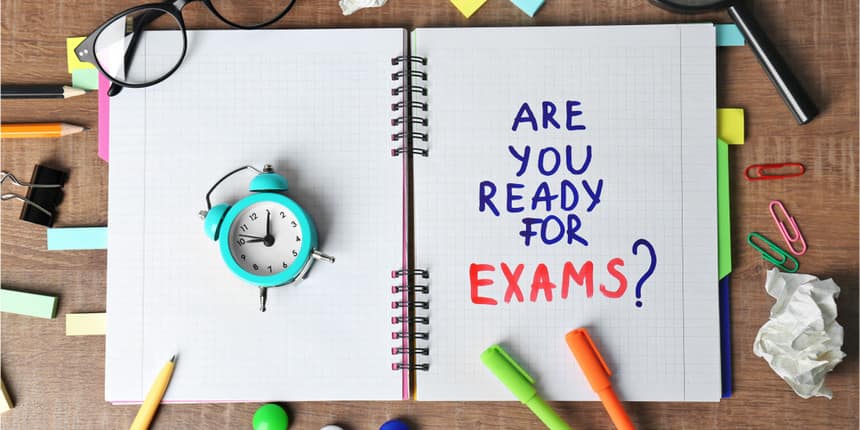 As we all are aware that NTA will conduct JEE Main 2021 twice a year. Dividing the topics and setting a time limit to cover them will provide you a tension-free method of preparation. Following the timetable for NTA JEE Main 2021 for first attempt will ensure that you are not left with a huge pile of the topics uncovered at the eleventh hour. To ease the mental stress it is advisable that you take help from the given schedule of JEE Main 2021 and try to cover the topics within the stipulated time period as mentioned. This will help you complete the complete JEE Main syllabus before the exam.
After covering all the topics of the syllabus you can spend the last month practicing JEE Main mock test 2021 and focus on the revision. Going according to the timetable for NTA JEE Main 2021 first session will also prepare you for the second attempt as you will have plenty of time between both sessions to improve your weak areas and revise everything.
Candidates must note that the Answer Key of JEE Main 2021 was released on the official website. JEE Main result 2021 will be declared through the website as well.
A subject-wise JEE Main time table 2021 is penned down below where all the topics are segregated and divided to be covered in the allotted months. The syllabus of both class 11 and class 12 has been covered while preparing the timetable for JEE Main.
-->
Time Table for NTA JEE Main 2021 - Physics
| | |
| --- | --- |
| No. of days | Chapter |
| 10 | Physical World & Measurement |
| 11 | Kinematics |
| 10 | Laws of motion |
| 11 | Work, energy, and power |
| 21 | Rotational Motion |
| 11 | Kinetic Theory of Gases |
| 10 | Gravitation |
| 17 | Properties of Solids and Liquids |
| 28 | Current Electricity |
| 28 | Thermodynamics |
| 17 | Oscillations and Waves |
| 28 | Electrostatics |
| 10 | Electromagnetic Waves |
| 28 | Magnetic Effects of Current and Magnetism |
| 21 | Electromagnetic Induction and Alternating Currents |
| 28 | Optics |
| 11 | Communication Systems |
| 10 | Dual Nature of Matter and Radiation |
| 11 | Atoms And Nuclei |
| 17 | Electronic devices |
| 10 | Experimental Skills |
Time Table for NTA JEE Main 2021 - Chemistry
| | |
| --- | --- |
| No. of days | Chapter |
| 17 | Some Basic Concepts of Chemistry |
| 11 | Atomic Structure |
| 14 | Classification of elements and the periodic table |
| 1 | Chemical Bonding and molecular structure |
| 14 | Chemical Thermodynamics |
| 10 | Equilibrium |
| 7 | States of Matter |
| 21 | Solutions |
| 14 | Hydrocarbons |
| 18 | Chemical Kinetics |
| 10 | Surface Chemistry |
| 14 | General Principles and Processes of Isolation Elements |
| 10 | Hydrogen |
| 11 | s- Block Elements ( Alkali and Alkaline earth metals ) |
| 14 | p-Block elements |
| 8 | d and f Block Elements |
| 28 | Coordination compounds: |
| 14 | Some Basic principles and techniques |
| 7 | Biomolecules |
| 10 | Organic Compounds Containing Halogens |
| 25 | Organic Compounds Containing Oxygen |
| 14 | Organic Compounds Containing Nitrogen |
| 7 | Polymers |
| 14 | Redox Reactions and Electrochemistry |
| 14 | Environmental Chemistry |
| 3 | Chemistry in Everyday Life |
| 3 | Purifiction and Characterization of Organic Compounds |
| 4 | Principles related to Practical Chemistry |
Time Table for JEE Main 2021 - Mathematics
| | |
| --- | --- |
| No. of Days | Chapter |
| 14 | Sets, Relations, and Functions |
| 28 | Complex numbers and Quadratic Equations |
| 17 | Matrices and Determinants |
| 21 | Sequences and Series |
| 21 | Trigonometry |
| 19 | Coordinate Geometry |
| 41 | Limit, Continuity, and Differentiability |
| 31 | Integral Calculus |
| 14 | Differential Equations |
| 14 | Vector Algebra |
| 27 | Three Dimensional Geometry |
| 11 | Permutations and Combinations |
| 14 | Binomial Theory and its Simple Applications |
| 28 | Statistics and Probability |
| 3 | Mathematical Induction |
| 14 | Mathematical Reasoning |
Questions related to JEE Main
Showing 112398 out of 112399 Questions