Malay Kedia, a resident of Ghaziabad secured AIR 4 by scoring 300 marks in JEE Main 2023 April session result. With an aim to do BTech in CSE from IIT Bombay, Kedia is now focusing on JEE Advanced preparation. In the session 1 of JEE Main 2023, Malay got 99.99 percentile. He has secured AIR 8 in JEE Advanced 2023 in IIT Delhi Zone. Moreover, he secured 99 percent marks in class 10th and secured AIR 6 in KVPY SA and got a silver medal in the International Olympiad in Astronomy and Astrophysics. Along with this he was also selected in OCSC camp in Junior Science Physics. Allen Institute conducted an interview of the topper of JEE Main and here we have presented it for candidate's reference. Careers360 presents you with the interview of Malay Kedia, JEE Main topper to know his preparation strategy along with other things.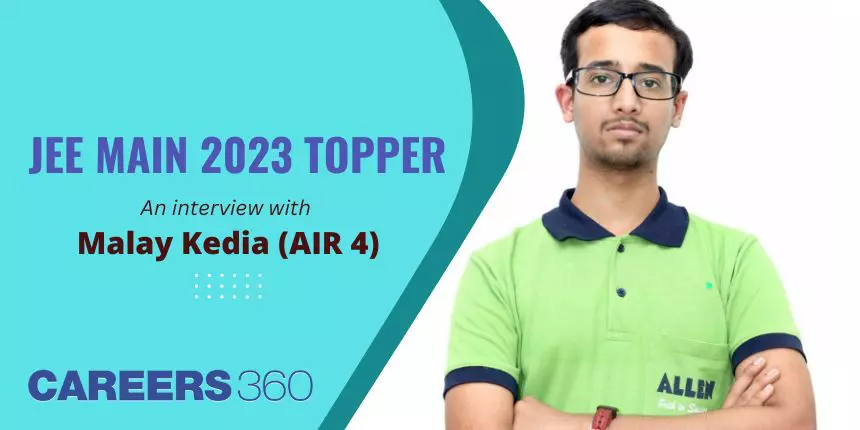 JEE Main 2023 Topper Interview: Malay Kedia (AIR 4) says, "Self Study is the key to success"
Also Check: JEE Main result 2023
Did you ever think you will be scoring 300 marks in JEE Mains?
Malay: During the preparation and solving the JEE Main practice papers I never thought that I'll be getting scores of 300, however, after attempting the actual examination I somehow realised I can make it, and so I did.
What was your preparation time table?
Malay: I used to reach the centre at 8 AM and stay there till 8 in the night. So during these 12 hours initial hours were fixed for classes and remaining 7-8 hours I had divided equally for all three subjects. According to me self study is the most important JEE Main preparation tip, so I used to maintain a good study schedule so that I can give due time to self study.
You must have had a long backlog in these 2 years of preparation, how did you deal with them?
Malay: Because of the International Olympiad in Astronomy and Astrophysics I had a backlog of 2 months, so I took the advice of my teacher and he asked me to go with the flow and focus on the backlog when I'll have time. As taking two things together don't work out in someone's favour.
Did you have any special trick for clearing JEE Main 2023?
Malay: There is no magic trick for clearing any exam, it's your hard work. Until and unless you don't practice as many JEE Main mock tests as possible, getting through the exam will not be easy. Only hard work will help you get a good rank in the exam so stay consistent.
How did you strategize your subject time division for the JEE Main 2023?
Malay: Till the syllabus of JEE Main was finished I used to give equal time to all the three subjects, but once the syllabus was over and I started attempting practice papers I realised my Chemistry is weak and I need to work on that. So I gave more time to my weak subject.
How did you plan your day before the actual examination?
Malay: I was advised not to read anything the day before NTA JEE Main 2023, so I followed that and took complete rest.
What are your future plans?
Malay: Now I am focussing on JEE Advanced.I wish to get admission in IIT Bombay in CS branch. Followed by my graduation I wish to pursue research in Physics.