JEE Main 2019 Paper 1 Student Reactions: January 12
JEE Main 2019 Paper 1 Student Reactions: January 12-  National Testing Agency (NTA) is conducting JEE Main 2019 (Paper-1 and 2) from January 8 to 12 in computer-based test (CBT) mode. January 12 marks the last date of JEE Main 2019 with Paper-1. JEE Main 2019 is being conducted in two shifts from last four days. The national level engineering entrance examination, JEE Main 2019 is being held in 467 centres in 258 cities (09 outside India) across the country and abroad. Candidates from early start reporting to their centre along with their parents. Careers360 visited the various centres in Delhi, where exam is being held, to capture the students reactions for JEE Main 2019 Paper-1 being conducted on January 11. Here is the exclusive coverage of JEE Main 2019 Paper-1 student reaction for January 12, Read on: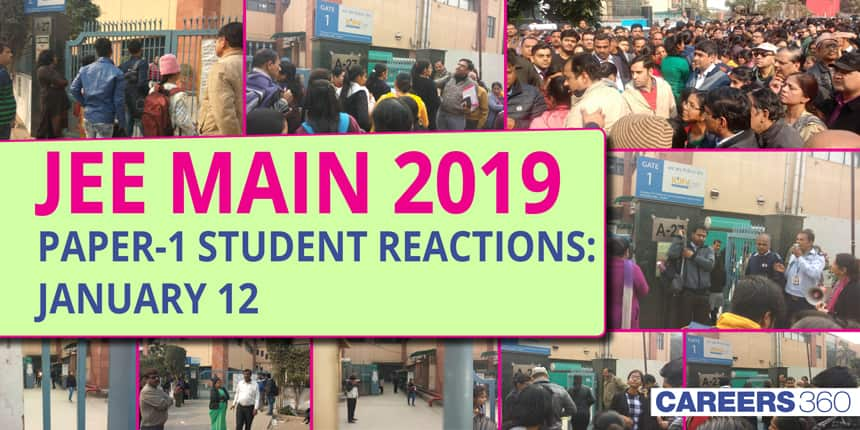 JEE Main 2019 Paper 1 January 12 Afternoon Session
JEE Main 2019 Paper 1 January 12 Forenoon Session
JEE Main Pre  Paper-1 Exam Reactions (Afternoon Shit)
Students have started appearing for afternoon shift of JEE Main 2019 Paper-1. Below is what they have to say before the commencement of the examination:
Kanha Mishra has prepared well for the examination. "No, I do not have any particular strategy to crack the exam. I am leaving everything in the hands of God. I am expecting 150+ scores. Will choose B.Tech if he qualifies in both Paper I and Paper II." he said.
Shivaja's preparation is not so good because she has missed her pre-boards. "My 11th is a bit weak so I might attempt the April session too. I have no preparation strategy and I am not expecting any particular scores. I follow only the modules of my institute to prepare. I am in PACE. I will choose B.Arch if I get through both papers because it interests me," she said.
Post Reactions
Ankit found Physics tough. Maths and Chemistry were okay according to him. He said, " In the Mathematics section, Coordinates questions were asked and similarly Communication for Physics, Organic Chemistry for Chemistry. Out of 100, the difficulty level was 90."
Abhishek Pandey says, "Difficulty level of the exam was medium. In Mathematics, there were tough questions from linear programming and probability. In Physics, 11th standard questions were asked like Law of Motion. Chemistry section had questions from Polymers. Overall, the Mathematics section was difficult. Physics was easy."
Abhishek Bhuniam said, "The difficulty level of the paper was mediocre. The paper was quite balanced out. In Chemistry, Organic Chemistry was there and the Mathematics section was balanced. 3D, integration, differentiation was present in Mathematics while in Physics, Modern Physics was there. 40% of the questions were from 11th standard. I attempted most of the questions in Physics since it was the easiest."
Vaishak says Chemistry was very easy, Mathematics was difficult and Physics was moderate. Chemistry had mostly NCERT type questions and Physics had tricky questions. Mathematics had mostly calculation based questions. Chemistry had questions from solutions and thermodynamics. Physics had mostly topics from 11th and in Mathematics, there were only two questions of integration and two or three questions of probability. For him, the paper was difficult. 
JEE Main Post Paper-1 Exam Reactions (Forenoon Shit)
The JEE Main 2019 Paper-1 for January 12, forenoon shift has been conducted. Careers360 team caught with the students who appeared for the exam to know about the paper:    
-->
As per the Saumya, a candidate who appeared for the forenoon shift on January 12, in Chemistry section questions were mostly from Organic chemistry, while Physics was 90% formula based. 
According to Suruchi, the difficulty level of the paper was moderate. "I found Mathematics difficult while Chemistry was easy. Physics was moderate. In Mathematics, Circles and straight line questions were asked while in Physics, 11th standard syllabus questions were asked. Chemistry had more questions from organic chemistry," said Suruchi.
"If a candidate had practiced sample papers then he can easily complete the half of the exam. Chemistry was the most difficult section while Mathematics was the easiest and Physics was moderate," said Meenal Gupta, another JEE aspirant. 
According to Anjali Rana, the difficulty level of the paper was medium. "I found Physics difficult, Mathematics average as most of the questions were from NCERT and Chemistry was easy of all. The topics that dominate the paper were circles, parabola and only one question was from integration. While in Chemistry one question was from PPM, mole concept and from Polymers," said Anjali. 
Whereas, for Rhea Chemistry was tough. "In Chemistry, the division of questions was equal. No particular topics dominated in Physics. Mathematics was good and it was not lengthy." said Rhea.
Vansika said, "It was an average paper. Mathematics was a little tough since the calculation was a bit longer. In Physics also, the procedure was longer. Chemistry was easy. There were not many questions from 11th standard.
Pre Paper-1 Exam Reaction (Forenoon Shit)
Deepanshu who have prepared for JEE Main Paper-1 through coaching said that he will attempt questions that he knows properly and then go for others if time remains. He is aiming for NITs. 

A student from Aakash coaching said that in today's paper he will first attempt the Mathematics section followed by Chemistry and Physics. "I am expecting 150 and above score. I want to get admission in IIT's particularly in Mechanical branch."

Krishna Kumar who have taken coaching from Resonance, Kota is averagely prepared for the examination. He is aiming for IIT Delhi.

Mohit who have done self-study is aiming for IIT Delhi. He referred Concept of Physics by HC Verma for Physics, RD Sharma for Mathematics and Modern ABC for Chemistry. 
Questions related to JEE Main
Showing 112253 out of 112254 Questions