JEE Advanced 2018 – Last Month Preparation Tips
Now that you have cleared the first hurdle by qualifying JEE Main 2018, you need to look forward to having a go at the second stage of one of the toughest national level engineering entrance exams which is the JEE Advanced 2018. There is no time to take a breath and rest. The IITs beckon and you need to push yourself for the culmination of your dream. What is the most important thing that you need to be aware of is that this time JEE Advanced 2018 will be held as a computer-based test (CBT). Now is the time for you to change the gears, press the accelerator to speed on without losing focus and ensure you reach that finish point with flying colours. The past two years that have been filled with intense preparation efforts requiring immense dedication and hard work will be coming to a closure with JEE Advanced conducting on May 20 where you need to break all your barriers. This is why that the last stage is crucial as it is the period when you need to revise, analyze and revise till you are sure you are ready to give your best. Careers360 brings you the must-know last month preparation tips suggested by experts as well as the last minute moments shared by toppers from previous years. We hope that they add to your bag of advantages and ensure that you come on top on the D-Day (May 20) for JEE Advanced.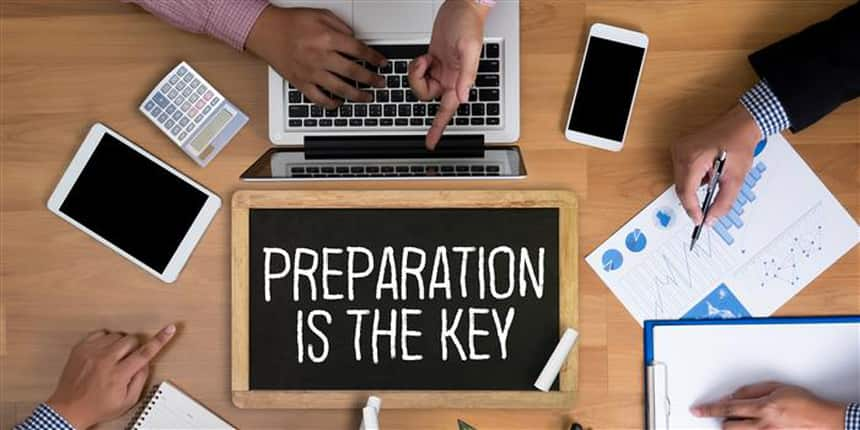 Review the JEE Advanced Exam Pattern

Before we start on the preparation tips, a quick review of the JEE Advanced Exam Pattern will refresh the mind on the workings of the actual exam. This time JEE Advanced will be held in online mode. It is compulsory for all aspirants to attempt both the papers. The exact exam pattern for JEE Advanced is not disclosed as it varies from year to year.
JEE Main Exam Pattern
S.No

Parameters

Details

1

Mode of exam

online (Computer-based test)

2

Language

English or Hindi

3

Type of Questions

objective type (multiple choice and

numerical answer type) questions designed to test comprehension, reasoning

and analytical ability of candidates.

4

Number of papers

2

5

Duration of papers

3 hours each.

6

Timings

Paper 1 from 9:00 a.m to 12:00 p.m

Paper 2 from 2:00 p.m to 5:00 p.m.

7

Negative marks

For some questions and sections
Don't practice until you get it right. Practice until you can't get it wrong.


Since you qualified for JEE Advanced, you must have studied all the concepts learnt for JEE Main. The syllabus is the same. So all you need to do is to strengthen this. The best way is to attempt the JEE Advanced 2018 sample papers and previous year papers so that you know where you stand. Do one test paper each day. Know where your strengths are and where you need to improve. Analyse then revise. Build on your strengths and improve the weak points/ subjects. Don't start new topics as there is not enough time. It is that time of your preparation for JEE Advanced when you need to know how to rightly put into practice all that you have learned. Discuss the problems with your teachers or seniors and resolve your doubts. Get used to the JEE Advanced Exam Pattern and be confident on the day of the exam.
JEE Advanced Question Papers:
Short Notes for reference


While you prepare, remember to make short notes that will be useful during the last days of preparation. Note down formulae that you need to revise at the last moment. Jot down points that are important and you feel need to be brushed before the exam. Mention all the topics; details that you feel are important. This can be your JEE Advanced 2018 ready reckoner. It is important to keep short notes as these are pretty useful for revision. As per toppers and experts, short notes are necessary and important for revision. In the last days, this is an aid that comes into use the most.
Manage your time

Acing JEE Advanced is not just about preparation. It's about speed and time management too. So start with this agenda in mind. Time your attempt of each sample or question paper.  A few days of this will allow you to plan and execute a good exam day strategy that will work well for you. Don't be in a hurry to get everything right. It is better to get few things right than many things wrong. Schedule your day such that you attempt one paper, analyse the attempt and revise where ever needed; study one topic from each subject per day. There is an old saying that "early to bed and early to wise makes a man healthy, wealthy and wise." Since the first half of the JEE Advanced exam will be held in the morning, it is advisable that you acclimatize yourself to the exam hours. What is important to note here is that good sleep, less stress is important during this last leg of your preparation. A tired mind will not bear the right fruit on the exam day. Therefore it is advisable that you synchronize your study hours with those of the exam hours.
Believe in yourself and you are there halfway


The most important thing at this stage of the preparation is self-confidence. There might be times when you might not perform that well in the mock exam as compared to other occasions. You should not allow this to demotivate you. Start afresh, revise where you lacked and make it a strong point. The need of the hour is to maintain your cool and not press the panic button. Some of the biggest challenges are overcome by people who believe in themselves. Never give up. The battle is half won then.
Stay Healthy


While you are underway with your JEE Advanced 2018 preparation, remember to eat well and remain healthy. Try to avoid junk food or food from outside. You can't take the risk of falling ill. Keep hydrated as this is summer at its best. Rest and take breaks when needed.
Stress Busters


Easy to say but try and avoid stressing out. While taking breaks, ensure you take time for some of your favorite pastimes. However, this can exclude social media, phone chats as they are time killers. Do meditation for easing stress, listen to music, go for walks, talk to your friends and so on. Such activities are stress busters and help you keep your cool and calm. It is important that a stress-free environment exists for a successful run towards JEE Advanced.
We wish you all the best to all the JEE Advanced 2018 aspirants!