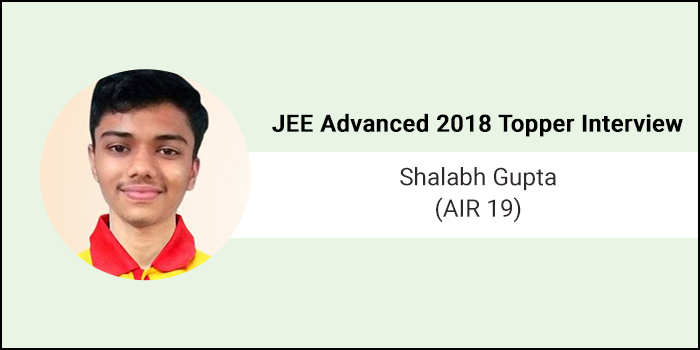 JEE Advanced 2018 Topper Interview: Shalabh Gupta - Aided by a strong determination and a serene nature, Shalabh Gupta found himself in the exalted ranks of the JEE Advanced toppers on June 10 with his all India rank of 19 when the results were declared by IIT Kanpur.  Having performed well, the result was a complete surprise to Shalabh who was ecstatic at inching more close to his dream of studying Computer Science Engineering at IIT Bombay. Shalabh believes his success mantras include lots of practice especially with mock tests and sample papers that allowed him to keep calm inside the exam hall and attempt the exam with a clear head. Careers360 interacted with him to know more about his JEE Advanced journey, preparation strategy, motivation behind his success, future plans etc. Read full interview of JEE Advanced 2018 Topper Shalabh Gupta (AIR 19) below to know all about his JEE journey.
B.Tech Admissions Open 2019
MIT World Peace University
JEE Advanced Sample Paper
Download Free Sample Paper for JEE Advanced
Download Now
Careers360: Congratulations for your outstanding performance in JEE Advanced 2018! What was your reaction upon knowing your rank?
Shalabh: Thank you. I was actually surprised to see my result and thought for a second that I had opened the wrong one. It was unexpected. I am very happy.
Careers360: Tell us something about yourself. Which board have you studied under? Which school have you studied in?
Shalabh: I am 18 years old and like playing and watching football. I want to pursue computer science at IIT Bombay. I studied my class 12 at NK Bagrodia Public School, Dwarka under CBSE board.
Careers360: What is your score in JEE Advanced 2018? What is your all India rank and category rank?
Shalabh: I scored 304/360 in JEE Advanced 2018 and my all India rank is 19.
Careers360:  Why do you want to study engineering? When did you decided to study engineering?
Shalabh: I wanted to go into the engineering field as PCM (Physics, Chemistry and Mathematics) were my favorite subjects and I used to focus more on them. I decided to study engineering in class 9th.
Careers360: JEE Advanced went online this year. What is your opinion about it? Did it change your preparation strategy for the exam?
Shalabh: I believe making the exam online was a good step taken as it reduced chances of mistakes like the printing mistakes in last year's question paper and OMR filling mistakes. However, there was no change in my study strategy; I just had to practice more online exams before appearing for the real one.
Careers360: When did you start your JEE Advanced preparation? Tell us something about your preparation strategy and daily routine for JEE Advanced?
Shalabh: I started my JEE preparation at the end of class 10. There is nothing special about the way I prepared, just that I followed whatever my teachers prescribed and most important I enjoyed preparing for entrance exam.
Careers360: How was the preparation for JEE Advanced different from JEE Main?
Shalabh: JEE Main is comparatively easier and thus requires a theoretical approach to things. One who has a good grasp on theory can crack JEE Main. But for JEE Advanced, one needs to practice a lot of questions across all difficulty levels. Also, many topics in JEE Main needed to be memorized and this was not there in Advanced.
Careers360: Since there was just a month after the JEE Main, elaborate on your preparation strategy?
Shalabh: Since I had done the theory part for JEE Main, I had to only focus on questions and deep knowledge of topics so I started revising previous year questions and practicing about 1 mock paper each day.
Careers360: Did you take coaching for JEE and if yes from where? What are the benefits of coaching according to you?'
Shalabh: Yes, I took coaching from FIITJEE, Dwarka center. I believe the teachers at my coaching centre are very experienced and this helped me a lot. Also, you are forced to think out of the box; all of this is much more beneficial than preparing without any help.
Careers360: Mock tests and sample papers – how extensively did you practise with the help of these? Do you think practising from the previous year papers help and how?
Shalabh: Well, initially there were only weekly tests held at the centre, so I used to practice only those, but later, during the last month, I practice many mock tests at home(about 7 every week). In addition many more tests were also held at the center during the last days.
Yes, students should purchase books containing previous years questions with solutions as they give you a real idea of the exam.
Careers360: Are there any special books that you feel have helped with your JEE Advanced preparation?
Shalabh: Nothing special. I practiced from HC Verma for Physics the day one of my preparation. It helps in building concepts and later I used IE Irodov to build on it. For Chemistry, I referred to only worksheets I got from coaching.
Careers360: Did you face any problem during the JEE Advanced examination?  Which subject was the easiest and which was the toughest in JEE Advanced? What do you think is a tough thing to manage during the JEE Advanced exam?
Shalabh: No, I didn't face any technical problems during the exam. According to me, Physics was the easiest and Maths the toughest. It is difficult to remain calm during the exam and most students start panicking. Paper 1 was moderate while paper 2 was difficult. I am happy with the way the exam was organized as there were very less errors.
Careers360: What do you think are the key factors behind your stupendous success in JEE Advanced?
Shalabh: The key factors for my success are the practice hours I put in and the daily struggle which made me tough enough to keep calm inside the exam hall. I also believe my calm temperament which I developed due to mock tests was also instrumental.
Careers360: How did you de-stress yourself during the preparation? What are your hobbies? How often could you pursue them?
Shalabh: I used to de-stress by talking to my friends on WhatsApp and also used to watch football. Watching and playing football is my hobby. I used to go and play about twice in a month in class 11th, but had to abandon it in class 12th.
Careers360:  Who is your ideal or biggest inspiration in life and why?
Shalabh: Leo Messi, Argentine professional footballer is my idol and inspiration. He came from a very small family, and still went on to become the one of the greatest football player due to his determination and hard work.
Careers360: You know you are an inspiration to thousands of students across the country. Do you have any message for future aspirants on tackling the JEE Advanced exam?
Shalabh: I advise all the students to just believe in their teachers or mentors and do as they prescribe. Also not to run here and there to gather knowledge, just revise whatever you know again and again.