JEE Advanced 2018 Topper Interview: Pawan Goyal (AIR 4) "Follow your interest and be consistent"
Following his elder sister's footsteps, Pawan Goyal started his JEE preparation when he was in class 11 like all aspirants but fate had something else for him in store. As the result of JEE Advanced 2018 was announced on June 10 by IIT Kanpur, Pawan got to know that his hard work has uplifted his All India Rank JEE Main rank of 6 to an All India JEE Advanced rank of 4. Hailing from Jaipur, Pawan has completed his 10+2 from Aklank Public School in Kota and has a keen interest in Computer Science Engineering which he wants to study at IIT Bombay. In an exclusive interview with Careers360, Pawan shares his JEE Advanced preparation strategy and plans ahead. Read the article below to know more about him.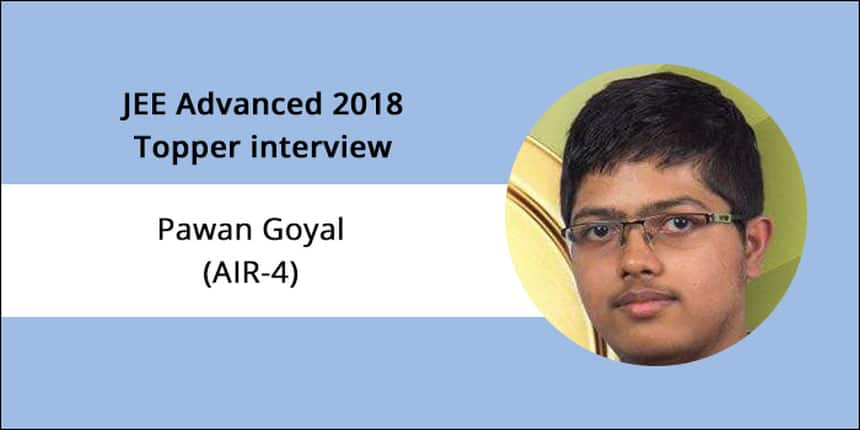 Careers360: Congratulations for your outstanding performance in JEE Advanced 2018! What was your reaction upon knowing your rank?
Pawan Goyal: Thank you so much. I was very happy as this is something beyond my expectations.
Careers360: Tell us something about yourself. Which board have you studied under? Which school have you studied in?
Pawan Goyal: I am from Jaipur. My father has a transferrable job so he stays in Noida. I came to Kota with my mother and sister when I was in class VII. I have studied in Aklank Public School affiliated to CBSE board.
Careers360: What is your score in JEE Advanced 2018? What is your All India Rank and Category Rank?
Pawan Goyal: My JEE Advanced 2018 score is 320, All India Rank is 4 and Category Rank is also 4.
Careers360: Why do you want to study engineering? When did you decided to study engineering? Which branch would you be interested in? Any reason?
Pawan Goyal: My elder sister inspired me to study engineering as she has studied from IIT. I want to study Computer Science Engineering (CSE) as it has a lot of scope in terms of start-ups and financially too. My interests also lie in CS branch. I want to go to IIT Bombay.
Careers360: JEE Advanced went online this year. What is your opinion about it? Did it change your preparation strategy for the exam?
Pawan Goyal: In the initial stages, I felt it was time consuming when you have to make diagrams, do calculations etc. Then in online mode, it becomes a bit difficult as there is no longer an option of working it all out. It was because of this, I had to make a change in my preparation methodology. We practised lot of question papers in our coaching centre which helped.
Careers360: When did you start your JEE Advanced preparation? Tell us something about your preparation strategy and daily routine for JEE Advanced?
Pawan Goyal: I started my JEE Advanced preparation in class XI. I used to study for 6 hours in coaching and 5 hours at home with breaks in between.
Careers360: How was the preparation for JEE Advanced different from JEE Main?
Pawan Goyal: There was no specific preparation strategy for JEE Main as when you are preparing for JEE Advanced, the syllabus gets covered in the same.
Careers360: Since there was just a month after the JEE Main, elaborate on your preparation strategy?
Pawan Goyal: I focussed mainly on revision. I made sure that I revised all the syllabus of the entrance exam and not start with any new topics or concepts.
Careers360: Did you take coaching for JEE and if yes from where? What are the benefits of coaching according to you?'
Pawan Goyal: Yes, I took coaching from Resonance, Kota. I think coaching is really helpful as it provides you with all the study material otherwise you will have to struggle and compile it yourself which in turn is a waste of time.
Careers360: Mock tests and sample papers – how extensively did you practise with the help of these? Do you think practising from the previous year papers help and how?
Pawan Goyal: I solved JEE Advanced question papers from 2004-2017. Practising previous year question papers is very useful as they will give you a view of how the questions are asked, the style of questioning and the fact that more conceptual questions are asked becomes visible prods to work on your concepts timely.
Careers360: Are there any special books that you feel have helped with your JEE Advanced preparation?
Pawan Goyal: No, there were no special books. I relied on the study material provided by my coaching institute.
Careers360: Did you face any problem during the JEE Advanced examination? Which subject was the easiest and which was the toughest in JEE Advanced? What do you think is a tough thing to manage during the JEE Advanced exam?
Pawan Goyal: No, not as such. Physics was the easiest and Maths was the toughest. Time management is something that becomes difficult during the exam as numericals and long calculations were involved such that accuracy up to 2 decimals had to be delivered.
Careers360: What is the main difference between both the two papers in JEE Advanced? 
Pawan Goyal: There was no difference as more or less pattern of both the papers was same and marks were also equally distributed in both.
Careers360: Did you face any technical glitches during the exam? What is your opinion on the way the exam was conducted?
Pawan Goyal: No, I didn't face any technical glitches during the exam. I think we were the first batch to face this experiment. Everything at first is not easy to accept but sooner or later transition flows in.
Careers360: What do you think are the key factors behind your stupendous success in JEE Advanced? 
Pawan Goyal: It was my parent's support; coaching institute's guidance and consistent study that helped me achieve this success.
Careers360: How did you de-stress yourself during the preparation? What are your hobbies? How often could you pursue them?
Pawan Goyal: I used to go for a walk and watch television during the preparation period.
Careers360: Who is your ideal or biggest inspiration in life and why?
Pawan Goyal: My sister is my biggest inspiration as she was in IIT and that's what inspired me to study for it.
Careers360: You know you are an inspiration to thousands of students across the country. Do you have any message for future aspirants on tackling the JEE Advanced exam?
Pawan Goyal: I would say that there are two things – one is interest and the other is consistent study. Many students who are not interested and are pressurised to study, especially for IITs will not do well as it is not their interest area. The combination of interest and consistent study will help you achieve success everywhere.
Questions related to JEE Advanced
Showing 13149 out of 13150 Questions