Common mistakes you should avoid in JEE Advanced 2020 exam
Common mistakes you should avoid in JEE Advanced 2020 exam- Every year around 1.6 lakh candidates appear for JEE Advanced exam for admission to IITs. As the competition level of JEE Advanced is very high; candidates often think about the common mistakes that they should avoid in the exam. Streamlining common mistakes candidates should avoid during the exam can help the candidates to score good marks in JEE Advanced 2020. That is why Careers360 team conducted a live interview with Professor Uma Shankar Manchella, All India IIT Coordinator And Senior Maths Lecturer, Sri Chaitanya Educational Institutions to know about tips and tricks for both JEE Main 2020 and JEE Advanced 2020 exam. Professor Uma Shankar not only gave various tips to the candidates but also highlighted the common mistakes which they should avoid in JEE Advanced 2020. Authorities have already announced that JEE Advanced 2020 will be held on August 23, so the candidates must work on these mistakes and avoid them. Read the full article to know about the common mistakes highlighted by Professor Uma Shankar.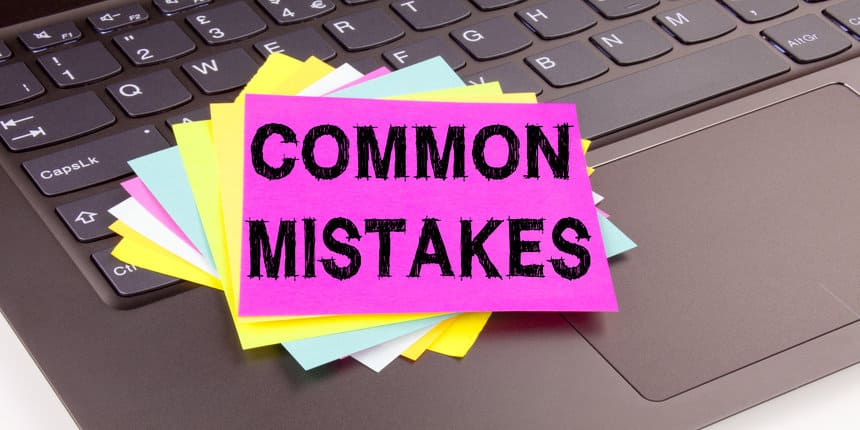 Check the Live Interview here-
Common mistakes you should avoid in JEE Advanced 2020 exam
Do not guess answers- Professor Uma Shankar advised the candidates that they should not guess any answer or mark any answer which seems closest to their calculations because it simply leads to negative marks. More negative marks definitely affect the final score of the candidates.
Not Solving Questions on Paper- Sometimes, candidates see a question and mark the answer without even solving it completely on the paper. In such cases, there can be calculation mistakes which will again lead to negative marks. Although, in some questions it is good to answer questions quickly without solving them on paper but this is beneficial only when a student has a practice of doing so. But it is advisable to solve the questions on paper completely to avoid silly mistakes.
Read paper correctly- Candidates are in so much hurry after the exam starts that they do not read the questions in the paper correctly. They neglect important points, miss on units mentioned in the questions and much more. Thus, candidates must read the entire question completely and correctly without any hurry.
Do not waste your time- Sometimes candidates attempt a question and waste 5-6 minutes on it and then leave it and move on to the next question. This is simply a waste of time. If you think you are unable to answer any question do not waste your time and skip that question. Skipping such questions can save a lot of your time which you can utilise in other doable questions.
Experimenting during the exam- According to Professor Uma Shankar, JEE Advanced paper consists of three types of questions - known, not known but need to be solved and completely unknown. Candidates should ideally attempt known questions first and then move towards not known but need to be solved ones. Candidates should not do any experiments in the exam by attempting completely unknown questions and wasting their time.
Mistakes that you make during JEE Advanced 2020 Preparations
In addition to the mistakes candidates make during the exam, Professor Uma Shankar also pointed out the mistakes that candidates make during their JEE Advanced 2020 preparations.
Leaving some topics- Many times, candidates leave some topics during their preparations which may be important for the exam. Candidates must check the important topics for JEE Advanced and study accordingly. However, it is advisable not to leave any topic. Also, now students have ample time due to lockdown so at this time no topic should be left.
Less Practice- Professor Uma Shankar said that many times, candidates do less practice for JEE Advanced or stop practicing after their JEE Main examination. Candidates should practice more and more questions during their preparation. Candidates should also attempt JEE Advanced mock tests regularly.
Questions related to JEE Advanced
Showing 11523 out of 11523 Questions