JEE Main 2020 Topper Interview: Rongala Arun Siddardha - "Self confidence is the key factor towards success"
JEE Main 2020 Topper Interview (Rongala Arun Siddardha) (100 Percentile): Rongala Arun Siddardha has made a place for himself among the top by securing 100 percentile in JEE Main 2020 Paper 1 which was recently conducted. Rongala has completed his schooling from the Telangana State Board and did his coaching at Sri Chaitanya IIT ACADEMY, Madhapur. Giving all of the credit of his success to the mentors, Rongala mentions that he was shocked upon seeing his score in JEE Main exam. Emphasizing on the importance of time management and mental balance as some other factors that helped him score 100 percentile, JEE Main topper Rongala Arun Siddardha is happy with his percentile but will also be appearing for the April session. Stating Sundar Pichai as his ideal inspiration because he originally belonged to a middle-class family, Rongola also wants to become like him in the future. Read the excerpts below for the detailed interview of JEE Main 2020 topper Rongala Arun Siddardha.
Latest: JEE Main 2020 result to be declared Soon
Stay up-to date with JEE Main News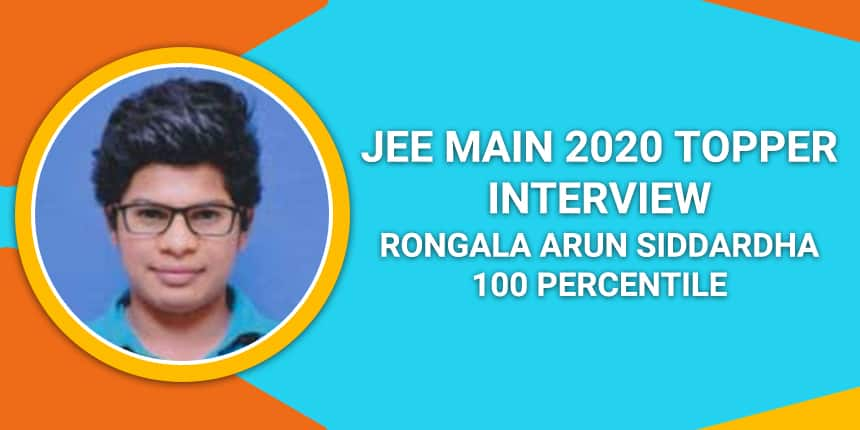 Careers360: Congratulations on your performance in JEE Main 2020! What was your reaction upon knowing your score?
Arun: I was really shocked when my sir said that I got 100 percentile in JEE Main 2020 result. Actually, I didn't expect that I'll get 100 percentile. After checking my response sheet, I just thought that I would get a good rank but didn't expect 100 percentile.
Careers360: Tell us something about yourself. Which board have you studied under? Which school have you studied in?
Arun: I have completed my schooling under Telangana State Board. I studied at Sri Chaitanya IIT ACADEMY, Madhapur.
Careers360: What's your score in Physics, Maths and Chemistry?
Arun:
Mathematics - 99.9937979

Physics - 100.00000

Chemistry - 99.9993109
Careers360: Why do you want to study engineering? When did you decide to study engineering? Which branch would you be interested in? Any reason?
Arun: Actually, there are two reasons why I want to study engineering. Firstly, I have an interest in this field and secondly, engineering is one of the leading fields. Also, I want to take CSE as I have an interest in computer, technology and AI. After CSE, I want to take AI.
Careers360: When did you start your JEE Main preparation? Tell us something about your preparation strategy and daily routine for JEE Main?
Arun: In our campus, they used to prepare us for JEE Advanced. Since December 15, they made us prepare for JEE Mains track i.e concentrating on the extra syllabus portion which are there for mains. I used to prepare daily 13 hours for the JEE and I'm preparing for this exam for 2 years rigorously.
Careers360: Did you face any difficulties since the examination was conducted completely in computer-based mode?
Arun: No, not at all. Actually, my campus used to conduct Computer Based Test to help me get used to it.
Careers360: Was there a difference in the preparation strategy in the last months of JEE Main considering that the board exams are also coming up? How did you manage preparation for both?
Arun: No, I did not face any such problem. Actually, I study in Telangana State Board where the exam will commence from March 4.
Careers360: Did you take coaching for JEE Main and if yes from where? What are the benefits of coaching according to you?
Arun: Yes, I took coaching from Sri Chaitanya IIT academy, Madhapur. According to me, there are a lot of benefits of taking coaching. My campus gave me the study material which is sufficient for my jee preparation. Also, my mentors used to assign me daily work. So that is very helpful for my preparation in JEE Mains.
Careers360: JEE Main sample papers and mock test – how extensively did you practise with the help of these? Do you think practising from the previous year papers help and how?
Arun: Yes, they were very helpful in my preparation for jee Mains. I used to daily practice one previous paper. This helped me get the idea of difficulty level of JEE mains paper, such as question framing and the role of calculation in the paper. All of these are very important for preparation.
Careers360: Are there any special books that you feel have helped with your JEE Main preparation? Are the school textbooks adequate for preparing for JEE Main and Class XII?
Arun: I didn't follow any particular book for my preparation. My academy provided me with enough material to practise. One book that I followed was NCERT which is very very important in the preparation for any competitive exam in INDIA.
Careers360: Did you face any problems during the JEE Main examination? Which subject was the easiest and which was the toughest in JEE Main? What do you think is a tough thing to manage during the JEE Main exam?
Arun: When the exam commenced, I was a little tensed but the paper was easy. So, I gained confidence in the middle of the exam. This helped me do all the questions. I think my shift paper was easy and all I needed was mental balance and time management.
Careers360: What do you think are the key factors behind your stupendous success in JEE Main?
Arun: For me, the key factor was confidence that I gained during the examination. Another key factor is my mentors who supported me in my academy. Time management, mental balance are some other factors.
Careers360: Will you be appearing for the April session of JEE Main 2020 too?
Arun: Yes! I will be appearing in the JEE Main April exam also.
Careers360: How did you de-stress yourself during the preparation? What are your hobbies? How often could you pursue them?
Arun: I used to get distressed by sleeping, taking naps. I used to do this in after every three hours. My hobby includes reading some inspirational books.
Careers360: Who is your ideal or biggest inspiration in life and why?
Arun: Sundar Pichai is my ideal inspiration because he originally belonged to a middle-class family. He became CEO of Google and I want to be like him in my life
Careers360: You know you are an inspiration to thousands of students across the country. Do you have any message for future aspirants on tackling the JEE Main exam?
Arun: I would say, just learn how to manage things, have patience, and maintain mental balance. Also, time management is the key factor in time-bound exams.
Also Read: JEE Main 2020 Topper Interview: Parth Dwivedi
Also Read: JEE Main 2020 Topper Interview- C Koushal Kumar Reddy
Questions related to JEE Main
Showing 133108 out of 133108 Questions