IIT ISM Seat Matrix - Check Previous Year Seat Matrix Here
IIT (ISM) Seat Matrix - Candidates will be able to check the seat matrix released by the Joint Seat Allocation Authorities (JoSAA) in conjunction with the institute. With the help of the IIT (ISM) seat matrix, candidates will be able to know the total number of seats available for admission. IIT (ISM) will be offering admissions on the basis of JEE Advanced scores through JoSAA.
Stay up-to date with JEE Advanced News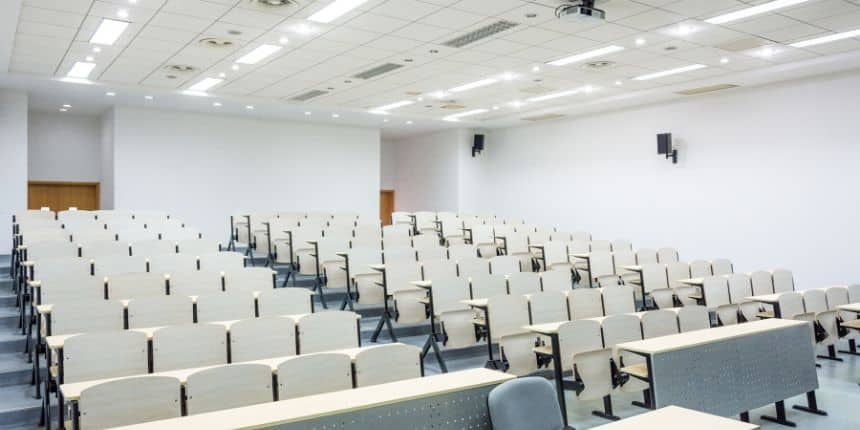 Also, since the seat matrix will be released category and course wise, it will be easier for the candidates to decide the preferred choice of courses. Only those candidates who will qualify JEE Advanced 2022 will be eligible to participate in the admission process. Those who fail to qualify the entrance exam will not be allotted any seat in the institute. IIT ISM offers admission to various courses and some of them include chemical engineering, mechanical engineering, civil engineering, electronics and communication engineering and many more. Read the complete article to know more about the IIT (ISM) seat matrix.
What's JoSAA?
Joint Seat Allocation Authority (JoSAA) conducts the counselling process for admission to IITs, NITs, IIITs and GFTIs. The registrations for the JoSAA 2022 counselling and choice filling commence tentatively in the month of June. Candidates who qualify JEE Main as well as JEE Advanced will have to participate in counselling rounds for seat allocation.
IIT (ISM) Seat Matrix 2022
Candidates will be able to check the released IIT (ISM) seat matrix in online mode on the official website of JoSAA. The authorities will release the seat matrix for each course and for each category separately. IIT (ISM) seat matrix 2020 will be updated in this article soon after it will be released by the authorities.
Previous Year's IIT (ISM) Seat Matrix
IIT (ISM) seat matrix 2022 will be released after the JEE Advanced 2022 examination. In the meanwhile, candidates are advised to check the previous year's IIT (ISM) seat matrix to have a rough idea about the availability of seats. IIT (ISM) seat matrix for the year 2021 is given in the table below.
IIT (ISM) Seat Matrix 2021
Academic Program Name
State/All India Seats
Seat Pool
OPEN
OPEN-PwD
GEN-EWS
GEN-EWS-PwD
SC
SC-PwD
ST
ST-PwD
OBC-NCL
OBC-NCL-PwD
Total(includes Female Supernumerary)

Program-Total





























Seat Capacity

Female Supernumerary

Chemical Engineering (4 Years, Bachelor of Technology)
All India
Gender-Neutral
17
1
4
0
6
1
3
0
11
1
44
49
6
Female-only (including Supernumerary)
4
1
1
0
1
0
1
0
3
0
11
(including "6" Supernumerary)
Civil Engineering (4 Years, Bachelor of Technology)
All India
Gender-Neutral
21
1
5
1
7
1
4
0
14
1
55
61
8
Female-only (including Supernumerary)
5
1
1
0
2
0
1
0
4
0
14
(including "8" Supernumerary)
Computer Science and Engineering (4 Years, Bachelor of Technology)
All India
Gender-Neutral
42
3
10
1
15
1
8
1
28
2
111
124
15
Female-only (including Supernumerary)
10
1
3
0
4
0
2
0
7
1
28
(including "15" Supernumerary)
Electrical Engineering (4 Years, Bachelor of Technology)
All India
Gender-Neutral
37
2
9
1
14
1
7
1
25
1
98
114
9
Female-only (including Supernumerary)
9
1
2
0
4
0
2
0
6
1
25
(including "9" Supernumerary)
Electronics and Communication Engineering (4 Years, Bachelor of Technology)
All India
Gender-Neutral
38
2
9
1
14
1
7
1
25
1
99
116
8
Female-only (including Supernumerary)
10
1
2
0
4
0
2
0
6
0
25
(including "8" Supernumerary)
Engineering Physics (4 Years, Bachelor of Technology)
All India
Gender-Neutral
10
1
2
0
4
0
2
0
6
0
25
29
2
Female-only (including Supernumerary)
2
0
1
0
1
0
0
0
2
0
6
(including "2" Supernumerary)
Environmental Engineering (4 Years, Bachelor of Technology)
All India
Gender-Neutral
15
1
4
0
5
0
3
0
9
1
38
47
1
Female-only (including Supernumerary)
4
0
1
0
1
0
1
0
3
0
10
(including "1" Supernumerary)
Mechanical Engineering (4 Years, Bachelor of Technology)
All India
Gender-Neutral
40
2
9
1
15
1
7
1
27
2
105
111
20
Female-only (including Supernumerary)
10
1
2
0
4
0
2
0
6
1
26
(including "20" Supernumerary)
Mining Engineering (4 Years, Bachelor of Technology)
All India
Gender-Neutral
38
0
10
0
14
0
7
0
25
0
94
103
14
Female-only (including Supernumerary)
9
0
2
0
4
0
2
0
6
0
23
(including "14" Supernumerary)
Mining Machinery Engineering (4 Years, Bachelor of Technology)
All India
Gender-Neutral
18
0
5
0
7
0
3
0
12
0
45
47
9
Female-only (including Supernumerary)
4
0
1
0
2
0
1
0
3
0
11
(including "9" Supernumerary)
Petroleum Engineering (4 Years, Bachelor of Technology)
All India
Gender-Neutral
28
1
7
0
10
1
5
0
19
1
72
79
11
Female-only (including Supernumerary)
7
0
2
0
3
0
1
0
5
0
18
(including "11" Supernumerary)
Mineral and Metallurgical Engineering (4 Years, Bachelor of Technology)
All India
Gender-Neutral
14
1
3
0
5
0
3
0
9
1
36
37
8
Female-only (including Supernumerary)
3
1
1
0
1
0
1
0
2
0
9
(including "8" Supernumerary)
Mathematics and Computing (5 Years, Integrated Master of Technology)
All India
Gender-Neutral
17
1
4
0
6
1
3
0
11
1
44
52
3
Female-only (including Supernumerary)
4
1
1
0
1
0
1
0
3
0
11
(including "3" Supernumerary)
Applied Geology (5 Years, Integrated Master of Technology)
All India
Gender-Neutral
7
0
2
0
2
0
1
0
5
0
17
19
2
Female-only (including Supernumerary)
1
0
1
0
1
0
0
0
1
0
4
(including "2" Supernumerary)
Applied Geophysics (5 Years, Integrated Master of Technology)
All India
Gender-Neutral
7
0
2
0
2
0
1
0
5
0
17
19
2
Female-only (including Supernumerary)
1
0
1
0
1
0
0
0
1
0
4
(including "2" Supernumerary)




Total Seats
432
24
0
0
160
8
81
4
289
15
1125
1007
118
Questions related to JEE Advanced
Showing 14811 out of 14811 Questions