How to Study Physics for JEE Main
Physics is one of the three subjects asked in JEE Main exam along with Chemistry and Mathematics. Students preparing for JEE Main often find Physics difficult in comparison to the other two subjects. Questions in JEE Main exam are framed from the class 11 and 12 Physics syllabus, in a way which tests the fundamental and analytical understanding of the students. And so, the level of questions in exam are that of class 11 and 12 but the skills required to solve the questions must be of a high standard. Students often have queries on how to study Physics for JEE Main to score good marks in the exam. To help students prepare JEE Main Physics, Careers360 conducted a live webinar with Pramod Maheshwari, CMD of Career Point Coaching Institute. Here in the article, students are presented with queries on how to study Physics for JEE Main as suggested by him.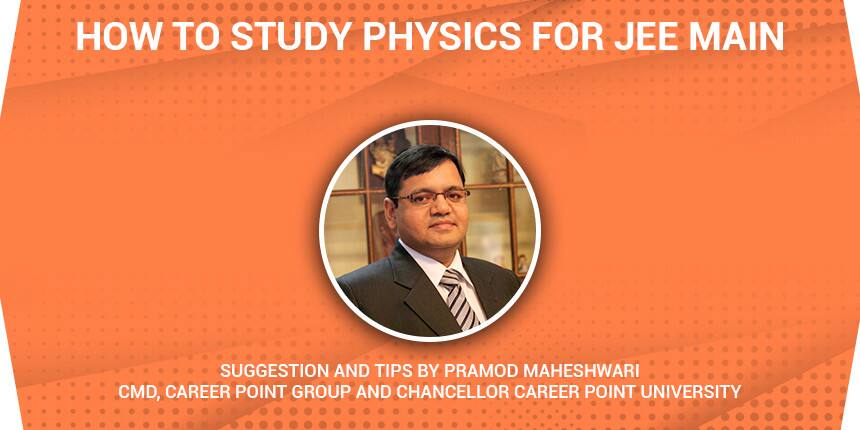 How to Study Physics for JEE Main - What Pramod Maheshwari Say
Physics is an analytical subject which needs to be visualised and understood through its concepts and principles. Physics can not be learnt by memorizing the principles and concepts, one has to understand how to apply those principles and concepts. The other important part of JEE Main physics is numerical problems. Students have to solve as many numericals as they can to get good command over the subject.
Preparation Plan for JEE Main Physics
NCERT is the best book to start studying Physics for JEE Main. It is written by the most eminent Physicists and has a very lucid and easy to understand language.

Make a preparation timetable for JEE Main. Allot at least 4-5 hours daily for JEE Main preparation and 2 hours specifically for Physics apart from school hours.

Refer the JEE Main syllabus for Physics and mark the topics in textbooks

Start from class 11 NCERT text book and read each chapter thoroughly.

Revise in evening the topics studied before going to sleep

Give proper time to study each chapter. Understand the concepts and learn from the examples

Do not hurry or learn anything in haste and don't try to memorize the concepts

Make your own notes from studying the topics

Refer additional material for examples, if necessary.
How to Master Solving Numerical in Physics for JEE Main
Always begin with easy questions and do not jump to the difficult questions

First read the numerical one or two times and try to understand what is said and what is asked.

Write down all the information and values given in the question

Write down the point which is asked in question

Convert all the numerical values in same SI units if they are different

Use the formula which has to be applied for getting the answers

Sometimes, the question may require a series of formulas to be applied before arriving at the final answer

Always check the numerical values, a very small mistake can turn the answer wrong

Solve as many questions as you can to gain confidence

DO NOT avoid solving numerical problems.
Important Topics from Class 11 Physics for JEE Main
Law of Motion

Work Power and Energy

System of Particles and Rotational Motion

Gravitation

Mechanical Properties of Solids and Fluids

Thermal Properties of Matter

Thermodynamics

Kinetic Theory

Oscillation and Waves
Important Topics from Class 12 Physics for JEE Main
Electric Charge and Field

Electrostatic Potential and Capacitance

Current Electricity

Magnetism

Moving Charges and Magnetism

Electromagnetic Induction

Alternating Current

Electromagnetic Waves

Ray and Wave Optics

Atom and Nuclei

Semiconductor
Best Books for JEE Main Physics
S.No.

Name of the book and author

Book will be best for

1.

NCERT Text Books for Class 11 and 12

Learning Basic Concepts

2.

Concepts of physics (Vol. 1 and 2) by H.C Verma

Quality problems on all topics

3.

Fundamentals of Physics by Halliday, Resnick & walker

Concepts of all the topics

4.

Understanding Physics by D C Pandey (Arihant Publications): Set of books for

Electricity & Magnetism

Mechanics (Vol. 1 & 2)

Optics & Modern Physics

Waves & Thermodynamics

Explanation, Derivation and question set of quality solved/unsolved problems

5.

Problems in General Physics by I.E Irodov

Practicing problems

6.

Understanding physics by Freedman and Young

Explanation, theory of all topics

7.

Problems in physics by SS Krotov

Practicing problems

8.

Problems and solution of physics by Shashi Bhushan Tiwari

For practicing problems and studying detailed solutions.
Questions related to JEE Main
Showing 112402 out of 112403 Questions