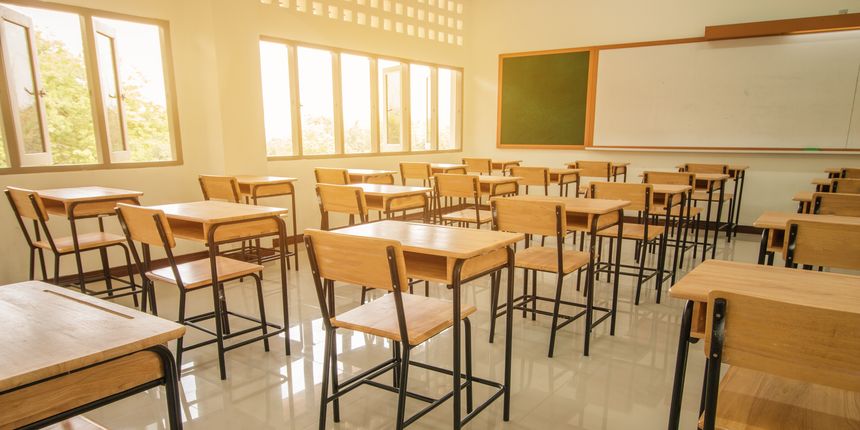 NATA Exam Centres 2019 - Council of Architecture (COA) will conduct the national-level entrance exam at 122 exam centres across the country; additionally, NATA 2019 will also have one exam centre abroad (Dubai). Candidates will be able to select NATA 2019 exam centres at the time of filling the application form.  A maximum of three choices of NATA exam centre 2019 is allowed, which have to be entered in the order of priority. One must bear caution when selecting exam centres of NATA 2019, as the request for change won't be entertained once a centre has been allotted. Details of the allotted exam centre will be mentioned on the NATA admit card, along with other details like the date and time of the exam. On exam day, the NATA applicant has to reach the exam venue on time, or else he/she won't be allowed to take the exam. Go through the rest of the article to learn full details of NATA 2019 exam pattern.
Latest: NATA 2019 application form is now available
B.Tech Admissions Open 2019
Manipal Institute of Technology
City-wise NATA 2019 Exam Centres 
Sl.No

State

City

1

Andaman and Nicobar

Port Blair

2

Andhra Pradesh

Guntur

3

Kakinada

4

Kurnool

5

Rajahmundry

7

Tirupathi

8

Vijayawada

9

Visakhapatnam

10

Arunachal Pradesh

Itanagar

11

Assam

Dibrugarh

12

Guwahati

13

Silchar

14

Bihar

Gaya

15

Bhagalpur

16

Muzaffarpur

17

Patna

18

Chandigarh

Chandigarh

19

Chattisgarh

Bhilai

20

Bilaspur

21

Raipur

22

Delhi

Delhi

23

Goa

Panaji

24

Gujarat

Ahmedabad

25

Gandhinagar

26

Rajkot

27

Surat

28

Vadodara

29

Haryana

Ambala

30

Faridabad

31

Karnal

32

Gurgaon

33

Sonepat

34

Himachal Pradesh

Hamirpur

35

Shimla

36

Jammu and Kashmir

Jammu

37

Srinagar

38

Jharkhand

Bokaro Steel City

39

Dhanbad

40

Hazaribagh

41

Jamshedpur

42

Ranchi

43

Karnataka

Bengaluru

44

Gulbarga

45

Hubli

46

Mangalore

47

Mysore

48

Udupi

49

Kerala

Kannur

50

Kozhikode

51

Thrissur

52

Ernakulam

53

Trivandrum

54

Kottayam

55

Madhya Pradesh

Bhopal

56

Gwalior

57

Indore

58

Jabalpur

59

Ujjain

60

Maharashtra

Amravati

61

Ahmednagar

62

Aurangabad

63

Jalgaon

64

Kolhapur

65

Mumbai

66

Nagpur

67

Nashik

68

Navi Mumbai

69

Pune

70

Manipur

Imphal

71

Meghalaya

Shillong

72

Mizoram

Aizawl

73

Nagaland

Kohima

74

Dimapur

75

Odisha

Bhubaneswar

76

Cuttack

77

Rourkela

78

Sambalpur

79

Puducherry

Puducherry

80

Punjab

Amritsar

81

Bhatinda

82

Jalandhar

83

Ludhiana

84

Mohali

85

Patiala

86

Rajasthan

Ajmer

87

Bikaner

88

Jaipur

89

Jodhpur

90

Kota

91

Udaipur

92

Sikkim

Gangtok

93

Tamil Nadu

Chennai

94

Coimbatore

95

Madurai

96

Salem

97

Tiruchirappalli

98

Vellore

99

Telangana

Hyderabad

100

Warangal

101

Tripura

Agartala

102

Uttar Pradesh

Agra

103

Allahabad

104

Bareilly

105

Ghaziabad

106

Greater Noida

107

Jhansi

108

Kanpur

109

Lucknow

110

Moradabad

111

Meerut

112

Muzaffarnagar

113

Noida

114

Varanasi

115

Uttarakhand

Dehradun

116

Haldwani

117

Roorkee

118

West Bengal

Asansol

119

Durgapur

120

Kolkata

121

Siliguri

122

Howrah

123

Outside India

Dubai




Key details about NATA exam centre 2019 
The name and address details of the allotted exam centre will be mentioned on the admit card of NATA 2019.

The candidate will be able to select exam centres at the time of filling the NATA application form.  

A maximum of three choices of NATA exam centres is allowed; also, choices have to be entered in the order of priority

The candidate will be usually allotted the first preferred choice unless the number of applications for the centre is less than 250. In that case, the candidate will be allotted the next preferred exam centre.

The decision of the COA is final in matters related to the allocation of NATA 2019 exam centres.

Also, request for change in allotted exam centre will not be entertained under any circumstances. So, the candidates must be careful when selecting exam centre of NATA 2019.   

Please note, as per new guidelines from COA, NATA 2019 will now be conducted twice a year - April 14 and July 7. The application form for both attempts is now available from January 24. 
Documents candidates must bring to NATA 2019 exam centre
On the day of the exam, the candidate should carry the following document with them without fail:
Admit card of NATA 2019

A valid photo id from any of the following - Aadhar card, d- aadhar card, pan card, passport, driving license, voter id or school id card in original
Please ensure the admit card isn't damaged, distorted or disfigured, or else the candidate might not be allowed to write the exam, especially if there is a mismatch of details between the admit card and the attendance sheet.
Guidelines to follow on exam day
The candidate should reach the allotted NATA exam center before 8:30, as after that no candidate would be allowed inside the exam hall.

Also, the candidate mustn't bring any electronic gadgets like mobile phones, calculator, or any written text material inside the exam hall. Doing so could lead to disqualification of candidature.

However, the candidate must bring blue / black ballpoint pen with them. For drawing test, the candidate is permitted to use pencils, colour pencils and pens with quick drying inks 

Impersonation will also lead to immediate disqualification if caught.

The candidate may also bring their own cardboard or clip boards with them.

The candidate can't leave the exam hall before the conclusion of the exam.

Every candidate will have their photograph and biometric taken at the NATA 2019 exam centre. After completion of this step only, the candidate will be allowed to take their seat inside the exam hall.
Questions related to NATA