GATE 2021 Topper Interview: Sourav Duari has emerged as the topper in GATE's PH paper, obtained AIR 1, the results of which were declared on March 19. He appeared for Physics in GATE 2021, secured 69.67 marks out of 100. He said that He has no proper plan for the GATE. "Currently, He is a student in the 4th semester but when he started this GATE 2021 exam preparation, third-semester exam was knocking on his door. It was very difficult for him to maintain a proper plan or schedule", He added. Careers360 interacted with Sourav Durai about the GATE 2021 topper interview to know how he achieved this feat.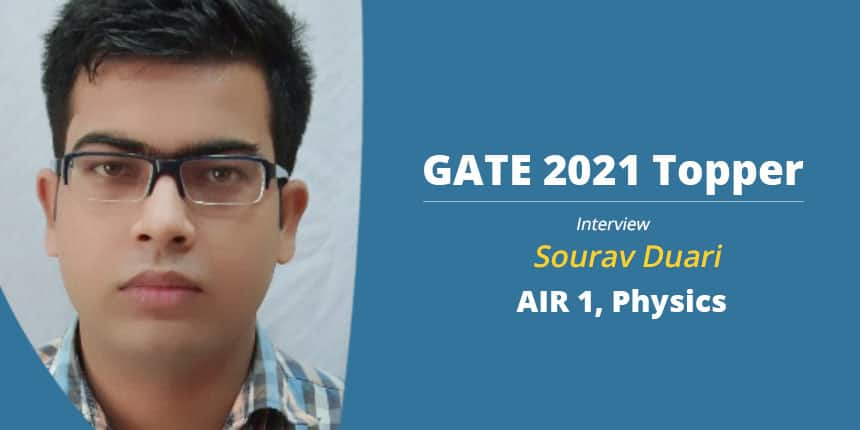 GATE 2021 Topper Interview Sourav Duari, AIR 1 Physics "Don't Lose Hope and Keep Practicing"
Question: Tell us something about yourself; Where have you done your engineering college from and in which branch?
Answer: I am Sourav Duari, I completed my BSc in physics from Midnapore college. Now I am doing my MSc from Rajabazar science college (Calcutta University).
What was the GATE Paper you appeared in? What is your GATE score and how many marks did you secure out of 100 on the GATE paper?
Answer: I have appeared in the Physics Paper. I got 69.67 marks out of 100.
Question: Is this your first attempt or did you attempt GATE earlier?
Answer: Yes, it is my 1st attempt.
Popular Online Engineering Courses and Certifications
Question: What was the reason you appeared for GATE 2021? Please elaborate.
Answer: Research institutions and IIT call for an interview through gate or net. Special if you have a good rank in the gate, you will be called for a BARC interview without given a BARC exam.
Question: Have you applied to any PSUs recruiting through GATE? Which ones?
Answer: No, I don't apply for any kind of PSU job.
Question: When did you start your preparation?
Answer: I prepared myself for the net. It helps me to crack the gate with such a good score.
Question: How did you prepare for the GATE exam? How many hours did you put in per day as per the stage of preparation?
Answer: I have no proper schedule for the gate. Currently, I am a student in the 4th semester but when I prepared for this exam, my 3rd sem exam was knocking on my door. It was very difficult for me to maintain a proper schedule.
Question: Have you taken any coaching? If yes- From where? How did it help?
Answer: No.
Question: Can you share any preparation strategies with our readers?
Answer: Just clear your concept and keep practicing problems,
Question: When should one start their preparation for GATE?
Answer: It will vary from man to man.
Question: How important do you feel GATE mock tests are and why? Is it true that if one solves the previous year's question papers, there is a good chance of cracking the exam successfully?
Answer: Practicing the previous year is very helpful. It gives an idea about the questions paper.
Question: Which books did you follow for GATE preparation? Pls, name some very important must-read books for GATE.
Answer:
Quantum mechanics- Sakurai.

Classical mechanics - Goldstein.

Statistical mechanics - Patharia.
Question: Which are the topics one should focus more on?
Answer: Focus on solid, atomic quantum, statistical mechanics.
Question: Name some important Topics that you feel are a must read for any student attempting the GATE exam?
Answer: If you have time read all topics.
Question: How should you schedule answering the GATE exam – which section to attempt first and which next?
Answer: First, I attempted part A and then part B.
Question: Any advice for future aspirants?
Answer: Don't lose hope and keep practicing.