GATE 2017 Topper Interview Divyanshu Jha (AIR 8 ME) - Success is never denied to those who work hard
GATE 2017 Results are out. Announced by IIT Roorkee, the results were announced a day early on March 26. More than 9 lakh candidates have applied and appeared for the exam held on February 4,5 11 & 12, 2017 in 23 papers. Divyanshu Jha, a Mechanical & Automotive engineer from DTU has secured an All India Rank of 8 in GATE 2017 Mechanical Engineering. Here he talks to Careers360 about the reasons he appeared for GATE, his preparation strategies, books he referred to and more.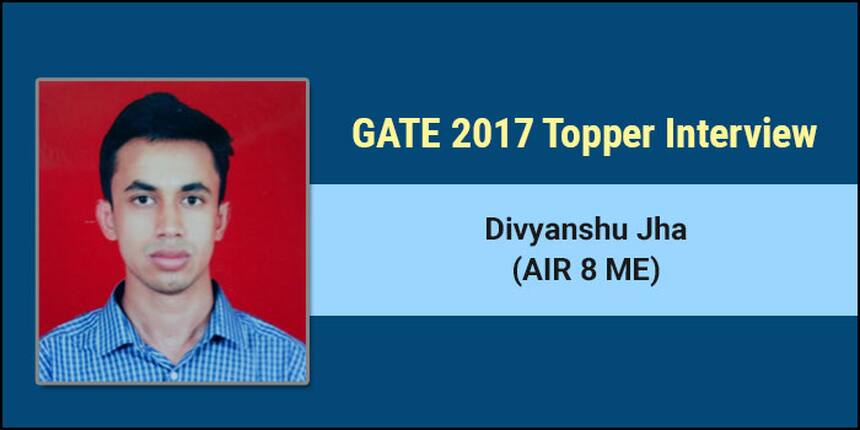 Related Posts:
Careers360: Tell us something about yourself; Where have you done your engineering from and in which branch?
Divyanshu Jha: I have done my B.Tech from Delhi Technological University (DTU) in Mechanical & Automotive engineering in 2016. I later took up a job but left it in October to concentrate on my GATE efforts so that I can do well.
Careers360: what was the GATE Paper you appeared in? What rank did you get in GATE 2017? What is your GATE score and how many marks did you secure out of 100 in GATE paper?
Divyanshu Jha: I appeared for GATE 2017 Mechanical Engineering in the second shift paper on February 4, 2017, My All India GATE 2017 rank. I obtained 92.28 marks out of 100 in GATE 2017 while my GATE score is 965.
Careers360: What was the reason you appeared for GATE 2017? Pls elaborate your reasons.
Divyanshu Jha: GATE provides ample opportunities for engineering graduates to pursue their career in various Public sector undertakings with good perks and a balanced life. It also ensures admission to IISc Bangalore and various reputed courses at IITs. I wanted to keep my options on both fronts and look for the best in terms of my future prospects.
Careers360. Have you applied to an PSUs recruiting through GATE?
Divyanshu Jha: I have applied in GAIL and NTPC only.
Careers360: When did you start your preparation?  How did you prepare for the GATE exam? How many hours did you put in per day as per the stage of preparation?
Divyanshu Jha: I started my preparation during my final year at college.  However, this became tough due to a heavy college work load. To compensate, I tried to study at least 30 hours only for GATE on a weekly basis. After completing my graduation in 2016, I took up a job. However studying became too tough so I quit in October 2016 and concentrated on my preparation. After I quit my job, I took up studying up to 60 hours per week for next 3 months.
Careers360: Have you taken any coaching? If yes- From where? How did it help?
Divyanshu Jha: Yes.  I enrolled in weekend classroom program of MadeEasy. I think this is essential considering the present scenario where cutoffs are rising. I needed a source that could provide the GATE topics and subject matter in a concise manner. This aids in grasping the topics easily thus saving time to devote to problem solving. MadeEasy notes helped in this and  allowed me to focus on areas that had a high probability of being asked in the GATE exam.
Careers360: Can you share any preparation strategies with our readers? When should one start their preparation for GATE? How to schedule study time and make timetables?
Divyanshu Jha: According to me, theideal time to start preparation for GATE is the 6th semester. One should start with a thorough analysis of the topics to be studied and then keep a track of topics coveres and yet to be covered. However since this is a tough time with a heavy college load, it is advisable to study as per weekly goals. This ensure a proper coverage and equal attention to college and GATE.
However if you are a graduate, then it is best to study as per daily goals made at the start of GATE preparation. I feel that about 30 to 40 hours of effective self-study is mandatory for success in GATE.
Careers360: How should one schedule answering the GATE exam – which section to attempt first and which next?
Divyanshu Jha: Here I must say that this depends upon the student. However my strategy went as follows
I first attempted the non-technical section as the questions in these are very easy and helpto build confidence. Next I attempted the 2 marks technical section as they have the majority weightage and require a calm mind to crack them. The last section I attempted was the 1 marks technical one. These questions are very easy.
Careers360: What was the toughest aspect in your GATE preparation?
Divyanshu Jha: The most challenging aspect in my GATE preparation was lack of continuity in studies. As I mentioned earlier, studying for my college was very important. Then my job took a lot of my time. To cope up with the lack of time on a daily basis, I made up weekly goals and adhered to them such that my preparation didn't suffer.
Careers360: Name some important Topics that you feel are a must read for any student attempting GATE exam?
Divyanshu Jha: I personally feel that the difficulty levels of the GATE papers have dropped own in the past years. This means an easy paper and high GATE cutoffs. So it is imperative that we cover the entireGATE syllabus as much as possible. To get high marks, it is very much essential that one knows all the topics and not leave any stone unturned during preparation
Careers360: What did you feel was a tough thing in the GATE exam?
Divyanshu Jha: GATE exam requires high level of accuracy. To cope up this, covering the entire syllabus and putting that into practice is required. Not just that, constant practice and analysis of one's level of studying is also essential. This in itself is tough.
Careers360: How important do you feel mock tests are and why? Is it true that if one solves the previous year question papers, there is a good chance of cracking the exam successfully?
Divyanshu Jha: Yes, solving mock tests, GATE Sample Papers and previous year question papers is essential. I would advise to solve all the previous year papers at least thrice. It helps to predict important topics and areas that need more focus. A Test series that is generally available easily from many of the coaching people is also a must as it helps students analyse their exam temperament and teaches time management.
Careers360: Which books did you follow for GATE preparation? Pls name some very important must read books for GATE
Divyanshu Jha:
Reference Books for GATE
| | | |
| --- | --- | --- |
| S.No | Books | Authors |
| 1 | Thermodynamics | P.K Nag |
| 2 | Heat Transfer | Made Easy Class Notes |
| 3 | Production | S K Mondal Notes |
| 4 | Material Science | Made Easy Class Notes |
| 5 | Fluid Mechanics and Machinery | Modi & Seth |
| 6 | Machine Design | VB Bhandari |
| 7 | Strength of Material | Sadhu Singh |
| 8 | Refrigeration | Made Easy Class Notes |
| 9 | IC engine | Mathur Sharma |
| 10 | Theory of Machine | SS Ratan |
Most Important: Practice with previous year GATE Papers is a must.
Careers360: What did you do for leisure during this intense preparation for GATE? Any specific activities that helped you unwind?
Divyanshu Jha: I love to read shayaris and play table tennis in my free time. So I continued with these activities when I needed to unwind or take a break.
Careers360: .Any advice for the future aspirants?
Divyanshu Jha: Just keep working hard. Success is never denied to those who work hard. Don't take pressure. Enjoy this phase of life as much as possible in a balanced way.
Questions related to GATE
Showing 15327 out of 15327 Questions