NATA Exam Dates 2023 - COA will declare the NATA 2023 admit card at the official website nata.in. The NATA 2023 phase 2 admit cards will be released on May 30 and will be available for download by the candidates till June 3, 2023. NATA 2023 test 2 is scheduled on June 3. Candidates can find the exam dates of NATA 2023 at the official website nata.in. The NATA 2023 will be conducted in three phases. The NATA 2023 phase 1 held on April 21, while the phase 2 and 3 will be held on June 3 and July 9 respectively. Aspirants willing to appear in the NATA exam 2023 have to go through the exam dates to know about all the major events related to NATA.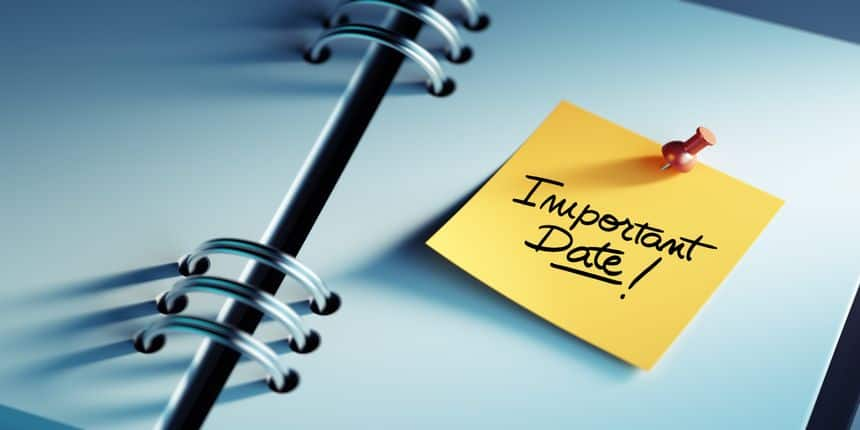 NATA Exam Dates 2023 (OUT) - Registration, Admit Card, Result, Counselling Dates
With the help of the exam date of NATA 2023, candidates can keep track of when the various B.Arch admission and examination events will take place. NATA exam date 2023 consists of details of the application, admit card, exam, NATA result dates, and more. Since NATA 2023 is conducted thrice this year - separate dates are released for the three attempts. Candidates are advised to regularly check NATA 2023 exam dates so that no events are missed out. NATA application form 2023 dates will be announced on the official website. For more details about the NATA exam date, candidates can refer to the article given below.
NATA Exam Dates 2023
Candidates preparing for the entrance exam are advised to keep checking the exam dates of NATA 2023. The various events related to the examination and admission procedure have been outlined in the NATA test date 2023.
NATA 2023 Exam Date (First attempt)
| | | |
| --- | --- | --- |
| S.No | Events | Important Dates |
| 1 | NATA registration date 2023 | March 20, 2023 |
| 2 | NATA application form 2023 last date | April 13, 2023 |
| 3 | Last date to upload images and pay fees | April 13, 2023 |
| 4 | NATA Correction window | April 8 to 10, 2023 |
| 5 | Release of admit card | April 18, 2023 |
| 6 | NATA 2023 exam date (first attempt) | April 21, 2023 |
| 7 | NATA 2023 answer key date | April 25, 2023 |
| 8 | NATA 2023 revised answer key date | April 29, 2023 |
| 9 | NATA result 2023 date | April 30, 2023 |
NATA Exam Date 2023 (Second attempt)
| | | |
| --- | --- | --- |
| S.No | Events | Important Dates |
| 1 | NATA 2023 registration | March 20, 2023 |
| 2 | Last date to submit NATA application form 2023 | May 24, 2023 (Extended) |
| 3 | Final date to upload images and fee payment | May 24, 2023 (Extended) |
| 4 | Availability of NATA application form correction window | May 20-22, 2023 |
| 5 | NATA Admit card | May 30, 2023 (Revised) |
| 6 | NATA exam date 2023 (second attempt) | June 3, 2023 (Revised) |
| 7 | Publication of NATA results | June 13, 2023 (Revised) |
NATA 2023 Exam Date (Third attempt)
| | | |
| --- | --- | --- |
| S.No | Events | Important Dates |
| 1 | NATA 2023 registration | March 20, 2023 |
| 2 | Last date to submit NATA 2023 application form | June 27, 2023 |
| 3 | Final date to upload images and fee payment | June 27, 2023 |
| 4 | Availability of NATA application form correction window | June 25 to 27, 2023 |
| 5 | NATA Admit card | July 5, 2023 |
| 6 | NATA exam date 2023 (Third attempt) | July 9, 2023 |
| 7 | Publication of NATA 2023 result | July 17, 2023 |
NATA Exam Dates 2023- Highlights
Also read:
NATA Free Sample Papers and E-books
Download NATA Free previous year question papers along with answers
Download Now