JKCET Exam Pattern and Syllabus 2023 - The JKBOPEE has released the exam pattern and syllabus of JKCET 2023. Candidates who are planning to appear for the upcoming session of JKCET should, first of all, take a look at the JKCET syllabus 2023 which contains the subject-wise distribution of topics for Physics, Chemistry, and mathematics respectively.
Take Advantage of : 8 Test Prep, 15 College Predictors, Admission Alerts & more. Subscribe Now!
Recommended: NIT Placements: Under 80% BTech Students Placed Across Top NITs Over 5 Years. Read More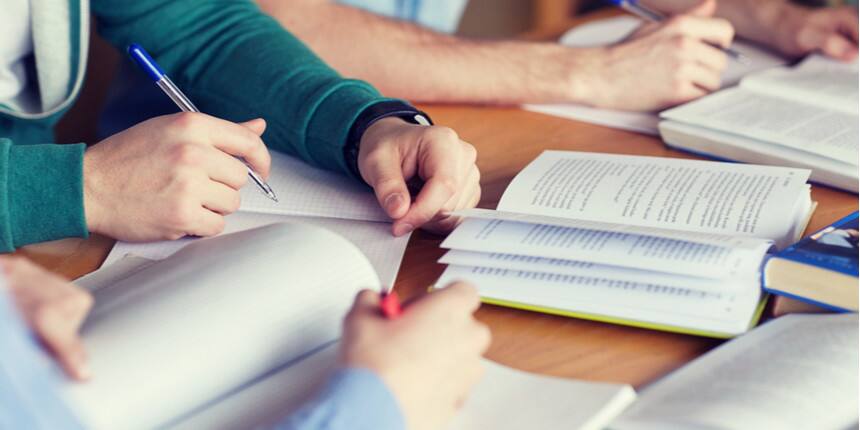 JKCET Exam Pattern and Syllabus 2023 - Check Mode, Marking Scheme, Question Asked
They should also know the JKCET 2023 exam pattern to know the crucial details like the mode in which the exam will be conducted, the medium of language, the total questions asked in the final exam, etc. Being aware of JKCET 2023 exam pattern and syllabus PDF brings in a sense of understanding for candidates as to what strategy has to be followed to prove the best for them. Thus, those aspiring for JKCET 2023 may check out the complete article below that contains the JKCET exam pattern and syllabus 2023.
JKCET Exam Pattern 2023
The authorities has released the official brochure for the upcoming session specifying various details about the exam and JKCET question paper. Candidates can get to know whether the exam will be conducted online or offline, how many questions will be there, would there be any JKCET negative marking, and so on. The table below contains the exam pattern of JKCET 2023 for the purpose of reference.
JKCET 2023 Exam Pattern
Particulars

JKCET Exam Pattern

Mode of Examination

Offline - Pen and Paper Based

Medium of Language

English

Duration of JKCET 2023

3 hours

Type of Questions

Objective - Multiple Choice Questions

Total Number of Questions

180 questions

Sectional Distribution of Questions

Physics - 60 questions

Chemistry - 60 questions

Mathematics - 60 questions

Scheme of Marking

+1 mark for each correct response

Negative Marking

-.25 mark for each incorrect response
Also Read:
Exclusive Careers360 Premium Content
Get education, career guidance; live webinars; learning resources and more
Subscribe Now
JKCET Syllabus 2023
The authorities has released the subject-wise syllabus for JKCET 2023 along with the official brochure. Candidates are advised to follow the JKBOPEE syllabus 2023 religiously as it will give them direction for preparation and also save time from catching up with unnecessary topics.
JKCET Syllabus - Topics for Mathematics
SETS, RELATIONS AND FUNCTIONS

COMPLEX NUMBER; LINEAR INEQUATION; LINEAR PROGRAMMING

SEQUENCE AND SERIES, PERMUTATION AND COMBINATION & BINOMIAL THEOREM

TRIGONOMETRIC AND INVERSE TRIGONOMETRY FUNCTIONS

MATRICES AND DETERMINANTS

LIMIT, CONTINUITY AND DIFFERENTIATION

INTEGRATION AND DIFFERENTIAL EQUATIONS

STRAIGHT LINES AND CONIC SECTIONS

STATISTICS AND PROBABILITY

VECTORS AND THREE DIMENSIONAL GEOMETRY
JKCET 2023 Topics for Physics
PHYSICAL WORLD AND MEASUREMENT

KINEMATICS

LAWS OF MOTION

WORK, ENERGY AND POWER

MOTION OF SYSTEM OF PARTICLES AND RIGID BODY

GRAVITATION

PROPERTIES OF BULK MATTER

THERMODYNAMICS

BEHAVIOUR OF PERFECT GAS AND KINETIC THEORY

OSCILLATIONS AND WAVES

ELECTROSTATICS

CURRENT ELECTRICITY

MAGNETIC EFFECTS OF CURRENT AND MAGNETISM

ELECTROMAGNETIC INDUCTION AND ALT. CURRENTS

ELECTROMAGNETIC WAVES

OPTICS

DUAL NATURE OF MATTER AND RADIATION

ATOMS AND NUCLEI

ELECTRONIC DEVICES

COMMUNICATION SYSTEM
JKCET Syllabus - Chemistry Topics
CHEMICAL ARITHMETIC & ATOMIC STRUCTURE

CHEMICAL EQUILIBRIUM

CHEMICAL KINETICS

SOLUTIONS

CHEMICAL THERMODYNAMICS

REDOX REACTIONS AND ELECTROCHEMISTRY

SOLID STATE & STATES OF MATTER

SURFACE CHEMISTRY

PERIODIC PROPERTIES

CHEMICAL BONDING AND MOLECULAR STRUCTURE

CHEMISTRY OF REPRESENTATIVE ELEMENTS

TRANSITION ELEMENTS INCLUDING LANTHANIDES

COORDINATION CHEMISTRY

NOMENCLATURE AND BASIC CONCEPTS IN ORGANIC CHEMISTRY

HYDROCARBONS

ORGANIC CHEMISTRY BASED ON FUNCTIONAL GROUP-I

ORGANIC CHEMISTRY BASED ON FUNCTIONAL GROUP-II

ORGANIC CHEMISTRY BASED ON FUNCTIONAL GROUP-III

MOLECULES OF LIFE

POLYMERS
Also read: