GATE 2021 Topper Interview: Yatish Naman Asthana has emerged as the topper in GATE's AR paper, secured AIR 2, the GATE 2021 results of which were announced March 19. He appeared for Architecture and Planning in GATE 2021, obtained 70.67 marks out of 100, with a score of 902 out of 1000. Yatish Naman Asthana is of a strong opinion that it is not at all difficult to crack GATE 2021 exam, provided enough hard-work is put into the GATE preparations. "By solving GATE mock tests regularly, "he increased his confidence level and also helps him to improve speed and accuracy." He added. In an exclusive interview with Careers360, Yatish Naman Asthana, GATE topper 2021 shared his preparation challenges, strategy and also gave some tips for future aspirants.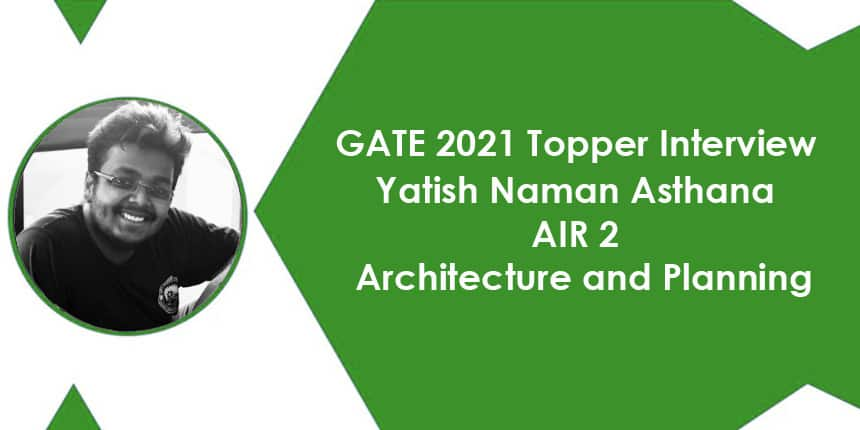 GATE 2021 Topper Interview, Yatish Naman Asthana, AIR 2 AR "Focus on self-study"
Question: Tell us something about yourself; where have you done your engineering from and in which branch?
Answer: My name is Yatish Naman Asthana. I belong to Motihari, Bihar. My Father, Mr. Brajesh Kumar is an Advocate. My mother, Mrs. Poonam Kumari is a teacher, my sister, Ms. Isha Smriti is a Biotech Engineer. I am a 4th year B. Arch. (5 years course) student at National Institute of Technology Patna.
Question: What was the GATE Paper you appeared in? What rank did you get in GATE 2021? What is your GATE score and how many marks did you secure out of 100 on the GATE paper?
Answer: I appeared in GATE AR (Architecture and Planning). I secured an All India Rank 02 in the paper. My GATE Score is 902 and I secured 70.67 marks out of 100 on the GATE Paper.
Question: Is this your first attempt or did you attempt GATE earlier?
Answer: Yes, this was my first attempt.
Question: What was the reason you appeared for GATE 2021? Please elaborate.
Answer: This year, the main reason for which I appeared in GATE 2021 was to judge myself so that I score well in GATE 2022 as I will graduate in 2022. Apart from this, I wish to go for higher studies at reputed institutes or other opportunities that will be provided by my GATE Score like job in PSUs.
Question: Have you applied to any PSUs recruiting through GATE? Which ones?
Answer: No, I have not applied to any PSUs recruiting through GATE as of now.
Popular Online Engineering Courses and Certifications
Question: When did you start your preparation? How did you prepare for the GATE exam? How many hours did you put in per day as per the stage of preparation?
Answer: I had the dream of getting a good rank in GATE since my second year but due to the tight schedule of my academics, I could not start preparation so early. Finally, I dedicated myself towards GATE preparation after my 7th semester-end semester exams (I am currently in the 8th semester). I dedicated all the time that I got free from my online classes and assignments towards my preparation. I solved previous year's GATE questions and as per the syllabus, I studied each topic in detail from various sources across the internet. The hours I put in per day for the preparation were dependent on the time I got free from my online classes and assignments, however on weekends, when the exam was near, it was nearly 15-16 hours a day.
Question: Have you taken any coaching? If yes- From where? How did it help?
Answer: I focused on self-study.
Question: Can you share any preparation strategies with our readers? When should one start their preparation for GATE? How to schedule study time and make timetables?
Answer: If one pays proper attention to class lectures, it will be very helpful during GATE preparation. The preparation must be started with understanding and analyzing the syllabus. I am not sure when one should start the preparation however I have already told when I started it. I tried making and following timetables and schedules but to be honest, I could not stick to them. What I found most effective was making daily and weekly goals and give my best to achieve them.
Question: How important do you feel mock tests are and why? Is it true that if one solves the previous year's question papers, there is a good chance of cracking the exam successfully?
Answer: Solving mock tests boosted up my confidence and also helped me figure out my speed of solving the question paper. Solving previous year's questions gives an idea about the type of questions, so it is helpful in getting good results.
Question: Which books did you follow for GATE preparation? Pls name some very important must read books for GATE
Answer: First of all, no book alone is sufficient for the preparation. In my case, I followed the GATE book by B K Das Sir and The GATE book by Ajay Kumar Sir, and Kartik Srivastava Sir. Apart from these, I studied lots of material available on the internet at various sources.
Question: Which are the topics one should focus more on? Kindly give us some details
Answer: As per my experience, I always failed to figure out which topic is more important than others, so I thought all the topics of equal importance and focused on all equally.
Question: What was the toughest aspect in your GATE preparation?
Answer: The toughest aspect was getting proper time apart from online classes and assignments. In the case of study, it was the facts, figures, and names that I was supposed to memorize.
Question: Name some important Topics that you feel are a must read for any student attempting the GATE exam?
Answer: As per my understanding, some must read topics are Urban Planning, Urban Design, Building Services, Building codes and Planning guidelines, Design styles, philosophies, concepts, works and books of various architects and planners, Practicing numerical questions a per the GATE syllabus, GIS and history of architecture. I must again say, I myself found all the topics in the syllabus equally important.
Question: What did you do for leisure? Any specific activities that helped you unwind?
Answer: For leisure, I played mobile and PC games, watched TV, and went for bike rides.
Question: How should you schedule answering the GATE exam – which section to attempt first and which next? Did you have any strategy? Kindly share your exam experience with us.
Answer: As per my experience, I went on solving papers in series as it was given. Give a second attempt to those questions which I left in the first run as one is not completely sure. And answering based solely on guesses must be avoided as far as possible.
Question: What did you feel was a tough thing for you in the GATE exam?
Answer: During the preparation, the tough thing was to cover such a huge syllabus in the available time and during the exam, for me, the toughest thing for me was to keep myself motivated and do not panic even if I was unable to solve questions.
Question: Any advice for future aspirants?
Answer: It's all about how honestly one is trying to crack the exam and how efficiently one utilizes available time and resources. I would like to say, some people might disagree with me still I want to say, "I must do my "Karma" honestly and have faith that there is some power that won't let my hard work go in vain and give me the best that I deserve.
Also, Read
GATE 2021 Topper Interview, Navneet Gangwar, AIR 4 (CS)- "Be an early bird"