GATE 2021 Topper Interview: Siddharth Gupta (AIR 18 XH) - IIT Bombay has released the GATE 2021 result at its official website on March 19. Along with the declaration of the result, the exam conducting authorities have also released GATE 2021 toppers. Siddharth Gupta has secured AIR 18 in Economics. He started his preparations in October 2020 and this was his second attempt. He completed his graduation degree in 2017 from University School of Information, Communication and Technology, GGSIPU. Careers360 interacted with him to know his preparation strategy, best books for the GATE exam. Read GATE 2021 topper interview of Siddharth Gupta (AIR 18 XH) to know his wonderful journey.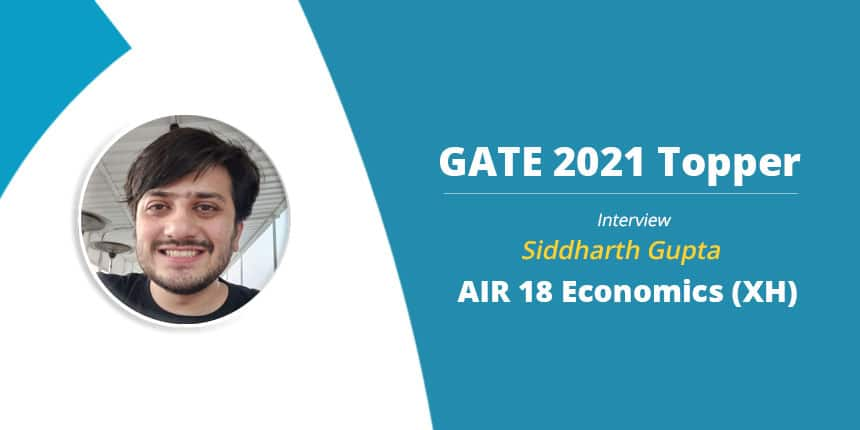 GATE 2021 Topper Interview, Siddharth Gupta, AIR 18 XH
Careers360: Congratulations on becoming the GATE 2021 topper. How do you feel when you come to know that you are the topper of GATE 2021.
Siddharth Gupta: I was ecstatic! I was expecting a two digit rank but to rank in under 20 is something special.
Careers360: Tell us something about yourself; Where have you done your engineering from and in which branch?
Siddharth Gupta: I completed my graduation in 2017 in Computer Science Engineering from USICT - which is the main campus of Guru Gobind Singh Indraprastha University.
Careers360: What was the GATE Paper you appeared in? What rank did you get in GATE 2021? What is your GATE score and how many marks did you secure out of 100 in GATE paper 2021?
Siddharth Gupta: I appeared in the Economics GATE paper which was conducted for the time first in the history of the test. I got an All India Rank of 18. My score is 795 (out of 1000) and I secured 50 marks out of 100.
Careers360: Is this your first attempt or did you attempt GATE earlier?
Siddharth Gupta: I had taken the GATE exam earlier, in 2017. I had done so in the Computer Science stream without much preparation. That year I managed to just clear the cut off and got a rank in 7000s.
Careers360: What was the reason you appeared for GATE 2021? Pls elaborate.
Siddharth Gupta: Being from a Computer Science background it would have been difficult for me to get a decent Economics related opportunity. I see GATE as a good way to showcase my understanding in the subject. I also wish to apply for masters and doctoral programs in Economics and I believe the test score could be instrumental in me getting shortlisted for interviews for such positions.
Careers360: Have you applied to any PSUs recruiting through GATE? Which ones?
Siddharth Gupta: Though there are a lot of positions in the PSUs that require acumen in Economics, there is still a lack of clarity on which PSUs might consider Economics GATE score as a criteria. Hope to get some understanding in the coming months.
Careers360: When did you start your preparation?
Siddharth Gupta: I started preparation in October, 2020.
Careers360: Have you taken any coaching? If yes- From where? How did it help?
Siddharth Gupta: I took online coaching from EcoPoint. Coming from a very different background, it was of paramount importance for me to have some guidance regarding which books to follow, the coaching helped me immensely regarding the same. Besides, they were very efficient with teaching the core basic concepts of subjects.
Careers360: Can you share any preparation strategies with our readers? When should one start their preparation for the GATE exam?
Whoever wishes to appear for GATE Economics, I have the following few tips:
Siddharth Gupta:
1. Read limited material, but read it well! Just focus on the standard text books in Economics.
2. Don't skip any topic. The GATE exam tests the breadth of the syllabus more than the depth of it. So try to cover as much syllabus as you can. I had to skip Econometrics altogether because I had less time left to prepare, which has easily cost me 10 marks. If I could go back, I would at least skim a few chapters of the Econometrics book.
3. In the 3 hours of the test, make it a priority to get 100% marks in Aptitude part and 60-80% in the English one.
Careers360: How important do you feel mock tests are and why?
Siddharth Gupta: GATE Mock tests are important for more reasons than one. First of all, it helps you in managing your time. Secondly I have observed that even the most talented people with all the knowledge in the world mess up in a test environment; so taking mock tests, trying to simulate the testing environment could help ease those concerns. Lastly, there are few sections like the Indian Economy, Development Economy where you won't find much to explicitly read or study about; in such scenarios mock will provide you with at least some questions to practice and remember.
Careers360: Which books did you follow for GATE preparation? Pls name some very important must read books for GATE 2021?
Siddharth Gupta: The books I had referred for my GATE exam preparations are
Microeconomics by Hal Varian
Macroeconomics by Blanchard
Econometrics by Damodar N. Gujarati
I had no time for Mathematics, for which I totally relied on my undergraduate understanding and mock tests.
Careers360: What was the toughest aspect in your GATE preparation?
Siddharth Gupta: The tough aspect was the lack of data! As the exam was conducted for the first time in Economics, I had no previous information regarding how many marks to target to get a 2 digit rank. Last two weeks before the result were pretty anxious because of the exact reason.
Careers360: What did you do for leisure? Any specific activities that helped you unwind?
Siddharth Gupta: For leisure I used to talk to my friends, play online chess, and talk about higher education on my YouTube channel called College Companion. I would recommend to never stop working on your hobbies.
Careers360: Any advice for the future aspirants?
Siddharth Gupta: Talk talk and talk. Preparing for any competitive exam can be really taxing. Talk to you friends, family, whoever is there to listen to all that is going on in your mind. This has helped me a lot, and I hope it will help you guys too.