GATE 2018 Topper Interview Mycharla Ganesh, (AIR 14, ME) -"Success comes with determination & consistency"
March 16 was a startling day in a good way for Mycharla Ganesh who secured an AIR 14 in GATE 2018 Mechanical Engineering which is his second attempt at the exam. Ganesh, the shy boy as he defines himself shares his GATE 2018 preparation and success journey with Careers360. GATE 2018 was more important for him as he was determined to crack the exam with a very good score and make his parents proud. His outstanding rank in GATE this year has now made him closer to his dreams of working in PSU's. Ganesh is truly an example of not giving up no matter what. He believes that maintaining consistency and determination is the key to his success in GATE.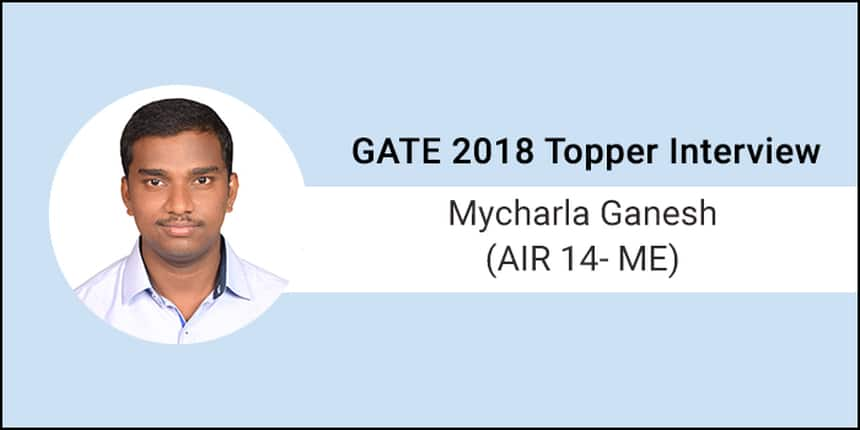 [Want to Know Which Colleges, Specialization and PSUs to Apply on the basis of your GATE 2018 Scores? Click here]
Read the excerpts of an exclusive interview of Mycharla Ganesh, AIR-14, ME, GATE 2018 Topper with Careers360 below.
Careers360: Tell us something about yourself; Where have you done your engineering from and in which branch?
Ganesh: I have done my graduation in Mechanical Engineering from MVGR College of Engineering. I belong to Visakhapatnam.
Careers360: What was the GATE Paper you appeared in? What rank did you get in GATE 2018? What is your GATE score and how many marks did you secure out of 100 in GATE paper?
Ganesh: I appeared in my graduation subject only i.e. Mechanical Engineering (ME) in GATE 2018. I secured AIR 14 in the exam with 90.24 marks out of 100. The normalised GATE 2018 score out of 1000 is 937.
Careers360: Is this your first attempt or did you attempt GATE earlier?
Ganesh: No, this is not my first attempt. I appeared in GATE 2017 too.
Careers360: What was the reason you appeared for GATE 2018? Pls elaborate.
Ganesh: I worked very hard last year for GATE but I wasn't satisfied with my result so I decided to appear in the exam. I am interested in PSU recruitment through GATE.
Careers360: Have you applied to any PSUs recruiting through GATE? Which ones?
Ganesh: Yes, I have applied for various PSUs and I'm looking forward to get through in Vizag Steel Plant and HPCL.
Careers360: When did you start your preparation? How did you prepare for the GATE exam ? How many hours did you put in per day as per the stage of preparation?
Ganesh: I started my preparation for GATE 3 years back. I used to study for more than 10 hours in a day.
Careers360: Have you taken any coaching? If yes- From where? How did it help?
Ganesh: I have taken coaching from Ace Academy, Vizag. I will have to admit it played a major role in my preparation.
Careers360: Can you share any preparation strategies with our readers? When should one start their preparation for GATE? How to schedule study time and make timetables?
Ganesh: As shared earlier, I used to study for more than 10 hours in a day. I have been consistent with this schedule of mine from the start till the end. However, three days prior to the exam, I left this schedule to avoid stress and anxiety.
Careers360: How important do you feel mock tests are and why? Is it true that if one solves the previous year question papers, there is a good chance of cracking the exam successfully?
Ganesh: I think taking up mock tests is important because they make us understand our time management skills and also let us know our level of understanding of the concepts. Mock tests help us to create an exam like scenario to be more serious in our preparation.
Careers360: Which books did you follow for GATE preparation? Pls name some very important must read books for GATE.
Ganesh: I studied from all the reference materials like McGraw-hill editions and also from coaching center notes and materials. They were more than enough for building concepts.
Careers360: Which are the topics one should focus more on? Kindly give us some details.
Ganesh: All topics should be given equal importance. The reason is that you can't expect to predict the weightage of the topics just like that. It may also be not so beneficial as compared to covering the complete syllabus. I would also like to stress that while the subject is important, one should not neglect Maths and Verbal Ability sections. They are highly scoring.
Careers360: What was the toughest aspect in your GATE preparation?
Ganesh: I think the toughest aspect in anyone's preparation including mine is to be consistent in the determination to succeed. That alone should drive you to do your best.
Careers360: Name some important Topics that you feel are a must read for any student attempting GATE exam?
Ganesh: Basic thermodynamics and basic design Engineering and fundamentals of Engineering mathematics are basic concepts which are very scoring. See, these may not have direct questions. However, they are needed to answer the others.
Careers360: What did you do for leisure? Any specific activities that helped you unwind?
Ganesh: I used to listen music and go for walks to relax myself during my preparation days.
Careers360: How should you schedule answering the GATE exam – which section to attempt first and which next? Did you have any strategy? Kindly share your exam experience with us.
Ganesh: There was no specific strategy as such but I would suggest to answer the aptitude section first, followed by technical questions of 1 mark and then 2 marks. I would also suggest to use the time wisely and not answer lengthy questions at the end.
Careers360: What did you feel was a tough thing for you during the GATE exam?
Ganesh: I think the tough thing which I felt was not to underestimate the difficulty level of the paper and possibility of us making mistakes.
Careers360: Any advice for the future aspirants?
Ganesh: Yeah, I would suggest be focused and determined, believe in yourself and try and be consistent.
Questions related to GATE
Showing 14546 out of 14546 Questions