How to Crack AP EAMCET 2023 - Exam season is fast approaching and students are currently working hard to be fully prepared for the exams. One such examination is Andhra Pradesh Engineering, Agriculture and Medical Common Entrance Test or commonly known as AP EAMCET. Candidates who are willing to appear for the AP EAMCET exam can check how to crack EAPCET exam 2023 from this page.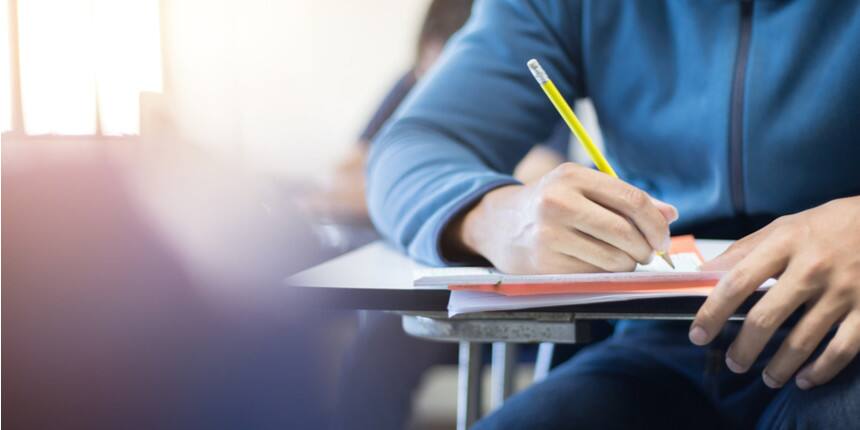 How to Crack AP EAMCET 2023 - Check Tips & Tricks
The state level entrance examination offers more than 1 lakh B.Tech seats across various engineering colleges and institutes. However, AP EAMCET is also known for its difficulty level. So how to crack AP EAMCET 2023? While preparation is important, you also need to keep a few tips in mind. Therefore, Careers360 brings you simple tips on how to qualify AP EAMCET 2023. The EAPCET exam was conducted from May 15 to 19, 2023. Read the full article to know more about How to prepare for AP EAMCET 2023.
How to Crack AP EAMCET 2023 | EAPCET 2023 Preparation Tips
Know your pattern
The first step you need to clear to crack AP EAMCET is to be familiar with the exam pattern. By knowing the exam pattern of AP EAMCET 2023, you will be able to know what you can expect during the entrance examination. This will also allow you to accordingly prepare your study schedule to score well during the examination. Along with the exam pattern, you should also check the official AP EAMCET 2023 syllabus to know which topics will be covered in the exam. Knowing the AP EAMCET 2023 weightage helps the candidate to focus on the most important topics during the preparations. Being familiar with these two factors will certainly boost up your preparation to crack AP EAMCET 2023 exam.
AP EAMCET 2023 College Predictor
Know your admission chances in top engineering colleges by using AP EAMCET 2023 College Predictor.
Use Now
AP EAMCET 2023 Exam Pattern
Exam Mode

Computer Based Exam

Duration

3 Hours

Sections

Physics - 40 Questions

Chemistry - 40 Questions

Mathematics - 80 Questions

Type of Questions

Multiple Choice Questions

Marking Scheme

1 mark will be given for each correct answer. No negative marking.
Create a schedule
After checking the syllabus and exam pattern, create a schedule for studying and revision. The time table for TS EAMCET 2023 preparation plays a crucial role. Candidates should make an effective time table and follow it strictly. It is advised that candidates should prepare the schedule as per their aptitude. While preparing the schedule, make sure that different topics and subjects are covered in one day to make the studying process less monotonous. Allot small breaks in between since this will help you get refreshed before starting another studying session. Make sure you wake up early since you will be able to give more time to study.
Prepare your materials
While studying, you have to make sure that you are accessible to all materials. While the exam is set as per 12th standard syllabus of Andhra Pradesh, do not refer to just those books. Your preparation can be greatly improved by referring to new books and compilations of past papers. By broadening your study materials, you will higher your chances of scoring well and cracking AP EAMCET.
Revise
Revision is the best key to score well in the examination. Make sure to give enough time in your study schedule for revision of studied topics. By regularly revising whatever you learned, you will be able to retain what has been studied. This will also allow you to know what has to be studied more. Revision has to be done everyday to prepare well for the entrance examination.
Use the mock tests
One of the best methods to prepare for any examination is to attempt mock tests. You can solve the official AP EAMCET 2023 mock test to know your current progress in terms of preparation. By seeing your performance in the mock test, you can analyze your weak points and work on it. This will also help you to understand which topics have to be given more attention. Along with mock tests, you can also solve sample papers of AP EAMCET 2023.
Manage your time
Since the examination is only for 3 hours and you have to attempt 160 questions, time management is an essential skill to be learned. By attempting mock tests or solving sample papers within the time limit, you can practice time management. It will be advantageous to crack AP EAMCET, if you are well-versed with the time limit and can attempt all questions easily within the allotted period of time.
Schedule breaks for extracurricular activities
Finally, you should remember to take sufficient breaks in between the study sessions. Indulge in some extracurricular activities such as board games or listening to music during these study breaks. This will ensure that you are well-rested and will have full concentration during your next study session. These little breaks will also give you time to refresh your mind. The most important thing is to stay healthy during this period.
Important Books for AP EAMCET 2023
Below is the list of AP EAMCET 2023 preparation books for MPC
Name of the Books
EAMCET Physics (Andhra Pradesh & Telangana) Chapterwise 26 Years' Solutions and 5 Mock Tests-Arihant Publications
EAMCET Chemistry Chapterwise 26 Years' Solutions and 5 Mock Tests-Arihant Publications
EAMCET Mathematics Chapterwise 25 Years' Solutions and 5 Mock Tests-Arihant Publications
IPE Textbook for Chemistry.
IPE Textbook for Physics
Deepthi Series For Mathematics
H. C. Verma for Physics Vol - II
Inorganic Chemistry by Dr O P Tandon
S. Chand for Mathematics
17 Years Solved Papers Of EAMCET (Engg.)
EAMCET Physics - Vol - II