GATE Exam Centres 2021 (Added 11 Cities) - Check Updated List of Exam Centres Here
GATE Exam Centres 2021 - IIT Bombay has added 11 new exam cities of GATE 2021. Candidates can now check the list of newly added GATE exam centres 2021 from this page. Earlier, the authorities released the list of exam centres of GATE 2021 where the entrance examination will be held. According to official brochure, there will be a total of eight zonal GATE 2021 exam centres. Moreover, GATE 2021 exam centres have now been changed to 210 centres (including 6 international centres) as authorities had reduced some cities and added a few. While filling the GATE 2021 application form, candidates will be required to choose the four exam centres of GATE 2021 in order of their preference. However, candidates will be able to select two zones from the eight zones while choosing their GATE exam centers 2021. Authorities will specify the details related to the GATE 2021 exam centres and exact location on the admit card. It is suggested to the candidates to reach the allotted GATE 2021 exam centre on time on the specified date.
Latest Update: GATE mock test to be released soon. Check GATE admit card 2021 date.
Important: GATE 2021 will be conducted on February 5 to 7 and 12 to 14, Check revised GATE 2021 eligibility criteria and new subjects added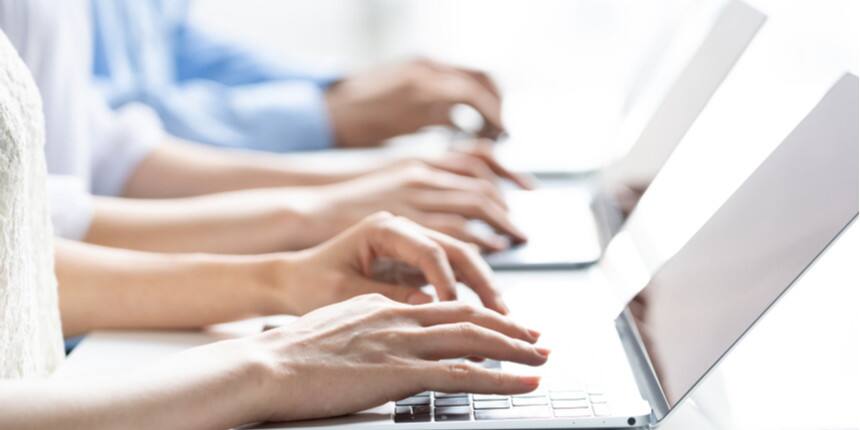 Changes in GATE Exam Centres 2021
IIT Bombay has added 11 new GATE exam centres to the list.
Out of these 11 newly added exam centres of GATE 2021; 7 exam cities have been added in IIT Bombay Zone; 3 have been added in IIT Kharagpur Zone and 1 centre has been added in IIT Roorkee.
Newly added GATE 2021 exam centres are- Akola, Himatnagar, Dhule, Ichalkaranji, Latur, Palghar, Sangamner-Loni-Shirdi, Baharampur-Murshidabad, Hazaribag, Machilipatnam, and Kangra.
Events

Dates

Commencement of GATE 2021 application form

September 11, 2020

Closing date for GATE 2021 registration

Without late fee- October 8, 2020

With late fee- October 14, 2020

Issue of GATE 2021 admit card

January 8, 2021

February 5 to 7 and 12 to 14, 2021
GATE 2021 Zonal Centres
GATE 2021 will have eight zonal centres including seven IIT and IISc Bangalore. Candidates can check the detailed list of 201 cities including eight zonal centres and 6 international centres where GATE 2021 will be conducted from the table given below.
Quick Links:-
GATE qualified? Multiple options for you!
What is a Good GATE Score?
GATE 2020 Exam Centres and Zonal Centres
Zonal Centres

GATE Exam Centres (Exam Cities)

Total number of exam cities

Ananthapuramu

30

Angamaly

Bagalkot

Ballari (Bellary)

Belagavi (Belgaum)

Bengaluru North

Bengaluru South

Bidar

Davanagere

Hassan

Hubballi (Hubli)

Hyderabad

Kalaburagi (Gulbarga)

Kannur

Kasaragod

Kolar

Kozhikode

Kurnool

Malappuram

Mangaluru

Manipal

Mysuru (Mysore)

Palakkad

Payyanur

Port Blair

Shivamogga (Shimoga)

Thrissur

Tumakuru

Vatakara

Chikkamagaluru

Ahmedabad

34

Ahmednagar

Amravati

Anand

Akola

Aurangabad

Baramati

Bhavnagar

Bhuj

Chandrapur

Dhule

Gandhinagar

Goa

Himatnagar

Ichalkaranji

Jalgaon

Kolhapur

Latur

Mehsana

Mumbai-Navi Mumbai-Thane

Nagpur

Nanded

Nashik

Palghar

Pune

Rajkot

Ratnagiri

Sangamner-Loni-Shirdi

Sangli

Satara

Solapur

Surat

Thane

Vadodara

Ajmer

20

Alwar

Srinagar

Bikaner

New Delhi

Faridabad

Greater NOIDA

Gurugram

Hisar

Indore

Jammu-Samba

Jaipur

Jodhpur

Rohtak

Kota

Mathura

Sonepat

Sikar

Udaipur - Chittorgarh

Ujjain

Agartala

21

Asansol-Durgapur

Bokaro Steel City

Burdwan

Dhanbad

Dibrugarh

Itanagar

Gangtok

Guwahati

Imphal

Jorhat

Kalyani

Patna

Purnea

Silchar

Siliguri

Shillong

Tezpur

Muzaffarpur

Aizawl

Dimapur-Kohima

Agra

12

Aligarh

Allahabad

Bareilly

Bhopal

Gwalior

Jabalpur

Jhansi

Kanpur

Lucknow

Varanasi

Gorakhpur

Balasore

26

Baharampur-Murshidabad

Berhampur (Odisha)

Bhilai

Bhubaneswar

Bilaspur (CG)

Cuttack

Dhenkanal

Eluru

Hazaribag

Hooghly

Jamshedpur

Kakinada (Surampalem)

Kharagpur

Kolkata

Machilipatnam

Raipur

Rajamahendravaram (Rajahmundry)

Ranchi

Rourkela

Sambalpur

Srikakulam

Tadepalligudem

Vijayawada

Visakhapatnam

Vizianagaram

Alappuzha

40

Aluva-Ernakulam

Attingal

Chirala

Chennai South

Chennai West

Chengannur

Chittoor

Coimbatore

Cuddalore

Dindigul

Gudur

Guntur

Idukki

Kadapa

Kanjirapally

Kanyakumari-Nagercoil

Karimnagar

Khammam

Kodad

Kollam

Kothamangalam

Kottayam

Madurai

Muvattupuzha

Namakkal

Nellore

Ongole

Puducherry (Pondicherry)

Salem

Thanjavur

Thiruvananthapuram

Tiruchirapalli

Tirunelveli

Tirupati

Vellore

Villupuram

Virudhunagar

Warangal

Thoothukudi

Ambala

23

Amritsar

Bathinda

Dehradun

Ghaziabad

Haldwani

Hamirpur-Una (HP)

Jalandhar

Kangra

Karnal

Kurukshetra

Ludhiana

Meerut

Mohali-Chandigarh

Moradabad

Muzzaffarnagar

NOIDA

Panipat

Pathankot

Patiala-Sangrur

Roorkee

Shimla-Solan

Yamunanagar
GATE 2021 Exam Centres Abroad (For International Candidates)
Note- GATE International to continue only if travel and other infrastructural issues normalize by November 2020 from the present COVID-19 pandemic situation, else GATE 2021 International Centres will be "Cancelled".
Key Highlights of GATE Exam Centres 2021
Candidates must note that GATE 2021 exam centres location will be specified by IIT Bombay.

The exam centres of GATE 2021 will be allotted either in India or abroad, depending upon the candidates preference.

Candidates are therefore advised to select exam centres carefully during filling the application form of GATE 2021.
Frequently Asked Question (FAQs) - GATE Exam Centres 2021 (Added 11 Cities) - Check Updated List of Exam Centres Here
Question: How many GATE 2021 exam centres can be selected by candidates?
Answer:
Candidates can select upto two zonal centres in order of their preferences while filling the application form of GATE 2021.
Question: How many GATE exam centres 2021 will be there in total?
Answer:
As per the last year data, there will be a total of 199 centres, both in India and abroad. Candidates must note that GATE 2021 exam centres will be divided in total 8 zonal centres. However, the updated list is not yet released by the authorities. Once released, the same will be updated above.
Question: Will GATE 2021 be conducted outside India?
Answer:
Yes, GATE 2021 will also be conducted in 6 exam centres outside India namely - Dubai (UAE), Addis Ababa (Ethiopia), Colombo (Sri Lanka), Dhaka (Bangladesh), Kathmandu, (Nepal), Singapore.
Question: Will there be any arrangement at the GATE 2021 exam centre for the safe-keeping of personal items such as my mobile phone?
Answer:
NO. Such arrangements will not be made at the examination centre. If a candidate brings personal belongings including mobile phones, they have to be kept outside the examination hall at the candidate's own risk. The GATE officials are not responsible for safe keeping of your personal items.
Questions related to GATE
Showing 15199 out of 15199 Questions