GATE 2018 Topper Interview Ocima Kamboj (AIR 1 PI) - "Pay attention in college; Work hard and it will pay back"
Ocima Kamboj is ecstatic these days; her GATE 2018 result is one of the causes. On March 16 when IIT Guwahati announced the results, Ocima was pleasantly surprised to know that she was the topper for GATE 2018 Production and Industrial Engineering in which she had appeared. One of the few women toppers in GATE 2018, Ocima is now very close to fulfilling her heart's desire of studying at IISc Bangalore. An alumnus of IIT Delhi, Ocima quit her job to focus on GATE and all her hard work has paid off. Here, she talks to Careers360 outlining her GATE preparation journey, strategies that she incorporated while preparing for and during the exam and tips for other aspirants.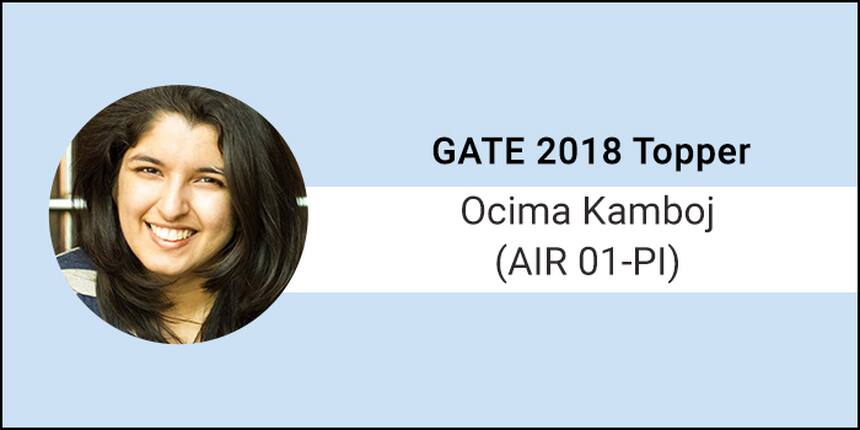 To Watch Video on GATE 2018 Topper Nikita Yadav's Preparation Strategy - Click here
Careers360: Tell us something about yourself; Where have you done your engineering from and in which branch?
Ocima Kamboj: I have done my B.Tech from IIT Delhi in Production and Industrial Engineering. After graduating in 2017, I worked as an Associate Consultant at EY (Ernst and Young). I left my job in December 2017 to focus on GATE 2018 preparation.
Careers360: What was the GATE Paper you appeared in? What rank did you get in GATE 2018? What is your GATE score and how many marks did you secure out of 100 in GATE paper?
Ocima Kamboj: I appeared for GATE 2018 Production and Industrial Engineering paper. I secured AIR 1. My GATE Score is 1000 and I got 88 marks out of 100 in the paper.
Careers360: What was the reason you appeared for GATE 2018? please elaborate.
Ocima Kamboj: I wanted to pursue Masters. Since I am an IIT alumnus with 8.0 CGPA, I was eligible for direct admissions at the IITs without having a GATE Score. However, my dream destination for my masters is IISc Bangalore and a valid GATE score is required to apply there. That's the sole reason I took the exam.
Careers360: Have you applied to any PSUs recruiting through GATE? Which ones?
Ocima Kamboj: No, I haven't applied to any PSUs. Like I said, my interest is pursuing my Masters.
Careers360: When did you start your preparation?  How did you prepare for the GATE exam? How many hours did you put in per day as per the stage of preparation?
Ocima Kamboj: I started my preparation on December 5, 2017, the day I resigned from my job. Based on the GATE syllabus given by the organising committee, I prepared a schedule to follow. I ranked the subjects by their importance and covered them one by one. Towards the end, I solved the past years' GATE-PI question papers. I devoted about 8-10 hours to my preparation every day.
Careers360: Have you taken any coaching? If yes, from where and how did it help?
Ocima Kamboj: I enrolled in the Postal Study Course and Online Test Series of Made Easy. The syllabus of GATE 2018 in this course is given in a very concise manner, I would refer it to see whether I have covered all the important topics and formulas under a particular subject or not. This way, I didn't waste time on studying less important portions. There are also some small topics here and there which weren't covered in my college, but were given in the Made Easy books.
Although taking online tests is very important to gauge one's own performance, I couldn't do them because of time limitations. I was still completing my syllabus till the last week. Nevertheless, had I had more time, I would have definitely practiced them.
Careers360: Can you share any preparation strategies with our readers? When should one start their preparation for GATE? How to schedule study time and make timetables?
Ocima Kamboj: Actually I hadn't decided till September 2017 to appear of GATE. The only reason I could crack the exam with just two months preparation is because I studied my courses seriously while I was in college. So, all I had to do was revise what I already knew. This is the same advice I'd like to give, "Study sincerely while you are in college; it is always useful though you may not know when or how".
To make a study time table, you have to keep the following factors in mind – the syllabus you have to cover, which subjects are relatively more important comparatively, how much time you have on your hands and in how much time you can actually complete a particular portion of the syllabus. If you have less time than you require, leave a less important topic. The golden rule is to cover thoroughly whatever you choose to cover. Set realistic goals for yourself. Most important - follow diligently the schedule that you made.
Careers360: How important do you feel mock tests are and why? Is it true that if one solves the previous year question papers, there is a good chance of cracking the exam successfully?
Ocima Kamboj: Mock Tests are important because they help you understand where you stand. You can study and study, but it's no use if you can't recall what you have studied, or solve a question quickly. This is where Mock Tests come in handy.
Because of less time to prepare, I couldn't take mock tests. But I did solve GATE PI Papers from 2011 onwards. I think I can safely say from my own example that there's a good chance of cracking the exam if you solve previous year question papers, because it helps you assess your preparation and the type of questions to expect in the exam.
Careers360: Which books did you follow for GATE preparation? Pls name some very important must read books for GATE
Ocima Kamboj: My main source was my own lecture notes from when the courses were taught in college. Apart from that, NPTEL is also a good source to cover the topics given in the syllabus and as I already said, Made Easy notes also supplemented my preparation.
Careers360: Which are the topics one should focus more on? Kindly give us some details
Ocima Kamboj: For Production and Industrial Engineering, the Topics under Production and Industrial respectively carry the most weightage.
Careers360: what was the toughest aspect in your GATE preparation?
Ocima Kamboj: The toughest aspect was revising four years' worth of engineering in just two months.
Careers360: Name some important Topics that you feel are a must read for any student attempting GATE exam?
Ocima Kamboj: As General Aptitude and Mathematics is common in all the subjects, they are a must read. They comprise 30 marks and with good preparation, it's very much possible to obtain full marks in these.
Careers360: What did you do for leisure? Any specific activities that helped you unwind?
Ocima Kamboj: I did yoga to calm my mind and de-stress.
Careers360: How should you schedule answering the GATE exam – which section to attempt first and which next? Did you have any strategy? Kindly share your exam experience with us.
Ocima Kamboj: It's a personal choice. I did PI part first, and General Aptitude afterwards.
Careers360: What did you feel was a tough thing for you in the GATE exam?
Ocima Kamboj: Calming my nerves was somewhat difficult.
Careers360: Any advice for the future aspirants?
Ocima Kamboj: Take your college studies seriously. Do your assignments. If you don't understand anything, clear it then and there. All that hard work might just come in handy.
Questions related to GATE
Showing 15336 out of 15336 Questions