How to score 350+ in BITSAT 2022? - Check Here
How to score 350+ in BITSAT 2022 - BITS Pilani is one of the top private universities in India and that is why lakhs of students appear for the BITSAT examination conducted by the university for admission to BTech courses offered by the campuses of the institute.
Latest Updates for BITSAT
Stay up-to date with BITSAT News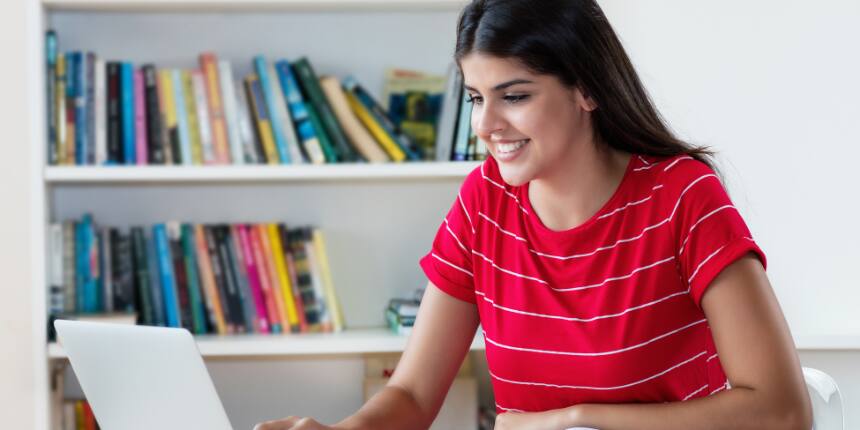 As the competition is very high in BITSAT, candidates are required to get higher scores to assure their admission to BITS Pilani. That is why candidates are worried about getting higher scores in the exam and we have received various queries like how to score 350+ in BITSAT 2022. In order to answer this query, we are here providing a strategy on "How to score 350+ in BITSAT 2022?". Candidates can refer to this strategy to give a boost to their preparations. Read the full article to know about BITSAT 2022 preparation tips, best books for BITSAT, important topics and much more.
Important topics for BITSAT 2022
As candidates have to score above 350 marks in BITSAT 2022, it is important that they make a strategy to cover the important topics for the exam first. By this, we do not mean that candidates have to study only important topics; they have to complete the entire syllabus of BITSAT but should start with completing the important ones first. Here, we have only mentioned the topics that have more weightage in the BITSAT exam. The following table can be referred to know about some important topics for BITSAT 2022 along with their weightage in the exam.
Subject-wise important topics for BITSAT 2022
Subject

Important Topics

Weightage

Physics

Heat and Thermodynamics

Magnetic Effect of Current

10%

Simple Harmonic Motion

Current Electricity

Wave Motion

Wave Optics

Fluids

Electrostatics

Rotational motion

5-6%

Chemistry

Organic Chemistry

Chemical Bonding

10%

p-Block elements

Electrochemistry

Atomic Structure

Chemical Thermodynamics

Alkanes, Alkenes and Alkynes

Carboxylic Acid and Derivatives and Mole concepts

Biomolecules

5-6%

Mathematics

10%

Vectors

Straight Lines and a Pair of Straight Lines

Continuity and Differentiability

5-6%

English Proficiency

Synonyms and Antonyms

30%

One Word Substitution

Rearrangement of Jumbled Words

Sentence Completion

10-15%

Logical Reasoning

Figure Matrix, Figure Formation and Analysis

40%

Analogy Test

Logical Deduction

Series Test Numerical and Alphabetical

10-20%

Figure Completion Test

Detection of the rule

Paper folding and cutting

5-7%
Best books for BITSAT 2022
Although NCERT books are the best books for BITSAT 2022, candidates can refer to some other books after their NCERT books. Candidates can refer to the list of books given below for BITSAT 2022.
7 min read
Mar 05, 2022
Read More
Physics books for BITSAT 2022
Concepts of Physics by H.C. Verma Vol 1 and Vol 2

Arihant Physics by D. C. Pandey

Problems in General Physics by I.E. Irodov

Fundamentals of Physics Resnick, Halliday, Walker
Chemistry books for BITSAT 2022
Atkins' Physical Chemistry

Inorganic Chemistry by J.D.Lee

Inorganic Chemistry by O.P.Tandon

Physical Chemistry by N Awasthi

Modern Approach to Chemical Calculations by R.C. Mukherjee
Mathematics books for BITSAT 2022
Class XI & XII by R.D. Sharma

Differential Calculus by Arihant

Integral Calculus by Arihant

Higher Algebra by Hall Knight Bernard-child

Problems in Calculus of One Variable Algebra by I.A.Maron
English Proficiency and Logical Reasoning books for BITSAT 2022
BITSAT English Proficiency & Logical Reasoning by Disha Experts

The Pearson Complete Guide to the BITSAT (English) by One Learn Education

Wren and Martin
BITSAT 2022 Preparation Tips
Now when you know about important topics and books for BITSAT 2022, let's talk about the strategy that should be followed for the preparation of the exam. Here, we are providing some preparation tips for BITSAT 2022, which will help you in making a good strategy. This strategy can help you to score 350+ in BITSAT 2022.
Know Exam Pattern and Syllabus- The first step is to understand the syllabus and exam pattern of BITSAT properly. Once you know what you have to study, everything becomes simple. Knowledge of syllabus will save you from studying anything that is out of syllabus for the exam.
Start with important topics- As you already know the weightage of important topics in BITSAT 2022, start your preparations with the important topics. Make a time table and divide the entire syllabus such that all the important topics of each subject are covered first. So, time management is the key here.
Choose best study material- Finish your NCERT books first and choose one or two reference books for each subject. It is advised that don't refer to too many books as it creates confusion. So, choosing the best book for preparation is very important.
Revise- Keep revising whatever you study. Give proper time to revision in your time table. It helps you in memorising important topics.
Mock tests- Practice more and more mock tests of BITSAT because these are based on the actual pattern of the exam. Attempting more and more tests will help you in analysing your performance and will also increase your confidence.
Questions related to BITSAT
Showing 3190 out of 3190 Questions