GATE 2020 Topper Interview Apurva Krishna (AIR 7, XE) : "Believe in your efforts and give your best"
Apurva Krishna who hails from Prayagraj secured AIR 7 in GATE 2020. He appeared for the Engineering Sciences (XE) paper. Apurva who completed his B.Tech in Mechanical Engineering in 2018 got this success in his third attempt. Apurva highlighted that even after not scoring good in 2018 and 2019, he did not deviate from his path and continued his hard work. We can surely say it's only his hard work that helped him crack the GATE exam. On being asked why he chose GATE, he said it was his dream from childhood to study in an IIT, so now he will fulfill his dream. Also, he is interested in higher education and has not applied for any PSUs. Careers360 team conducted an exclusive interview with GATE 2020 topper Apurva Krishna to know about his preparation strategy that gave him the taste of success. Read the full interview GATE 2020 topper interview of Apurva to know more about his success mantras and strategies for GATE, topics to cover, tips for the exam and more.
Stay up-to date with GATE News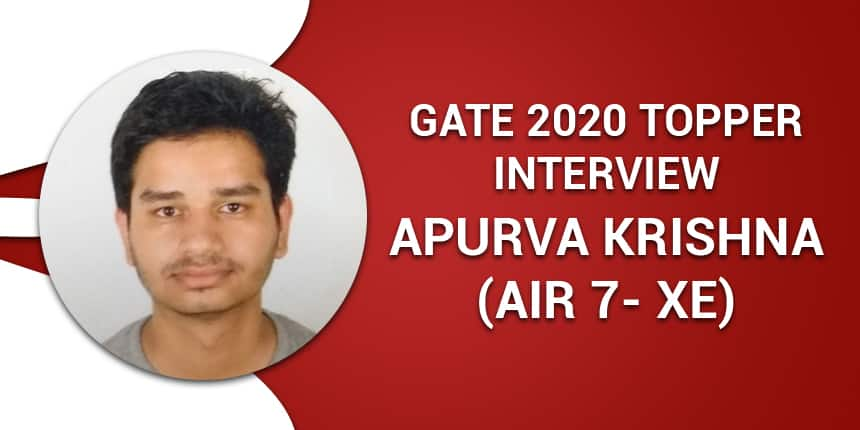 Careers360: Tell us something about yourself; Where have you done your engineering from and in which branch?
Apurva: My name is Apurva Krishna Yadav. I am from Prayagraj. I have completed B.Tech in Mechanical branch in the year 2018 from Raj Kumar Goel Institute of Technology affiliated to Dr. A.PJ. Abdul Kalam Technical University.
Careers360: What was the GATE Paper you appeared in? What rank did you get in GATE 2020? What is your GATE score and how many marks did you secure out of 100 in GATE paper?
Apurva: I appeared in Engineering Sciences (XE) with sections Solid Mechanics and Thermodynamics. I secured AIR 7 in GATE 2020. My GATE score is 863.and 66.67 marks out of 100.
Careers360: Is this your first attempt or did you attempt GATE earlier?
Apurva: This was my third attempt . Before this I appeared in GATE 2018 and GATE 2019 but didn't score well. In 2018 my score was 472 and in 2019 my score was 531. But never deviated from my path and kept working harder and finally got good results in GATE 2020.
Careers360: What was the reason you appeared for GATE 2020? Pls elaborate.
Apurva: It was my dream since my childhood to study in some prestigious college like IIT where one can have best learning in terms of academics as well as overall personality development. Everyone today wants to get a good job after B.Tech but I think when you get a chance to study in the best institution you must grab that opportunity to explore your hidden capabilities and add experiences to his life. So I decided to prepare for GATE to get admission in IIT.
Careers360: Have you applied to any PSUs recruiting through GATE? Which ones?
Apurva: As I am more interested in higher education so I didn't apply for any PSU.
Careers360: When did you start your preparation? How did you prepare for the GATE exam ? How many hours did you put in per day as per the stage of preparation?
Apurva: I started my preparation for GATE in my 3rd year of graduation . Initially I wanted to check whether GATE is my cup of tea or not , so I decided to prepare two or three subjects and solved previous year questions of GATE from those subjects and when I realised that I am able to solve GATE questions I decided to continue my preparation rigorously. I picked up each subject and tried to complete that subject in a fixed time period and solved all previous year GATE question papers. After solving previous year questions, I gave subject wise tests to get more confidence. When I completed 70% of the syllabus I started giving Full Length Tests . I think Full Length Tests are very important as it covers mainly important questions from each subject. So this was my strategy. I never studied on the basis of hours, I always set my target that I have to complete this subject in a limited time . So I followed a target wise approach rather than time wise.
Careers360: Have you taken any coaching? If yes- From where? How did it help?
Apurva: Yes , In my final year I joined the weekend batch in Made easy at Noida.
Careers360: Can you share any preparation strategies with our readers? When should one start their preparation for GATE? How to schedule study time and make timetables?
Apurva: Start the preparation as early as possible, because starting earlier will provide you ample time to work on your weaknesses. Regarding preparation I would suggest to complete the syllabus on time and try to give more number of full length tests. Prepare short notes of each subject, these will play a crucial role during the last days of your preparation. Never get demotivated. Always work on your weaknesses and try to be better than yesterday. Just enjoy the journey because success is a journey not a destination.
Careers360: How important do you feel mock tests are and why? Is it true that if one solves the previous year question papers, there is a good chance of cracking the exam successfully?
Apurva: Mock tests play a very important role in preparation for GATE because knowledge is not everything, one has to perform on the day of exam which requires a lot of practice and that can come with GATE mock tests only. Now mock tests are also of two types- one subject wise and other full length, initially one can attempt subject wise tests but when one completes 70% syllabus he or she must start giving full length tests so that they can get a better picture of their preparation.
Careers360: Which books did you follow for GATE preparation? Pls name some very important must read books for GATE?
Apurva: I referred to Thermodynamics by PK NAG, Theory of machines by SS Rattan, Refrigeration and air conditioning by RS Khurmi , Strength of Material by BC PUNMIA and IC Engines by V. Ganesan.
Careers360: Which are the topics one should focus more on? Kindly give us some details.
Apurva: I think all topics are equally important. If one wants to score good he or she has to strictly follow the syllabus.
Careers360: What was the toughest aspect in your GATE preparation?
Apurva: The toughest aspect for me was to keep myself self-motivated throughout the GATE preparation.
Careers360: Name some important topics that you feel are a must read for any student attempting the GATE exam?
Apurva: As I said every topic is important, one should focus more on practicing by giving mock tests.
Careers360: What did you do for leisure? Any specific activities that helped you unwind?
Apurva: I used to talk with my friends and often go for a walk in a nearby park. This kept me relaxed and also refreshed my mind.
Careers360: How should you schedule answering the GATE exam – which section to attempt first and which next? Did you have any strategy? Kindly share your exam experience with us.
Apurva: I started with Aptitude questions then I solved the thermodynamics and solid mechanics part and at the last I attempted the Mathematics section. I advise that one should attempt those sections first in which they are more comfortable because initial confidence will provide you calmness and if somehow you are not able to do few questions then don't take stress just leave them and attempt them at the last. Don't take more than 5 minutes to attempt any question.
Careers360: What did you feel was a tough thing for you in the GATE exam?
Apurva: I think to handle the pressure of performing well in the exam was tough for me.
Careers360: Any advice for the future aspirants?
Apurva: I would suggest to believe in your efforts and just give your best , at the end of the day things will be in your favour. Practice more and more. Keep yourself calm, focus and positive.
Questions related to GATE
Showing 16221 out of 16221 Questions