East Point College of Engineering & Technology: Interview with Dr Kantharaj D G (Dy Director-Admissions EPGI)
East Point College of Engineering & Technology Bangalore was established in 1999. It is a private co-educational institute which is part of the East Point Group of Institutions (EPGI). East Point College of Engineering & Technology in short is known as EPCET. The institute is affiliated to Visvesvaraya Technological University, Belagavi. EPCET Bangalore offers undergraduate, postgraduate and research programmes in the field of engineering. The institute also offers Industry Institute Integrated Learning Program (IIIPL) in domains like Salesforce, AWS, VMware, and more. The student faculty ratio at EPCET is 12:1.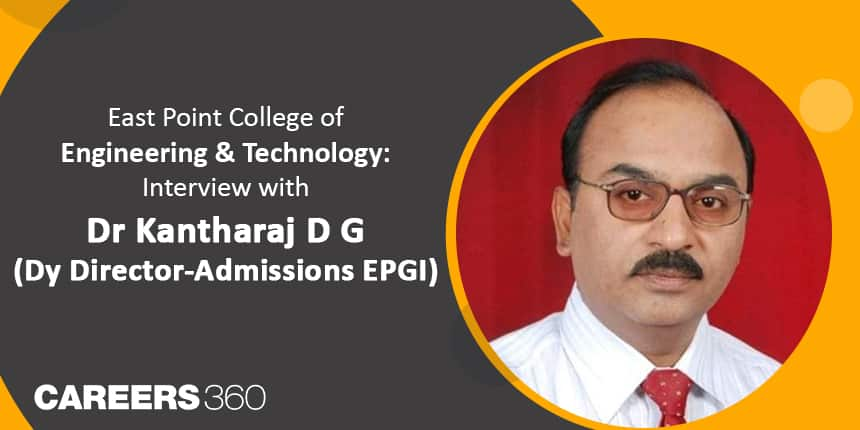 Careers360 brings you an exclusive interview with Dr. Kantharaj D G, Dy Director - Admissions East Point Group of Institutions, Bangalore. In this interview with Careers360 he has shared many details about EPCET, its admissions process, placement details and other relevant details that candidates may find important while selecting a college for their UG or PG degree. Read the complete interview of Dr. Kantharaj D G to know more about East Point College of Engineering & Technology.
Careers360. Tell us something about the institute; when it was set up, vision and mission
Dr Kantharaj D G. East Point Group of Institutions is a premier educational group located in Bengaluru East. Founded by the late Dr. S.M. Venkatpathi in 1997, under the aegis of M G Charitable Trust. It is one of the largest multidisciplinary campuses in Bangalore. East Point Group hosts a plethora of institutions in Medical, Engineering, Pharmacy, Nursing, Commerce, Management, Computer Application, Allied Sciences, Pre-University and School. All the programs from KG to PhD with more than 7000+ students studying more than 45+ programmes.
At East Point, we vow to bring humanity back in education. We aim to accomplish our goals by practicing collective learning, Sustainable living and by encouraging a people friendly environment. We pledge to live by our Philosophy and everything we do. For a Better Mankind. For a Better World.
Vision
East Point Group of Institutions aims at building a Better World and a Better Mankind by imparting quality education through the learned academic fraternity who have dedicated themselves to the motto of Education + Humanity
Mission
Our purpose is to create graduates through quality higher education. We are committed to innovation, creativity, and excellence in our teaching, learning, and research. We focus on imparting holistic education and laying the foundation for lifelong learning. We serve the scientific, technological, healthcare, economic, and societal developmental needs of our communities
Read:
Careers360. Tell us something about the admission process?
Dr Kantharaj D G. Admission to all the Programmes at East Point College of Engineering and Technology is on the basis of Merit. The East Point Group of Institutions considers past academic records, performance or rank in the admission tests conducted by East Point or any Autonomous Statutory Institutions as per the directives of the Government and respective Universities/ Board followed by a Personal Interview at the college.
Steps to follow for online admission
Visit the college website - www.eastpoint.ac.in.
Register Yourself
Verify Email
Fill Application Form Online
Pay Application Fee
Submit the Application
Steps to follow for offline/ direct admission
The student can come in person and take the admission in college itself. Our professionally qualified counselling team provides assistance and advice to the students in choice of appropriate courses, choice of streams and specializations as per their interests.
Also See:
Careers360. What kind of infrastructure can students expect at the institute? Please elaborate?
Dr Kantharaj D G. The East Point Main campus "Jnanaprabha" is a beautiful lush green campus spread across 90 acres, and has a great infrastructure with 40 plus state-of-the-art technology labs, sports facilities for indoor and outdoor games, food courts, elegant hostels and also medical care facilities, as the 1500 bed super specialty Medical College Hospital is within the Campus.
East Point has a diverse student body with over 7000 students across the world. East Point institutions offer a rich pool of qualified and experienced faculty from diverse fields of expertise. The students gain leverage with real time experience from industry leaders with in - house training labs set up by reputed companies.
The Learning and resource center at East Point is a comprehensive one, providing the students with information on all subjects. The technical library has over 60,000 volumes of books covering all branches of Science, Engineering and Management. The institute also has International and national journals to keep students abreast with current research and findings. Our Libraries are also tied up with consortiums like DELNE, HELINET, INDEST-AICTE and EDUSAT.
Jnanaprabha is a digital campus and the entire campus is Wi-Fi enabled and there is an effort make it a green, serene and smart campus and 500 KVA solar power installed in the campus
There are six hostels for both boys and girls. There are residential wardens in every hostel. There is a 24 hrs security in the campus. There are different types of rooms like-Single room with attached bath rooms, 2, 3 or 4 members sharing etc. East Point has five different food courts where vegetarian and non - vegetarian foods are served. East Point has its own fleet of buses well connected with many prime locations. The East Point Busses are plying from different parts of Bangalore covering most parts of the city.
Careers360. There is a lot of stress that is being made with regard to interaction with the industry as well as companies that recruit. What are the steps being taken by the institute in this direction?
Dr Kantharaj D G. At East Point, the students learn from the Industry Leaders to be Industry ready. East Point Group has created a number of well-equipped laboratories in association with industries like CISCO, AWS, Salesforce, Google Cloud, ARM, UiPath, Microsoft, Texas Instrument to offer industry institute integrated learning programs. A number of faculty members have been trained on various tools of these companies and courses are offered during each semester in addition to regular courses. Students normally undergo 2-3 courses depending on the company they prefer to work for.
EPCET has MOU or Tie Up with National and International Entities of Excellence such as,
AWS-Amazon Web Services (AWS) is the world's most comprehensive and broadly adopted cloud platform.
On similar lines of IIILP, each department of each group institute offers a number of competency and skill development courses that are contemporary to prepare the students technically to improve their knowledge as well employability. In these courses, the emphasis is on hands-on training. You can visit the department-level web pages to know the courses that are offered. A specialty of these courses is that anyone can choose any course and complete the course. Normally, the course providers charge a nominal cost for teaching and use of resources.
Faculty members with industrial and academic experience offer training courses to people working in the industry to upgrade their knowledge and competencies. A number of training courses offered by a number of professors offer consultancy services to industry in the areas of structural design, construction Management, Computational Fluid Dynamics, Finite Element Analysis of Systems for Automotive, Aerospace, and General Engineering. In addition, controller design, sensor interfacing, and MATLAB and Simulink simulation of systems.
Also Read:
Careers360. Internships are now mandatory as per AICTE guidelines. Does the institute help students with this? If yes, how?
Dr Kantharaj D G. The Department of Training and Placement at East Point Group of Institutions gives high priority to the training and mentoring for every individual. Students are exposed to best hands-on in-demand training on both Technical and Non-Technical front. Each and Every student of the college is given equal and ample support towards: Industrial training, Internships, Final Placements and Entrepreneurial mentoring.
All the departments at East Point have Project/ Internship Committees consisting of respective HODs, Training and Placement Director, TPO Assistant and Faculty Mentors/ Supervisors/ Guides. The placement cell will organize internships for students in industries/organizations following the semester, or as per AICTE/affiliating university rules.
Approach for organizing internships are as follows:
A request letter or email from the college's Training & Placement cell should be sent to industry. Requesting that various slots of 4 to 6 weeks during summer vacation be assigned to the students for internship. Students may send a request letter/ profile/ interest areas to industries to inquire about their willingness to provide training.
The training sessions and internship positions can get confirmed by the industry via letter or email. If students organize their own training, they must submit a confirmation letter to the Training & Placement office via the respective department. TPO will assign students to the industry based on the number of slots agreed upon by the industry. The people in charge of students' final or summer internships may communicate the internship slots by phone or written communication.
Students must submit the joining report/ letters/ email when they begin training in the relevant industry or organization.
Students complete industrial training in the relevant industry or organization. Meanwhile, faculty members visit the industry/ organization once or twice to evaluate students' performance. Students' evaluation reports filed in the department office/ TPO are with the approval of an industry person or trainer.
Following the end of the internship, students will submit a training report. Obtain a training certificate from the industry.
The Training and Placement Cell will produce a list of students who have successfully completed their internship.
Quick Link: EPCET Bangalore Q&A
Careers360. Can you please share details if there is any collaboration with universities abroad?
Dr Kantharaj D G. The East Point Group of Institutions has tied up with University of Sannio, Italy in Student Exchange Programs.
Careers360. Please share placement statistics with information on the average package, highest and lowest package, number of students placed and details of companies that have recruited.
Dr Kantharaj D G. Check the table below to the placement statistics of East Point College of Engineering and Technology.
EPCET Placement Statistics
| | |
| --- | --- |
| Recruitment partners | 300+ |
| Students got placement | 700+ |
| MOU partners | 50+ |
| Highest Salary | Rs 25 LPA |
| Average Salary | Rs 7.5 LPA |
| Placement Achieved | 97% |
| Students with multiple Offers | 37% |
| Top recruiters | Google, AWS, IBM, Infosys, Wipro, Cognizant, Cisco, Intel, Hitachi, Dell, UI Path, Sales force, Tech Mahindra, ITC Infotech, Bosch, etc. |
Disclaimer: This content was distributed by East Point College of Engineering and Technology Bangalore and has been published as part of Careers360's marketing initiative.
Other Popular Private Institutes:
EPCET Bangalore Updates and Articles
Know all about East Point College of Engineering & Technology ...
21 Jul 2022
Questions related to EPCET Bangalore
Showing 10 out of 10 Questions
East Point College of Engineering and Technology, Bangalore (EPCET Bangalore)