MET Cutoff 2020 - Manipal Academy of Higher Education releases the cutoff of MET 2020 for the aspirants. The cutoff will be in the form of opening and closing rank The minimum rank required by the candidates for a fair chance of admission will act as MET 2020 cutoff. The authorities will consider various factors like the difficulty level of MET, number of applicants, seats availability and previous year cutoff trends while preparing the cutoff. MET cutoff 2020 will vary for the different course and institute. Candidates can also check the cutoffs for the previous years mentioned below here. Read the full article to know all the details related to the cutoff of MET 2020.
Latest: MET 2020 exam dates announced; to be held from July 24 to 27 and August 4 to 7; Also, the last date to fill MET application form extended till June 30.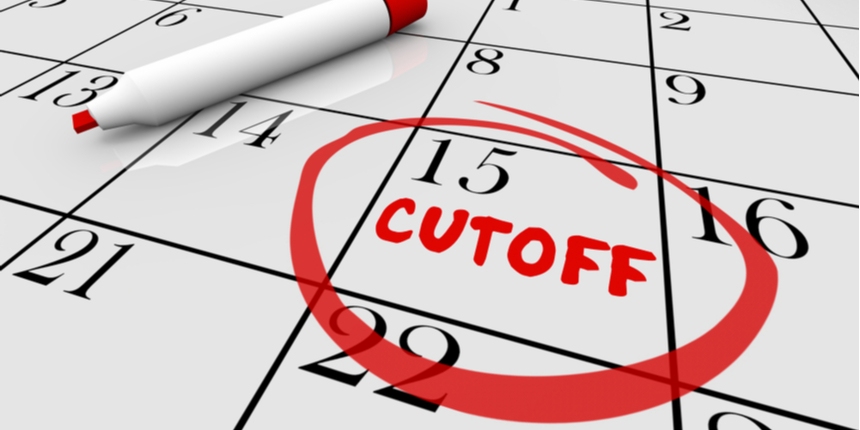 Factors Determining MET 2020 Cutoff
The factors which will be considered by the authorities while preparing the cutoff are mentioned below:
Difficulty level of MET 2020

Total number of applicants

Total number of seats available

Previous year's cutoff trends
Key points related to MET Cutoff 2020
The authorities will prepare the cutoff after keeping certain factors in consideration.

The cutoff will be the minimum rank required to get admission into the course and college.

Candidates can check the cutoff for different B.Tech programmes to know their chances of admission.
Previous Years' MET Cutoff
The authorities will release the cutoff of MET 2020 after the exam is concluded. Meanwhile, candidates can check the previous years' cutoff ranks of MET from the tables given below.
MET 2019 Cutoff for Manipal Campus
| | |
| --- | --- |
| Branch | MIT, Manipal |
| Computer and Communication (CC) | 3844 |
| Computer Science (CS) | 1819 |
| Information Technology (IT) | 3191 |
| Electrical and Electronics (EE) | 13900 |
| Electronics and Communication (EC) | 6483 |
| Electronics and Instrumentation (EI) | 34700 |
| Aeronautical (AE) | 21099 |
| Automobile (AU) | 30575 |
| Mechanical (ME) | 16790 |
| Mechatronics (MT) | 14985 |
MET Cutoff 2019 for Jaipur Campus
| | |
| --- | --- |
| Branch | MUJ, Jaipur |
| Computer Science (CS) | 12166 |
| Information Technology (IT) | 20944 |
MET Cutoff for 2017 and 2018
BTech Branch

MIT Manipal

2017

2018

Civil (CV)

24,368

25,813

Biotechnology (BT)

25,714

23,680

Chemical (CH)

23,595

19,305

Computer & Communication (CC)

4,335

2,984

Computer Science (CS)

1,978

1,557

Information Technology (IT)

3,429

2,563

Biomedical (BM)

34,852

2,7145

Electrical & Communication (EC)

5,560

4,079

Electrical & Electronics (EE)

9,870

7,758

Electronics & Instrumentation (EI)

22,638

11,204

Media Technology (MD)

38,456

35,676

Aeronautical (AE)

11,768

11,646

Automobile (AU)

14,362

13,277

Industrial & Production (IP)

21,509

19,741

Mechanical (ME)

8,800

7,474

Mechatronics (MT)

9,708

7,459
BTech Branch

Manipal University Jaipur

2017

2018

Civil (CV)

35,900

OPEN

Biotechnology (BT)







Chemical (CH)

38,655

OPEN

Computer & Communication (CC)

28,272

16,561

Computer Science (CS)

11,285

8,500

Information Technology (IT)

18,123

12,635

Biomedical (BM)







Electrical & Communication (EC)

29,644

20,336

Electrical & Electronics (EE)

39,890

OPEN

Electronics & Instrumentation (EI)







Media Technology (MD)







Aeronautical (AE)







Automobile (AU)

38,901

OPEN

Industrial & Production (IP)







Mechanical (ME)

35,418

37,286

Mechatronics (MT)

33,074

31,575
BTech Branch

SMIT Sikkim

2017

2018

Civil (CV)

OPEN

OPEN

Biotechnology (BT)







Chemical (CH)







Computer & Communication (CC)







Computer Science (CS)

37,679

28,102

Information Technology (IT)

OPEN

41,630

Biomedical (BM)







Electrical & Communication (EC)

OPEN

OPEN

Electrical & Electronics (EE)

OPEN

OPEN

Electronics & Instrumentation (EI)







Media Technology (MD)







Aeronautical (AE)







Automobile (AU)







Industrial & Production (IP)







Mechanical (ME)

OPEN

OPEN

Mechatronics (MT)






MET 2016 Cutoff
| | | |
| --- | --- | --- |
| S.No. | Programmes | Closing Rank |
| 1 | Civil Engineering | 33258 |
| 2 | Computer Science Engineering | 41708 |
| 3 | Electrical and Electronics Engineering | 38681 |
| 4 | Electronics and Communication Engineering | 39356 |
| 5 | Information Technology | 32120 |
| 6 | Mechanical Engineering | 38134 |
| | | |
| --- | --- | --- |
| S.No. | Programmes | Closing Rank |
| 1 | Automobile Engineering | 40312 |
| 2 | Chemical Engineering | 36477 |
| 3 | Civil Engineering | 40807 |
| 4 | Electronics and Computer Engineering | 25593 |
| 5 | Computer Science Engineering | 10867 |
| 6 | Electronics and Communication Engineering | 24335 |
| 7 | Information Technology | 17195 |
| 8 | Mechanical Engineering | 28487 |
| 9 | Mechatronics Engineering | 41629 |
Questions related to MET
Showing 127 out of 127 Questions
Manipal Entrance Test (MET)