AP EAMCET 2020 Topper Interview: Vavilapalli Sainadh (Rank 1) "Practice is the key"
AP EAMCET 2020 Topper Interview - Vavilapalli Sainadh (Rank 1) - AP EAMCET 2020 results are out and the authorities also announced the names of top rank holders of the exam. Careers360 got a chance to communicate with the candidate at the top notch, i.e. Vavilapalli Sainadh who is AP EAMCET 2020 topper with first rank. He is a person with less words and more plans under the sleeves. In an interview with Careers360, V. Sainadh shares his journey of securing top rank in AP EAMCET exam while originally preparing for JEE Main and Advanced. He wishes to pursue Computer Science engineering and has much to share with the future aspirants.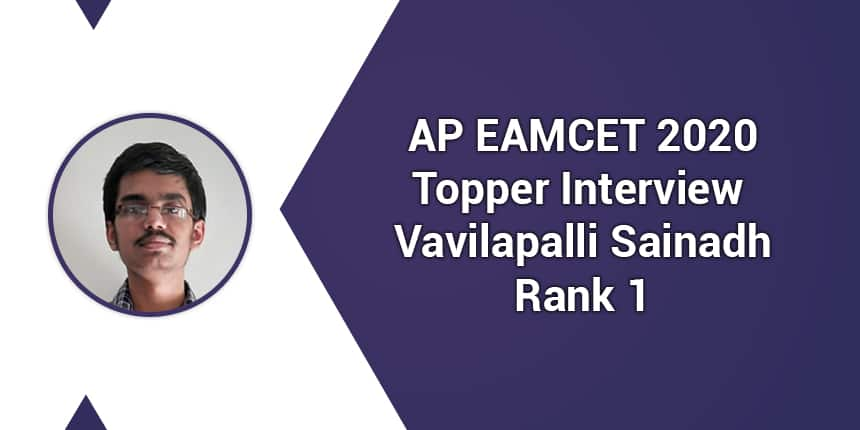 Excerpts of the Interview:
Careers360: Congratulations for your performance in AP EAMCET 2020! What was your reaction upon knowing your score?
V. Sainadh: When I got to know the AP EAMCET results, I was happy and excited at the same time. I did not at all expect to become AP EAMCET topper with rank 1.
Careers360: Tell us something about yourself. Which board have you studied under? Which school have you studied in?
V. Sainadh: I completed my schooling from Sri Chaitanya School, Srikakulam till class 10. After that, I moved to Vizag for my further studies. I completed my intermediate from Sri Chaitanya College, Vizag.
Careers360: What is your score in AP EAMCET 2020? What's your score in Physics, Maths and Chemistry?
V. Sainadh: My score after normalization in AP EAMCET 2020 exam is 157.5. My score is 40 in Physics, 79 in Mathematics and 39 in Chemistry respectively.
Careers360: Did you appear for the TS EAMCET or JEE Main also? What was your score then?
V. Sainadh: I did not apply for TS EAMCET but I did appear in JEE Main 2020. My All India Rank in JEE Main 2020 is 104 under general category.
Careers360: Why do you want to study engineering? When did you decide to study engineering? Which branch would you be interested in?
V. Sainadh: I want to pursue engineering due to interest developed since class 8 when science subject was more elaborated in the curriculum. I was to pursue B.Tech in computer science.
Careers360: When did you start your AP EAMCET preparation? Tell us something about your preparation strategy and daily routine for AP EAMCET?
V. Sainadh: There was no specific preparation focussing on AP EAMCET 2020 as I was mainly preparing for JEE Advanced and Main. So, the preparation was altogether common. I used to study for almost 12-13 hours a day while staying at the college itself. There, we used to practice the concepts taught on a daily basis.
Careers360: Did you face any difficulties since the examination was conducted completely in computer based mode?
V. Sainadh: There was no technical issue but time management was a great task while appearing in AP EAMCET exam 2020.
Careers360: How did the COVID-19 pandemic affect your preparation for the exam?
V. Sainadh: The pandemic era did not much affect the exam preparation as we were kept engaged through online classes by the coaching institute. We used to write exams in online mode twice or thrice a week, so there was no effect.
Careers360: How did coaching classes from Sri Chaitanya help you?
V. Sainadh: Taking coaching was a better decision as the faculty used to guide us thoroughly. When we made mistakes, they would correct us.
Careers360: Mock tests and sample papers – how extensively did you practise with the help of these? Do you think practising from the previous year papers help and how?
V. Sainadh: AP EAMCET mock tests and AP EAMCET sample papers are an inevitable part of AP EAMCET preparation. While there was almost 1 month to go for the exams, we used to give the exams every alternate day. Previous year papers are helpful as the questions may not repeat but candidates get a good idea of the AP EAMCET exam pattern.
Careers360: Are there any special books that you feel have helped with your AP/TS EAMCET preparation? Are the NCERT text books adequate for preparing?
V. Sainadh: I used to follow H.C. Verma (Concepts of Physics), while for Mathematics and Chemistry, study material from the coaching institute was sufficient. NCERT text books are really helpful while preparing for these exams as questions in Chemistry are mostly asked directly from NCERT and AP EAMCET syllabus is covered.
Careers360: Which subject was the easiest and which was the toughest in AP EAMCET?
V.Sainadh: For me, Physics was the easiest in AP EAMCET, while Mathematics was a bit tough due to lengthy calculations. Chemistry section was moderately difficult.
Careers360: How did you de-stress yourself during the preparation? What are your hobbies?
V.Sainadh: I follow cricket and play frequently whenever I am done with studies. Otherwise I watch television when I am free to relieve the study stress.
Careers360: Who is your ideal or biggest inspiration in life and why?
V.Sainadh: My parents are the biggest inspiration for all of it.
Careers360: You know you are an inspiration to thousands of students across the country. Do you have any message for future aspirants on tackling the AP EAMCET exam?
V.Sainadh: There are some things which I think work out for all. I believe that practising on a daily basis helps a lot. Also, I do not prefer postponing things, like revising the concepts the same day they are taught help in better understanding.
Questions related to AP EAMCET
Showing 8713 out of 8713 Questions
Andhra Pradesh Engineering Agriculture and Medical Common Entrance Test (AP EAMCET)