How to Prepare for GATE 2023 Electrical Engineering (EE)?
How to Prepare for GATE 2023 Electrical Engineering (EE)? - Every year IISC Bangalore and the seven IITs jointly conduct GATE exam for admission in M.E/M.Tech/Phd courses offered by NITs, IIITs, IITs and CFITs. Candidates qualifying GATE are also eligible for PSU recruitments.
Stay up-to date with GATE News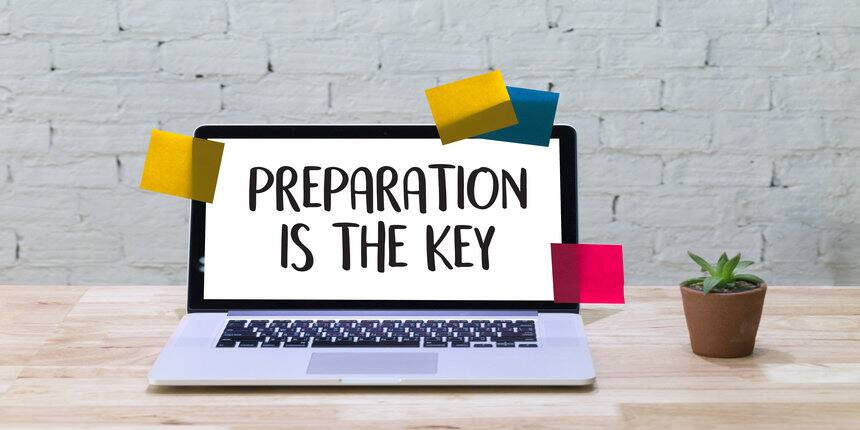 GATE paper is conducted for 29 papers and Electrical Engineering is one of them. GATE EE paper is one of the most opted papers by the candidates and that is the competition level is high. Because of this, candidates search for strategies to prepare for GATE Electrical Engineering paper and we have also received many such queries. So, here we are providing a strategy on "How to Prepare for GATE 2023 Electrical Engineering (EE)?". Read the full article to know about GATE 2023 EE paper exam pattern, syllabus, important topics, question papers, mock tests and much more.
GATE 2023 Electrical Engineering Exam Pattern
It is important that the candidates know about the exam pattern of the GATE EE paper beforehand. Knowledge of exam pattern will help the candidates to know about the mode of exam, duration, number of sections, number of questions, total marks, etc. The following table can be referred to check the exam pattern of GATE 2023 Electrical Engineering paper.
GATE 2023 EE Exam Pattern
Particulars

Details

Exam Duration

3 hours (180 minutes)

Number of Questions

65 Questions

Total Marks

100 Marks

Type of Questions

There will be two types of question

Multiple Choice Questions (MCQ)

Numerical Answer Type (NAT) Questions

Number of sections

Three sections -

General Aptitude

Engineering Mathematics

Subject/technical (EE)

Marking Scheme

For 1 mark questions, 1/3 mark will be deducted every wrong answer.




2 marks questions, 2/3 mark will be deducted for every incorrect response.




There is no negative marking for Numerical Answer Type (NAT) questions
Quick Links:-
How to Prepare for GATE 2023 in 6 Months?
Top 5 Benefits of PSU Hiring Through GATE 2023
GATE 2023 Electrical Engineering Syllabus
Candidates should check the syllabus of Electrical Engineering GATE paper before starting their preparation. Knowledge of syllabus will help the candidates to study the right topics for the exam. Candidates can refer to the following table to know about the syllabus of the paper.
GATE 2023 EE Syllabus
Section

Name

Topics

1

Engineering Mathematics

Linear Algebra

Calculus

Differential Equations

Complex Variables

Probability and Statistics

Numerical Methods

Transform Theory

2

Electric Circuits

Network graph

KCL, KVL, Node and Mesh analysis

Transient response of DC and AC networks

Sinusoidal steady‐state analysis

Resonance

Passive filters

Ideal current and voltage sources

Thevenin's theorem

Norton's theorem

Superposition theorem

Maximum power transfer theorem

Two‐port networks

Three phase circuits

Power and power factor in AC circuits.

3

Electromagnetic Fields

Coulomb's Law

Electric Field Intensity

Electric Flux Density

Gauss's Law

Divergence

Electric field and potential due to point, line, plane and spherical charge distributions

Effect of dielectric medium

Capacitance of simple configurations

Biot‐Savart's law

Ampere's law

Curl

Faraday's law

Lorentz force

Inductance

Magnetomotive force

Reluctance

Magnetic circuits

Self and Mutual inductance of simple configurations.

4

Signals and Systems

Representation of continuous and discrete‐time signals

Shifting and scaling operations

Linear Time Invariant and Causal systems

Fourier series representation of continuous periodic signals

Sampling theorem

Applications of Fourier Transform

Laplace Transform and z-Transform.

5

Electrical Machines

Single phase transformer: equivalent circuit, phasor diagram, open circuit and short circuit tests, regulation and efficiency

Three phase transformers: connections, parallel operation

Auto‐transformer

Electromechanical energy conversion principles

DC machines: separately excited, series and shunt, motoring and generating mode of operation and their characteristics, starting and speed control of dc motors

Three phase induction motors: principle of operation, types, performance, torque-speed characteristics, no-load and blocked rotor tests, equivalent circuit, starting and speed control

Operating principle of single phase induction motors

Synchronous machines: cylindrical and salient pole machines, performance, regulation and parallel operation of generators, starting of synchronous motor, characteristics.

Types of losses and efficiency calculations of electric machines.

6

Power Systems

Power generation concepts, AC and DC transmission concepts

Models and performance of transmission lines and cables

Series and shunt compensation

Electric field distribution and insulators

Distribution systems

Per‐unit quantities

Bus admittance matrix

Gauss-Seidel and Newton-Raphson load flow methods

Voltage and Frequency control

Power factor correction

Symmetrical components

Symmetrical and unsymmetrical fault analysis

Principles of over‐current, differential and distance protection

Circuit breakers

System stability concepts

Equal area criterion.

7

Control Systems

Mathematical modeling and representation of systems

Feedback principle, transfer function

Block diagrams and Signal flow graphs

Transient and Steady‐state analysis of linear time invariant systems

Routh-Hurwitz and Nyquist criteria

Bode plots

Root loci

Stability analysis

Lag

Lead and Lead‐Lag compensators

P, PI and PID controllers

State space model

State transition matrix

8

Electrical and Electronic Measurements

Bridges and Potentiometers

Measurement of voltage, current, power, energy and power factor

Instrument transformers

Digital voltmeters and multimeters

Phase, Time and Frequency measurement

Oscilloscopes

Error analysis

9

Analog and Digital Electronics

Characteristics of diodes

BJT

MOSFET

Simple diode circuits: clipping, clamping, rectifiers

Amplifiers

Biasing

Equivalent circuit and Frequency response

Oscillators and Feedback amplifiers

Operational amplifiers

Characteristics and applications

Simple active filters

VCOs and Timers

Combinational and Sequential logic circuits

Multiplexer

Demultiplexer

Schmitt trigger

Sample and hold circuits

A/D and D/A converters

8085Microprocessor

Architecture

Programming and Interfacing.

10

Power Electronics

Characteristics of semiconductor power devices

Diode

Thyristor

Triac

GTO, MOSFET, IGBT

DC to DC conversion

Buck, Boost and Buck-Boost converters

Single and three phase configuration of uncontrolled rectifiers

Line commutated thyristor based converters

Bidirectional AC to DC voltage source converters

Issues of line current harmonics

Power factor

Distortion factor of AC to DC converters

Single phase and three phase inverters

Sinusoidal pulse width modulation.
GATE 2023 Electrical Engineering Preparation Tips
Here, we have provided some preparation tips for cracking GATE EE Paper. Although a preparation strategy varies from one candidate to another, these tips will help the candidates in making a better study plan.
Know exam pattern and syllabus- Candidates should first understand the exam pattern and syllabus for GATE EE paper before starting their preparation. Both the exam pattern and syllabus for the paper have already been mentioned in the article.
Time Management- After understanding the syllabus, prepare a timetable to complete the entire syllabus before time. Time table must be followed religiously because only making a time table will not help in any way.
Important Topics- Candidates are advised to check the important topics for GATE EE paper mentioned in the article. Candidates should cover these topics first as they have more weightage in the exam. However, candidates must complete the entire syllabus.
Revision- As it is said that revision is the key, candidates should give proper time for revision in their study plan. Since the syllabus is vast, candidates must keep revising whatever they study.
Question papers and mock tests- The authorities releases official GATE question papers on the official website, candidates should practice these question papers to have an overview of the exam. Similarly, candidates must practice GATE mock tests to have a real feel of the examination and increase their speed. These mock tests are based on the actual pattern of the exam and candidates are also able to analyse their performance after attempting these mock tests.
Quick Links:-
GATE 2023 preparation tips for Electrical Engineering (EE)
GATE 2023 Preparation Material
GATE EE Question Papers - Previous Year
| | | |
| --- | --- | --- |
| Year | Question Paper Link | Answer Key Link |
| GATE Electrical Engineering Paper 2020 | | |
| GATE Electrical Engineering Paper 2019 | | |
Important Topics for GATE 2023 Electrical Engineering Paper
S.No.

Topics

Books

1.

Engineering Mathematics

Advanced Engineering Mathematics by E.Kreyszig

2.

Networks

Engineering Circuit Analysis by Hayt and Kemmerly

3.

Signal and systems

Signals and Systems by Oppenheim and Wilsky

Signals and Systems - Nagoor Kani

4.

Electrical Machines

Electrical Machinery by P.S.Bimbhra

5.

Power system

Power Systems Engineering by Nagrath and Kothari

Power Systems by JB Guptha & CL Wadhwa

6.

Power Electronics

Power Electronics by MH Rashid

Power Electronics by P.S.Bimbhra

7.

Control system

Control Systems Engineering by Nagrath and Gopal

8.

Measurement

Electrical and Electronic Measurement and Instrumentation by AK Sawhney

9.

Analog

Electronic Devices and Circuit Theory by Boylestad

10.

Digital Circuits

For Digital Electronics, refer to Digital Design by M.Morris Mano

11.

Electro Magnetics

Mathew N. O. SADIKU - Elements of Electromagnetics

William .H.Hayt - Engineering Electromagnetics

12.

For Problem Solving

GATE Electrical by RK Kanodia

13.

Circuit analysis

Transient Analysis Of Electric Power Circuits by Arieh L Shenkmann and also Chakrabarthi
Candidates should note that the entire syllabus for GATE EE paper must be covered by them. These important topics have been listed on the basis of their weightage in the exam. Candidates should not only stick to these topics only.
Also, Read - GATE 2021 topper Interview, Yatish Naman Asthana (AIR 2 in Aeronautical Engineering)
Questions related to GATE
Showing 16609 out of 16609 Questions