GATE Normalisation Process: How Scores are calculated?
GATE Normalisation Process: How Scores are Calculated - Graduate Aptitude Test in Engineering (GATE) 2021 will be conducted for 27 subjects in multiple sessions and slots from February 5 to 7 and 12 to 14. There are some subjects in GATE like Mechanical, Computer Science, Civil and Electrical which will be conducted in more than one session. Since the difficulty level of the same paper conducted in two slots might vary, GATE 2021 normalisation process is implemented to arrive at an impartial score. The IIT Bombay will use a normalisation formula to arrive at a score at par the difficulty level. The normalised score in GATE 2021 exam will then be used to calculate candidates' score out of 1000. The marks obtained in GATE out of 1000 is the GATE score of a candidate. Many times students have doubts on how GATE normalisation is done, how scores are calculated. Read more to know how GATE normalisation is done and how GATE score is calculated.
Latest Update: GATE mock test released. Check GATE admit card 2021 date.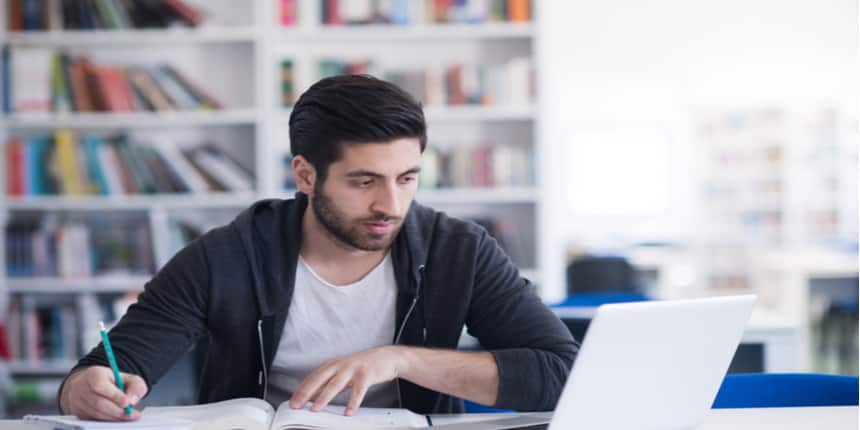 GATE Marks Vs Score
The GATE score of a candidate is obtained using a formula out of 1000 while the marks of a candidate is the actual number secured by a candidate in the exam out of 100. The GATE result of qualified candidates indicates both GATE score and marks obtained by candidates. GATE scores are used by institutes to offer admission in PG engineering courses and also by Public Sector Undertakings (PSUs) for shortlisting candidates to offer employment.
How GATE Normalised Scores are Calculated
The GATE conducting institute uses formulas for converting the marks of candidates to score. Since some papers are conducted in multiple sessions, to arrive at a normalised score of these multiple session papers, a suitable normalization formula is applied to take into account any variation in the difficulty levels of the question papers across different sessions.
The normalization is done based on the fundamental assumption that "in all multi-session GATE papers, the distribution of abilities of candidates is the same across all the sessions". This assumption is justified since the number of candidates appearing in multi-session papers in GATE is large and the procedure for allocation of session to candidates is random.
Further, it is also ensured that for the same multi-session paper, the number of candidates allotted in each session is of the same order of magnitude. Hence, the following formula is used to calculate the GATE normalised score,
GATE Normalisation Formula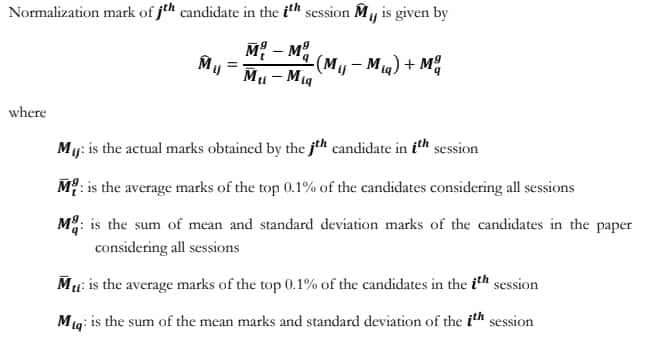 How GATE scores are calculated
For all papers for which there is only one session, actual marks obtained by the candidates are used for calculating the GATE Score. For papers in multi-sessions, normalized marks are used for calculating the GATE score. The following formula is used to calculate the GATE score.
GATE Score Calculation Formula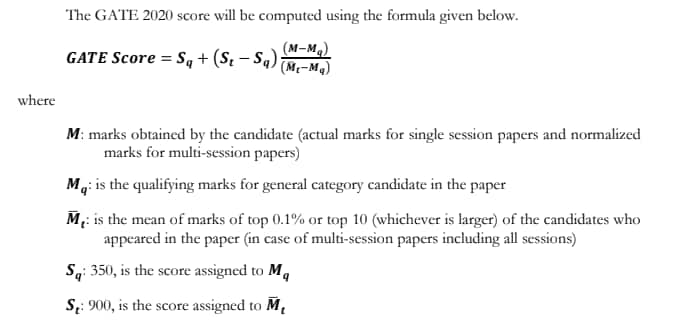 GATE Score Card 2021
Candidates who will qualify the exam by securing a minimum score will be issued the GATE score card 2021. Students will be able to download their score card one week after the announcement of the result. GATE score card is the official document confirming the qualification of candidates in exam. GATE score card is used while applying for M.Tech admission or in PSU recruitment through GATE.
Questions related to GATE
Showing 15222 out of 15222 Questions