GATE 2021 preparation tips for Electrical Engineering (EE)
GATE 2021 preparation tips for Electrical Engineering (EE) - Preparation is the first step towards the journey of success. Aspirants preparing for GATE 2021 which is a highly competitive exam and that too for EE might be looking for preparation tips. To give their preparation a direction, Careers360 has compiled the preparation tips for GATE 2021 for EE. Aspirants need to prepare a well planned strategy for preparation to ensure that their hard work pays off. EE preparation tips for GATE 2021 will help the students to polish up their exam preparation. Go through the article to know the GATE 2021 preparation tips for Electrical Engineering (EE) alongwith the preparation strategy involving the knowledge of syllabus, time management skills, important books and topics, tips from toppers, etc.
Stay up-to date with GATE News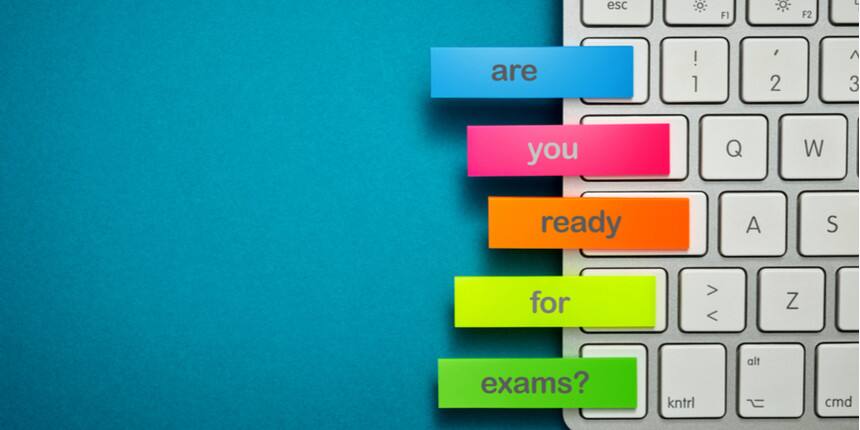 GATE 2021
GATE 2021 will be conducted by IIT Bombay as a screening process to shortlist the candidates either to offer admission into M.E./M.Tech/PhD at the IITs, NITS, IIITs and CFTIs or to recruit them in PSUs, provide fellowship or make them eligible for admission in the country.
Quick Links:-
What are the M.Tech Entrance Exams other than GATE?
GATE Online Coaching - Best Institutes, Apps, Benefits
Electrical Engineering Preparation Tips for GATE
Students burning the midnight's oil to fulfil their dream of cracking GATE with a good score might be seeking a preparation strategy to lead their preparation in a direction promising the fruitful results. To ease their stress, mentioned below are some GATE 2021 preparation tips for EE.
Determination - Before starting the preparation, you should have a firm determination to work hard and achieve your goal. Without determination, no strategy will give the desired results.
Know the syllabus - The most important step is to get familiar with the syllabus to know what all topics have to be covered. Going through the syllabus will make it easier to plan out the study schedule.
Make a time table - After getting familiar with the syllabus and topics, the next step is to make a study schedule of what topics to cover and when. Make sure that there is a time for relaxation in your schedule as overexertion will not help.
Practise until you become perfect - Practise and practise more to lead towards perfection. It is rightly said that practise makes one perfect.
Make notes and study - Making notes while studying will help you to revise them easily at the later stages.
Clear all the concepts - Make sure that all the basic concepts are clear as they are the foundation for your preparation. Take help from teachers or colleagues to ensure this.
Internet is a blessing - The debate of deciding whether internet is a blessing or a boon will go on but while preparing for your exam always consider it to be a blessing. Online tutorials, classes, mock tests, diagrams, flowcharts and what not on the internet will help you to boost your preparation.
Mock test - Attempting mock tests will help you recognise your weaknesses so that you can work on them. It will also help in getting familiar with the exam pattern.
Relax - Apart from studying and practising everything it is equally important to relax and keep your mind calm. Relax and don't put too much exertion and stress on yourself.
GATE Syllabus for Electrical Engineering
Section

Name

Topics

1

Engineering Mathematics

Linear Algebra

Differential Equations

Transform Theory

Probability and Statistics

Complex Variables

Calculus

Numerical Methods




2

Electric Circuits

Network graph

Transient response of DC and AC networks

Thevenin's theorem

Maximum power transfer theorem

Resonance

KCL, KVL, Node and Mesh analysis

Sinusoidal steady‐state analysis

Norton's theorem

Two‐port networks

Superposition theorem

Passive filters

Ideal current and voltage sources

Three phase circuits

Power and power factor in AC circuits.

3

Electromagnetic Fields

Coulomb's Law

Electric Field Intensity

Electric field and potential due to point, line, plane and spherical charge distributions

Faraday's law

Biot‐Savart's law

Electric Flux Density

Gauss's Law

Divergence

Effect of dielectric medium

Capacitance of simple configurations

Ampere's law

Magnetic circuits

Curl

Lorentz force

Inductance

Magnetomotive force

Reluctance

Self and Mutual inductance of simple configurations.

4

Signals and Systems


Representation of continuous and discrete‐time signals

Shifting and scaling operations

Linear Time Invariant and Causal systems

Fourier series representation of continuous periodic signals

Sampling theorem

Applications of Fourier Transform

Laplace Transform and z-Transform.

5

Electrical Machines


Single phase transformer: equivalent circuit, phasor diagram, open circuit and short circuit tests, regulation and efficiency

Three phase transformers: connections, parallel operation

Auto‐transformer

Electromechanical energy conversion principles

DC machines: separately excited, series and shunt, motoring and generating mode of operation and their characteristics, starting and speed control of dc motors

Three phase induction motors: principle of operation, types, performance, torque-speed characteristics, no-load and blocked rotor tests, equivalent circuit, starting and speed control

Operating principle of single phase induction motors

Synchronous machines: cylindrical and salient pole machines, performance, regulation and parallel operation of generators, starting of synchronous motor, characteristics

Types of losses and efficiency calculations of electric machines.

6

Power Systems


Power generation concepts, AC and DC transmission concepts

Models and performance of transmission lines and cables

Series and shunt compensation

Electric field distribution and insulators

Distribution systems

Per‐unit quantities

Bus admittance matrix

Gauss-Seidel and Newton-Raphson load flow methods

Voltage and Frequency control

Power factor correction

Symmetrical components

Symmetrical and unsymmetrical fault analysis

Principles of over‐current, differential and distance protection

Circuit breakers

System stability concepts

Equal area criterion.

7

Control Systems


Mathematical modeling and representation of systems

Feedback principle, transfer function

Block diagrams and Signal flow graphs

Transient and Steady‐state analysis of linear time invariant systems

Routh-Hurwitz and Nyquist criteria

Bode plots

Root loci

Stability analysis

Lag

Lead and Lead‐Lag compensators

P, PI and PID controllers

State space model

State transition matrix

8

Electrical and Electronic Measurements


Bridges and Potentiometers

Measurement of voltage, current, power, energy and power factor

Instrument transformers

Digital voltmeters and multimeters

Phase, Time and Frequency measurement

Oscilloscopes

Error analysis

9

Analog and Digital Electronics


Characteristics of diodes

BJT

MOSFET

Simple diode circuits: clipping, clamping, rectifiers

Amplifiers

Biasing

Equivalent circuit and Frequency response

Oscillators and Feedback amplifiers

Operational amplifiers

Characteristics and applications

Simple active filters

VCOs and Timers

Combinational and Sequential logic circuits

Multiplexer

Demultiplexer

Schmitt trigger

Sample and hold circuits

A/D and D/A converters

8085Microprocessor

Architecture

Programming and Interfacing.

10

Power Electronics


Characteristics of semiconductor power devices

Diode

Thyristor

Triac

GTO, MOSFET, IGBT

DC to DC conversion

Buck, Boost and Buck-Boost converters

Single and three phase configuration of uncontrolled rectifiers

Line commutated thyristor based converters

Bidirectional AC to DC voltage source converters

Issues of line current harmonics

Power factor

Distortion factor of AC to DC converters

Single phase and three phase inverters
GATE 2021 EE Preparation Recommended books
| | |
| --- | --- |
| Subject | Author |
| Network Theory | William H. Hayt and A Chakrabarti |
| Electromagnetic Field Theory | Matthew N.O. Sadiku |
| Measurement | A.K. Sawhney |
| Control Systems | B.S. Manke and A. Nagoor Kani |
| Signals and Systems | Alan V. Oppenheim |
| Digital Electronics | M. Morris Mano |
| Electrical Machines | V.K. Mehta and C.L. Wadhwa, Also used P.S. Bhimbhra as Reference Power Systems |
| Power Electronics | P.S. Bhimbhra |
| Engineering Mathematics | Made Easy Book, Ace Previous Year Maths book for Practise Attitude |
Check Here:- What are the Best Books for GATE Electrical Engineering?
GATE EE Preparation Tips by Topper
GATE 2019 EE Topper Sayantan Bhattacharya in an interview with Careers360 shares his inspirational words describing some preparation tips for the aspirants:
He advises the final year students to start their preparation while in 5th or 6th semester.

According to him, the aspirants must first clear the basic concepts by studying from the standard textbooks for each subject.

They can also seek help from the coaching notes

Revision is the key at the later stages
Questions related to GATE
Showing 15934 out of 15934 Questions