How to choose a college? Live session excerpts with Maheshwer Peri, Founder & CEO, Careers360
Choosing a college and making a decision about a career path are very crucial steps in a student's life. The future that students will step into is dependent on these decisions. There are many doubts and misconceptions that one has when it comes to picking out a college and career. Careers360 recently held a live session with Mr. Maheshwer Peri on April 28 on Facebook and Youtube. Through the course of this session, Mr. Peri answered fundamental questions on how to choose a college, what factors to look for, precautions to take and various other relevant and important issues. Mr. Peri also summarised with a 10 pointer checklist to be used by students while making their decisions on a career and a college.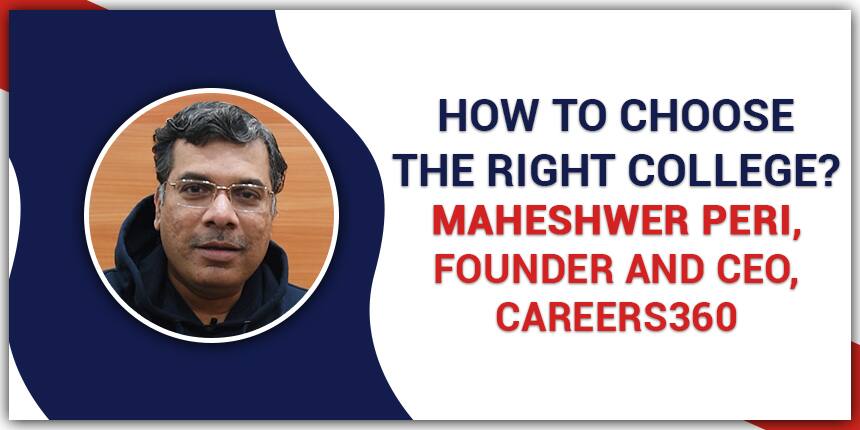 Q. What should a student give importance to? A college or a course?
A. Let's assume you have a very good college but the course is not to your liking which is a huge possibility. You may get a very good college but a stream not to your liking or preference. On the other hand you have an average college where you are likely to get a stream or branch of your choice. In my opinion, it is meaningless to join the best college in a stream that you don't like, simply because it's not your choice of course. That is one part of it. The other part of it is that every great institution has a flagship course which is famous but the other courses may not give you the desired outcome in terms of learning or placements. That's why, using data is the best way to go about choosing a college and course.
For example- even IITs are unable to place students from non computer and non flagship courses. Take civil engineering, 45% students who have taken this up in IITs are not placed in. The data is pretty stark and that's why you should reconsider joining any branch simply because you got a seat in the IITs. Chances of placement for many non IT branches may be 50-50.
Now take the best college in your own locality, for example BMS college and RV college in Bangalore, Chaitanya Bharathi Institute of Technology in Hyderabad etc. If you were to get a seat here in a branch of your choice, your chances of getting placed are higher. So if I were asked to choose between a course not of my liking in an IIT or the best local college in a branch of my choice, I would choose the latter, because chances of placement are higher, the outcome is better and I get to do the course of my choice. Most students after class 12 have a limited ability to decide what they want and also no means to know how to choose. Unfortunately in India, there is no such thing as a credit transfer, where you can jump from one branch to another at some point in time. This is why I always suggest choosing the course over college.
Next question to look at is how to choose the college. As long as the integrity of the colleges you have applied for is good, correct and intact, then you should go for your preferred branch in that college over an IIT or any well known college in a branch you don't like.
Q. Should I trust the college authorities and the details mentioned in the website while opting for admission in that college?
A. What you need to do is to dig deeper and do some research. Every college website is supposed to have the "Mandatory Disclosure". This is a disclosure that every college must make to the authorities namely the government, AICTE, UGC and so on. This disclosure essentially gives details on the college, faculty size, student intake, placements, fee and so on and so forth. Similarly there is something known as SSR which is verified by NAAC (National Assessment and Accreditation Council) through a college visit by the NAAC team. After verification, the team certifies the same.
Always look for the mandatory disclosure or the NAAC SSR report to know the correct data and details of the college. Never rely on the college website.
A. VIT Vellore is a very good college. It is one of the 10 institutes of eminence in the country. It has very good placement numbers these past years. It also has a legacy because it was started 20-25 years back. So if you get VIT with the branch of your choice, then you should choose it.
Q. From where do I check college rankings?
A. NIRF rankings are the place to start with. NIRF is the National Institutional Ranking Framework started by the Government of India. Here, all the data submitted by the college or university is on an affidavit. This data can be verified and if the data is false the institution can be penalized. Now many grants and concessions are also being granted to institutions based on the NIRF data.
Another way to check is through NAAC rating. NAAC scores out of 4 and then gives a rating based on the score (A++, A+ etc). NAAC is a very good measure too.
The rankings done by Careers360 include the NAAC rating and NIRF ranking as well. That is because we want to stand scrutiny for the kind of information and the kind of ranking done for everyone else. Careers360 doesn't do perception rankings but provides you with the NAAC and NIRF data. The Careers360 ranking is for a larger number of institutions while NIRF does it for only 200-300 colleges.
So to summarize, you should check NIRF ranking, NAAC rating and finally Careers360 rating.
Q If I get a college seat in some other city, should I visit the college to know details about the college, or can I get contact information from the internet?
A. It's always good if you can visit the college. But it is also highly impractical to tell one to visit every college they get a seat in. Also, during the admission cycle, colleges make themselves look very good to attract students, and it happens a lot. If you get a college in your locality, you must visit, and if the college is in your state you must make an attempt to visit the college. If it is outside your state, it is your call. Increasingly, the data available online is pretty transparent. So my main advice would be to visit the college only if it is feasible for you, otherwise websites like ours provide sufficient data on each college. We do not put up any data on our website which hasn't been authenticated by the government authorities.
Q. What must be the criteria to select a medical college for MBBS? Does patient inflow matter?
A. As far as MBBS is concerned, if you have a choice you should obviously go for the best one. There obviously is a challenge considering the number of seats available. This year itself, it is likely that around 1.6 million students will appear for NEET, and the number of seats in the open category is 40000. Of this 40000, very few are government college seats while the rest are private medical colleges. So the main challenge with medical seats is that it is very hard to get the college of your choice unless you are in the top 30-40 thousand ranks. On the flipside, even if you have a 4 lakh rank you will get a seat in a private college as many people can't afford them and seats remain vacant.
Patient inflow is just one aspect of a medical college. If you go through the college pages in Careers360 we actually consider around 20-25 parameters for ranking out of which patient inflow is just one part. So, just go by the NIRF or Careers360 ranking for medical colleges and make your decision.
Q. Is NIT Srinagar good for CSE?
A. Yes, NIT Srinagar is a very good college, though it is going through some problems because of what is happening in Jammu and Kashmir. But other than that if you get NIT Srinagar and CSE, it is a very good choice for you to take up.
Q. What are the best private engineering colleges in India?
A. After the IITs, NITs, and IIITs, you actually have some very good private universities which have come up over the last 25-30 years like Amrita, Manipal, VIT, SRM, BITS Pilani etc. These are very good universities for you to study from. They have also established a legacy for themselves.
Every college is known for certain flagship courses. So if you were to do marine engineering, you wouldn't join an IIT, rather you should choose a university or college which specializes in marine engineering and offers it as a flagship course.
So what you need to do is list down the top 50 universities and colleges in the country and say that you will join any of these, given that you get the branch of your choice. If this doesn't happen you go down a level and ist out the top 5-10 colleges within your state and then join the course of your choice there.Once you have chosen any one of the colleges which have good faculty, infrastructure etc. and also got the branch of your choice, then very little can go wrong in your career path.
Q. Which college is good for a Maths program in India?
A. One of the best colleges in India for Mathematics would be Chennai Mathematical Institute. But other than this many liberal arts colleges do offer this course. For example, Ashoka has B.Sc Mathematics as a course.
Assuming you want to do Maths not in a B.Tech or a B.E way, it's better for you to join a liberal arts college on a 3 year course with mathematics as your major. There are 9-10 very good institutes solely dedicated to maths and then you have liberal arts colleges offering maths as a major.
Q. What is more important, knowledge or brand name of college? Does college name matter in professional life?
A. Brand name is not the correct term to use, because the college which advertises the most becomes a powerful brand. Unfortunately in India many of the colleges which advertise a lot are not the best but are powerful brands. This is branding.
But if you talk about what is a good college, in terms of its name, I would talk about it's legacy. The more number of years a college survives and sustains, it is meant to become more and more powerful as a name, because its legacy is good. You must have heard before of how the alumni associations of IIT, IIM, VIT, Manipal etc. are very powerful. Recently I heard a good story. One of the Manipal founders had gone to the US and wanted to meet some of the alumni, and a few 1000 people gathered. In the US alone there were about 10000 students who studied from Manipal and settled abroad. You would know that the likes of Satya Nadela and Rajiv Suri studied there.
So when you talk about the name of the college, you are essentially looking at the legacy of the college, the number of years the college has survived, and the number of alumni it has across the world who will handhold you when you need them. The reason these institutions are good is because their alumni network is so strong that wherever you go, you will find one person from the very same institute in some top position, and they will acknowledge you and guide you when need be.
So in conclusion, I don't think the brand name matters because the biggest brand may not be the best institute, but if you go down and ask whether the name of the college matters, then yes, it matters.
Q. My daughter will give her GCSE from the UK, and for class 11th she would like to get admission in India. How tough will it be for her to cope?
A. If your daughter wants to study in India, it will be better for her to join the ICSE school. This is because the ICSE curriculum resembles the international curriculum in many ways. In my opinion she will be able to cope up with the curriculum of ICSE far easier, because it will seamlessly move into a similar quality, standard and pedagogy.
So my advice is for you to look for ICSE schools, and it will be better for you because it will be far easier for her to shift back to the UK if she ever wants to.
Q. How would you compare B.Tech Computer Sciences vs B.Tech Computing and Maths?
A. B.Tech Computer Science & B.Tech Computing, I'll put them in the same bracket at this point of time. The moment you want to do B.Tech & in Computing or CS, popular specializations come to mind like Data, Data Sciences, AI, Machine learning, Gaming, Virtual Reality & Robotics etc. If you want to do B.Tech in computer Science because you want to do any of the specialization then you should go with that. But Maths is different; if you want to do fundamental work in Maths then you must rather do a B.Sc in Maths and then move into a Master's in Maths. When you talk about Maths, the application of maths as you keep moving along in your life is dramatically different.
Q. On what criteria should I compare different colleges for any particular course?
A. Colleges can be compared with NIRF ranking but the more you get down to the branches at course level, the difference opens up dramatically. There will be colleges open specifically for Petroleum Sciences or Cyber Sciences or Telecom Engineering etc. There are many colleges that come up only for specialized fields and then there are core colleges that are opened up for larger and broader engineering branches. It is very important for you to compare at the course level when you deal with the college. The course that the best college offers in a certain branch might not be as good as the course the second best college offers in a certain branch. For example IIST specializes in Space Technology, so you would much rather go there for the course than do Space Technology from an IIT.
As of now there are no ranking methods to determine the pecking order of colleges for a particular branch or stream. My advice to you is, go to Careers360.com and check out the college compare tool. You can compare upto 5 colleges there with the branch that you want to see. We will provide all data on placements, student intake, fee, infrastructure etc. for you to compare and decide on what is best for you.
Q. Which college should I choose - a Tier 1 college with less specialization or an average college with good specialization?
A. You should go for an average college with better specialization because a Tier 1 college with less specialization may land you in trouble. So it is far better to choose the course of your choice in a college which might not be the best but remember to ensure that the college you join is good and its integrity is intact.
This brings the question, should you not join a college that is new? To say that is also wrong. There are many good universities which have deep funding, deep pockets & welfare of the students in mind. But ideally just look at the institute's legacy.
Q. My son has cleared piano grade 6. Which are the best colleges in Mumbai & can he pursue best in both the worlds - Music & Literature?
A. The first thing I would tell you is look for colleges in Maharashtra and not specifically Mumbai. You can prefer Flame University which is in Maharashtra and offers fine arts as one of the minors where you also have music at the undergraduate level.
Having said that very clearly for your son, a liberal arts college is the place to go because they will have either minor or major in Fine Arts & Literature and he can also do something in Maths. For example he can do fundamental science in Mathematics & do a minor in Music. There is an opportunity out there and increasingly liberal arts universities are coming up in the country. So I would advise you to go and ensure that your son studies in liberal arts universities.
Checklist -10 Points on how to choose a college:
Stream: Choose the stream of your choice.

Location. Keep a list of top colleges that you would join irrespective of location and then make a list of local colleges.

Approvals: Check for approvals that the colleges have got from regulators and government authorities.

Diversity. Make sure that your college has students from all over the country or students from all over the state if you are looking at local colleges.

Transparency: Check for transparency in the college. If a college does not have the mandatory disclosure on its website, then do not join it. If the college is not taking part in NIRF or NAAC rankings, enquire from them about it. Avoid any college which is hiding data from you.

Ranking: Check the NIRF, NAAC and Careers360 rankings.

Faculty to Student ratio: Try and look out for the faculty to student ratio of the college.

Placement: Check the placement data at the college level and then at the branch level.

Infrastructure and others: Check the college infrastructure, labs, libraries, internships and projects.

Alumni and Legacy: Finally look out for the alumni network and the legacy of the institute.