IIT Bombay has released the GATE 2021 result along with the list of subject-wise toppers. Navneet Gangwar has secured AIR 4 in Computer Science. This was Navneet's second GATE attempt and he improved his performance from AIR 39 in GATE 2020 to AIR 4 this year. When asked about his GATE 2021 preparation, Navneet said he started preparing from 3rd year of his B.Tech. He advises future aspirants to start early in order to ace the GATE exam. Careers360 conducted an exclusive with Naveneet Gangwar to know his preparation strategy, best books for the GATE exam. Read GATE 2021 topper interview of Naveneet Gangwar (AIR 4 CS) to know his exceptional journey.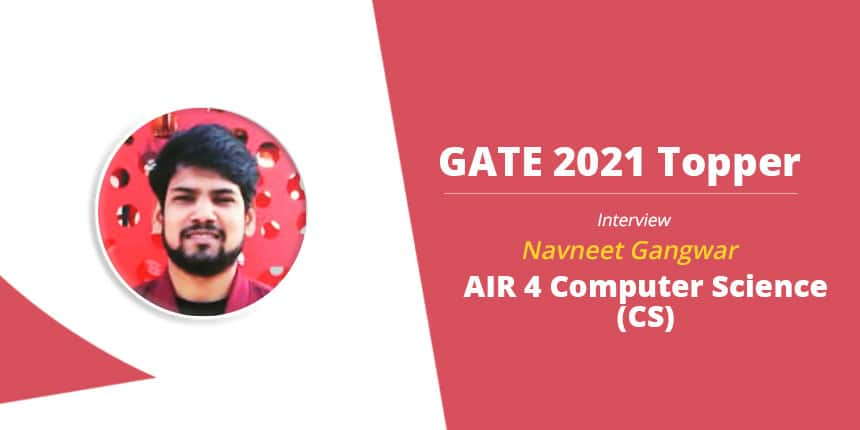 GATE 2021 Topper Interview, Navneet Gangwar, AIR 4 (CS)- "Be an early bird"
Careers360: Tell us something about yourself; Where have you done your engineering from and in which branch?
Navneet: My name is Navneet Gangwar. I have done my engineering in CSE from NIT Silchar.
Careers360: What was the GATE Paper you appeared in? What rank did you get in GATE 2021? What is your GATE score and how many marks did you secure out of 100 on the GATE paper?
Navneet: I appeared for GATE-CS and scored an AIR-04. My GATE 2021 score is 994/1000 and I scored 79.12/100 (normalized).
Careers360: Is this your first attempt or did you attempt GATE earlier?
Navneet: No, this is my second attempt. I appeared for GATE-2020 and scored an AIR-39.
Careers360: What was the reason you appeared for GATE 2021? Please elaborate.
Navneet: My reason to appear for GATE 2021 is to get into a decent PSU or a central government job.
Careers360: Have you applied to any PSUs recruiting through GATE? Which ones?
Navneet: As of now , i have not applied for any psu but will apply as the recruitment of various PSUs begin.
Careers360: When did you start your preparation? How did you prepare for the GATE exam? How many hours did you put in per day as per the stage of preparation?
Navneet: I started to prepare for gate in my 3rd year (5th semester). I used to cover subjects according to my btech course structure and used to do previous year questions once i finished a subject. I started writing test series in my fourth year and revised my subjects in accordance with test series .
Careers360: Have you taken any coaching? If yes- From where? How did it help?
Navneet: No, I have not taken any coaching.
Careers360: Can you share any preparation strategies with our readers? When should one start their preparation for GATE? How to schedule study time and make timetables?
Navneet: Start as early as possible. Previous year questions , revision and test series is the key to crack Gate. The amount of time one has to put depends on person to person and also on when you start your preparation.
Careers360: How important do you feel mock tests are and why? Is it true that if one solves the previous year's question papers, there is a good chance of cracking the exam successfully?
Navneet: GATE Mock tests are the most important aspect to score good ranks. Solving previous year questions helps if one has clear concepts and can understand the logic behind a question.
Careers360: Which books did you follow for GATE preparation? Pls name some very important must read books for GATE.
Navneet: There are some standard books that one can follow for gate. This could be found easily over the internet.
Careers360: Which are the topics one should focus more on? Kindly give us some details.
Navneet: If you have time , do not leave any subject. In case you have less time , focus more on DS algo and c programming . If one has too little time , subjects like compiler design can be ignored.
Careers360: What was the toughest aspect in your GATE preparation?
Navneet: The toughest aspect to gate is the vast amount of syllabus and the need to have a strong basic foundation towards concepts asked in exam. The chances of finding straightforward questions in gate exam is less.
Careers360: Name some important Topics that you feel are a must read for any student attempting the GATE exam?
Navneet: Gate questions can be asked from any topic .
Careers360: What did you do for leisure? Any specific activities that helped you unwind?
Ans : i play guitar.
Careers360: How should you schedule answering the GATE exam – which section to attempt first and which next? Did you have any strategy? Kindly share your exam experience with us.
Navneet: Start in a sequential manner and keep solving questions. If you get stuck on some question mark it for review and proceed.
After finishing first time, come to the "marked for review" questions and reattempt them and try to solve them.
Solving paper in multiple scans is a good way of time management in competitive exams.
Careers360: What did you feel was a tough thing for you in the GATE exam?
Navneet: Staying motivated over a long time could be difficult.
Careers360: Any advice for future aspirants?
Navneet: keep faith in yourself and prepare well. There is no stopping if you are committed to a task.