GATE 2021 Topper Interview: Anirudh Joshi (AIR 14 PE) - IIT Bombay has released the GATE 2021 result at its official website on March 19. Along with the declaration of the result, the exam conducting authorities have also released GATE 2021 toppers. Anirudh Joshi has secured AIR 14 in Petroleum Engineering. He started his preparations in August 2020 and this was his first attempt. Careers360 interacted with him to know his preparation strategy, best books for the GATE exam and others. Read GATE 2021 topper interview of Anirudh Joshi (AIR 14 PE) to know his exceptional journey.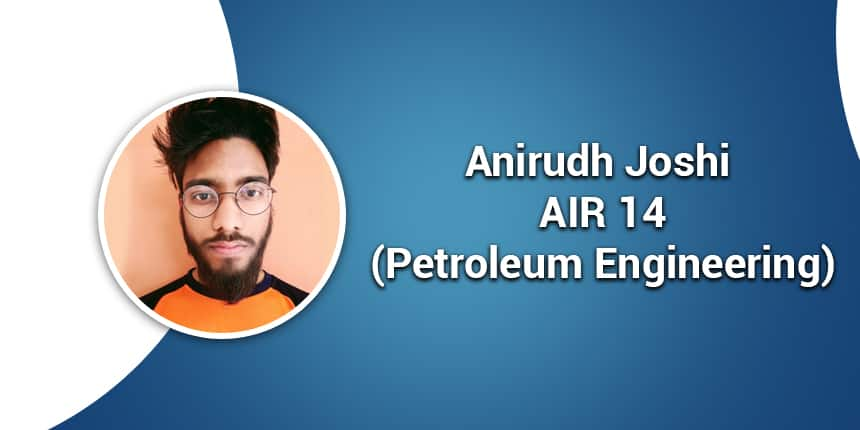 GATE 2021 Topper Interview, Anirudh Joshi, AIR 14 PE - "Stay Focused"
Careers360: Congratulations on becoming the GATE 2021 topper. How do you feel when you came to know that you are the topper of GATE 2021.
Anirudh: Thank you. I was quite confident while I was appearing in the exam. I attempted 64 questions out of 65 and I was quite confident getting rank in top 15. So I am satisfied with my score in the GATE exam.
Careers360: Tell us something about yourself; Where have you done your engineering from and in which branch?
Anirudh: I am a final year B.Tech (Applied Petroleum) student at University of Petroleum and Energy Studies, Dehradun.
Careers360: What was the GATE Paper you appeared in? What rank did you get in GATE 2021? What is your GATE score and how many marks did you secure out of 100 in GATE paper 2021?
Anirudh: I appeared for Petroleum Engineering exam. I got all India 14 rank and my score was 83.
Careers360: Is this your first attempt or did you attempt GATE earlier?
Anirudh: Yes, it was my first attempt.
Careers360: What was the reason you appeared for GATE 2021? Pls elaborate.
Anirudh: As GATE Petroleum Engineering is quite new and ONGC recruits through GATE every year. My father is also in Government Services so I am looking forward to pursuing my career in the India energy sector.
Careers360: Can you share any preparation strategies with our readers? When should one start their preparation for GATE 2021? How to schedule study time and make timetables?
Anirudh: I would suggest to go through the syllabus precisely, devote initial week or two understanding the syllabus and narrow down important topics. I will suggest books for initial couple of months post which referring to coaching material would be helpful. Preparation could be started 7-8 months prior to the date. For time table I would suggest using time based slots try completing 2 subjects in a day while revising. While I didn't followed any rigid time table but made sure of subjects I had been studying any day and scheduled next revision before hand.
Careers360: How important do you feel mock tests are and why? Is it true that if one solves the previous year question papers, there is a good chance of cracking the exam successfully?
Anirudh: Yes GATE mock tests are integral for sound preparation. Use your discretion while choosing test series and don't take test score seriously. Instead focus on the silly mistakes, they usually follow a pattern and systematically try reducing remember you can't eliminate them altogether. Previous year helps in getting an idea on question type so its recommended.
Careers360: Which books did you follow for GATE preparation? Pls name some very important must read books for GATE exam?
Anirudh: For Reservoir: LP Dake, Craft and Hawkins, Amyx, Zolotukhin.
For Production: Economides, Boyun Guo and Arnold for surface production.
For Drilling: Rabia, ME Hussein rest for EOR, Offshore, Well testing, HSSE, Exploration, Latest trends and Formation Evaluation stick to coaching material.
Careers360: Which are the topics one should focus more on? Kindly give us some details?
Anirudh: Focus on connecting subjects like couple Reservoir and Well testing, Production, Drilling are most sought after.
Careers360: What did you do for leisure? Any specific activities that helped you unwind?
Anirudh: I have been preparing from home since college has moved online thus I had ample amount of time. I did read non fiction, listen to instrumental music, investing in equity and used to workout.
Careers360: How should you schedule answering the GATE exam – which section to attempt first and which next? Did you have any strategy? Kindly share your exam experience with us?
Anirudh: I'd suggest starting serialwise and complete the exam in 5-6 rounds. Start with the easiest ones and progressively approach difficult ones.
Careers360: Have you applied to any PSUs recruiting through GATE? Which ones?
Anirudh: No, as of now I have not applied for any PSUs.

Careers360: When did you start your preparation?
Anirudh: I started preparing for from August 2021, I prepared for around 5-6 months.
Careers360: Have you taken any coaching? If yes- From where? How did it help?
Anirudh: Yes, I took my GATE 2021 coaching from Petrogate academy in Dehradun. It helped me a lot in my preparations. They provided me with study material and all useful books.
Careers360: Any advice for the future aspirants?
Anirudh: There's no such standard template on following a strict timetable or devoting minimum 5-6 hrs daily. Believe in yourself track your performance and keep your purpose behind writing the exam strong enough to overshadow preparation setbacks.