GATE 2018 Topper Interview Mudit Vajpayee (AIR 2 - PE) - "Decide, set an aim and go for it till you achieve it"
Petroleum Engineering was introduced in 2016 as one of the GATE papers. Unlike other disciplines, this GATE paper doesn't have many sample papers, past year question papers to go by. So preparation is a bit of challenge which Mudit Vajpayee overcame in flying colours, going on to score an all India rank of 2 in GATE 2018 PE. In this interview with Careers360, he elaborates on the important challenges of preparing for GATE, the books he has referred to and the topics he recommends as must read in order to crack GATE in Petroleum Engineering. Read on..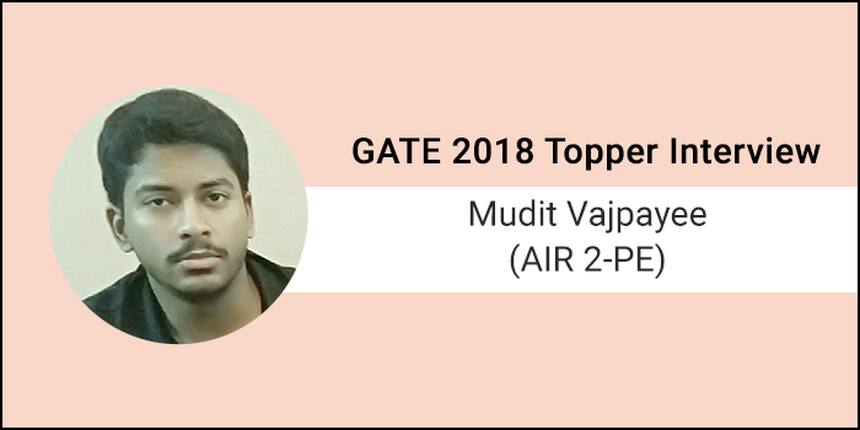 To Watch Video on GATE 2018 Topper Nikita Yadav's Preparation Strategy - Click here
Careers360: Tell us something about yourself; Where have you done your engineering from and in which branch?
Mudit Vajpayee: I have done my B.Tech in Petroleum Engineering from Pandit Deendayal Petroleum University, Gandhinagar. I graduated in 2017 and then I joined IIT (ISM) Dhanbad for M.Tech in Petroleum Engineering. Currently I am in my 2nd semester at IIT (ISM) Dhanbad. My father is a journalist and mother is housewife. I am from New Delhi.
Careers360: What was the GATE Paper you appeared in? What rank did you get in GATE 2018? What is your GATE score and how many marks did you secure out of 100 in GATE paper?
Mudit Vajpayee: I appeared in GATE Petroleum Engineering paper and secured an AIR 02 in GATE 2018. My GATE score is 966 and I secured 75.33 marks out of 100.
Careers360: Is this your first attempt or did you attempt GATE earlier?
Mudit Vajpayee: This is my 2nd attempt at GATE exam. I first attempted GATE exam in 2017 and managed to secure AIR 152 with 63.33 marks out of 100.
Careers360: What was the reason you appeared for GATE 2018? Pls elaborate.
Mudit Vajpayee: My sole reason of appearing in GATE 2018 was that I wanted to work with ONGC and pursue my passion for Petroleum Engineering.
Careers360: Have you applied to any PSUs recruiting through GATE? Which ones?
Mudit Vajpayee: I will apply to ONGC when their online application portal opens in April.
Careers360: When did you start your preparation?  How did you prepare for the GATE exam? How many hours did you put in per day as per the stage of preparation?
Mudit Vajpayee: Since preparing with my M.Tech studies side by side was difficult so I postponed my GATE preparation to the year end to focus on my M.Tech. I benefitted from this ploy since I scored a GPA of 9.70 in my first semester. I actually started my GATE 2018 preparation during my winter vacation i.e. mid December 2017 and continued till February 1, 2018 as my PE exam was on February 3, 2018.
Since PE was introduced just two years back, study material for Petroleum Engineering is sparse and not easily available so I prepared on my own i.e. self study. I have a wide collection of PE related eBooks and most of my preparation was spent making notes from them and solving problems.
Since I had very limited time for GATE preparation i.e. 1.5 months, I had to put extra hours for it. I never counted the hours but I can tell on some days I studied more than 14 hours a day
Careers360: Have you taken any coaching? If yes- From where? How did it help?
Mudit Vajpayee: I had not taken any coaching and prepared for GATE on my own. I had joined a test series by GATE AIOTS PE and found it good for practising time management and finding the frequent errors one makes.
Careers360: How important do you feel mock tests are and why? Is it true that if one solves the previous year question papers, there is a good chance of cracking the exam successfully?
Mudit Vajpayee: GATE Mock tests and online test series are important to analyse your preparation and see where you stand in comparison to others. They are a simulation of the real exam and help you give a feel of the real exam and the exam pressure involved. Practising online tests, one is able to analyse his/her frequent errors.
Careers360: Which books did you follow for GATE preparation? Pls name some very important
Mudit Vajpayee: According to me, the following books are a must read for any GATE PE aspirant.
Must read books for GATE
| | | |
| --- | --- | --- |
| S.No | Subjects | Authors |
| 1 | Engineering Maths | MADE EASY GATE Engg. Maths book |
| 2 | Oil & Gas Drilling | H.Rabia and Heriot-Watt University book |
| 3 | Formation Evaluation | Heriot-Watt and SLB Openhole Logs |
| 4 | Reservoir Engineering | Tarek Ahmed 4th Ed |
| 5 | Well Testing | Tarek Ahmed & McKinney and J. Lee |
| 6 | Production Engineering | Boyun Guo and Heriot-Watt Univ |
| 7 | Exploration, EOR, Offshore, HSE, Latest trends | Follow IIT (ISM) proff. notes provided on GATE AIOTS PE website |
Careers360: Which are the topics one should focus more on? Kindly give us some details
Mudit Vajpayee: Yes, Reservoir Engineering, Production Engineering and Drilling Engineering – these are 3 subjects out of the 10 which constitute around 50% marks in PE section of GATE exam. I advise students to study these subjects first, thoroughly, and then move on to other subjects.
Careers360: what was the toughest aspect in your GATE preparation?
Mudit Vajpayee: Covering the entire GATE PE syllabus in the limited 1.5 months time was the toughest aspect of my preparation.
Careers360: Name some important Topics that you feel are a must read for any student attempting GATE exam?
Mudit Vajpayee: Reservoir fluid and rock properties, Drawdown & buildup tests, Gas hydrate, Well control, Kill mud weight calculation, Numerical methods are some of the important topics that I feel are a must read.
Careers360: What did you do for leisure? Any specific activities that helped you unwind?
Mudit Vajpayee: There was no time for leisure activities in my case. But I used to exercise (at home) and watch Bigg Boss 11 to relax my mind.
Careers360: How should you schedule answering the GATE exam – which section to attempt first and which next? Did you have any strategy? Kindly share your exam experience with us.
Mudit Vajpayee: According to me one should first start with the aptitude section, complete it within 20 mins, then move on to the Engineering section and attempt it sequentially.
Careers360: What did you feel was a tough thing for you in the GATE exam?
Mudit Vajpayee: This year GATE PE paper was much difficult compared to earlier papers. I could feel it during the exam. So maintaining my calm and composure in spite of the difficult paper so as to not commit silly mistakes was tough for me.
Careers360: Any advice for the future aspirants?
Mudit Vajpayee: "Decide, set an aim and thereafter bash on regardless. Go like a fanatic, achieve that"- Col. S. S. Shekawat (21 ParaSF)
Questions related to GATE
Showing 15325 out of 15325 Questions