GATE 2017 Topper Interview - Ankur Tripathi (AIR 3 CE) - Focused Preparation and Dedication are sure mantras for success
GATE 2017 Results were announced on March 26 – a day earlier than expected. More than 9 lakh students were eagerly awaiting the result of one of the toughest PG entrance exams of the country. Amongst the jubilant students is Ankur Tripathi, a civil engineer from MNNIT Allahabad who scored an All India Rank 3 in GATE 2017 Civil Engineering. Sharing his GATE preparation mantras with Careers360, Ankur emphasises on focused preparation with a need to stay calm no matter what. Read on to know what challenges he faced, booked that were referred by him and his overall strategy for GATE 2017.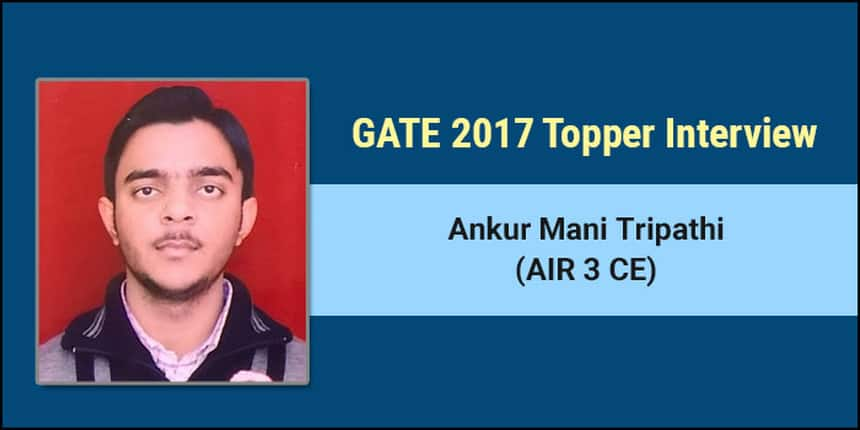 Related Posts:
Careers360: Tell us something about yourself; where have you done your engineering from and in which branch?
Ankur Tripathi:  My name is Ankur Mani Tripathi. I am currently based in New Delhi but I belong to Gorakhpur in UP.  I have done my civil engineering from MNNIT Allahabad.
Careers360: what was the GATE Paper you appeared in? What rank did you get in GATE 2017? What is your GATE score and how many marks did you secure out of 100 in GATE paper?
Ankur Tripathi: I appeared for GATE 2017 Civil Engg - session 1. I have secured an All India Rank of 3 in GATE 2017 Civil Engineering. My GATE score is 1000 while my GATE normalized marks are 90.68.
Careers360: What was the reason you appeared for GATE 2017? Pls elaborate your reasons.
Ankur Tripathi:  I am interested in PSU recruitment and GATE is a good platform to achieve that as leading PSUs are recruiting like that. I also can pursue my M.Tech if I wish to from IITs or NITs if I wish to as the scores are valid for a period of three years.
Careers360: Have you applied to any PSUs recruiting through GATE 2017?
Ankur Tripathi:  Yes. I have filled the application forms for NTPC, IOCL, HPCL etc.
Careers360: When did you start your preparation?  How did you prepare for the GATE exam? How many hours did you put in per day as per the stage of preparation?
Ankur Tripathi: I started my preparation in August 2016.  My focus was on understanding the concepts first so I started with that rather than mugging up the formulae's. GATE is a good analytical test that tests your aptitude and reasoning capabilities. So you need to be thorough with your concepts if you want to score a good rank. I studied up to 4 to 5 hours per day excluding the coaching hours.
Careers360: Have you taken any coaching? If yes- From where? How did it help?
Ankur Tripathi: I had enrolled in the classroom program from IES Master. I also enrolled for the online test series from MadeEasy. The reason is that such coaching centres concentrate on building concepts and removing doubts - the two main blocks of any competitive exams.
Careers360: Can you share any preparation strategies with our readers? When should one start their preparation for GATE? How to schedule study time and make timetables?
Ankur Tripathi: One simple strategy that must be followed is - don't go for shortcuts in the initial phase of your preparation. Prepare your concepts thoroughly such that you are strong with your foundation. Only during the last phase, refresh using the short notes and short cuts as time is a factor then. Start preparing as early as possible – the earlier the better. At the end, the rank will matter and not the time.
As for timetables, they are person specific so you should chalk out a plan that is best suitable for you. After all no one knows you better than yourself. However I would suggest at least 4 hours of self-study daily.
Careers360: What was the toughest aspect in your GATE preparation?
Ankur Tripathi: I feel that the toughest aspect is at the last stage of preparation when the course consolidates. You have to revise a lot and that causes stress. Ideally, the short notes come to the rescue at this time and that's why they are a must for anyone who is preparing for an exam like GATE. Short notes are quick aids to revise the topics and important points quickly.
Careers360: Name some important Topics that you feel are a must read for any student attempting GATE exam?
Ankur Tripathi: Well some important topics that one must be thorough are
Geotechnical Engineering highway

Fluid Mechanics
Careers360: Which books did you follow for GATE preparation? Pls name some very important must read books for GATE
Ankur Tripathi:  I had the extensive notes from my coaching. In addition standard books are sufficient for practising the concepts. Some books like L.S.Negi for Structures and R.F. Craig for Geotech are good for study.
Careers360: How important do you feel mock tests are and why? Is it true that if one solves the previous year question papers, there is a good chance of cracking the exam successfully?
Ankur Tripathi:  Mock tests are really very important. They will help you to get a simulation of the real exam and will release much of the pressure that you will face in the GATE exam simply because you become familiar with the exam format.
Another important aspect is to practise the GATE Sample Papers and previous year's questions. This is one of the most integral part of GATE preparation. Never compromise on that. They are a must.
Careers360: How should one schedule answering the GATE exam – which section to attempt first and which next?
Ankur Tripathi:  Again this is person specific. My strategy was to attempt the 1 mark questions in the technical section. These are easy and I needed to ease the stress to get going.
Careers360: What did you feel was a tough thing in the GATE exam?
Ankur Tripathi:  During the GATE exam, the toughest part is to keep calm and not take stress. Silly mistakes may occur if one is not careful hence a calm mind helps. Therefore my advice is that one should try to remain as calm as possible.
Careers360: What did you do for leisure? Any specific activities that helped you unwind?
Ankur Tripathi:  Yes this is very important. Don't make your preparation monotonous. Take a day off every 15-20 days and do whatever you like. I personally like to watch movies, so I watched some to relax.
Careers360: Any advice for the future aspirants?
Ankur Tripathi:  Stay calm and never lose hope. There is always light at the end of the tunnel for those who work hard consistently. Best of luck.
Read Also
Questions related to GATE
Showing 15338 out of 15338 Questions