Diploma in Engineering : Quite often students are not able to pursue a full time engineering course for various reasons. Just to get a basic understanding of the engineering field, students often do diploma in engineering. Students learn and understand the basic principles of scientific methods, computing and mathematical techniques to solve basic and common problems. Diploma in engineering helps the students in getting jobs as well.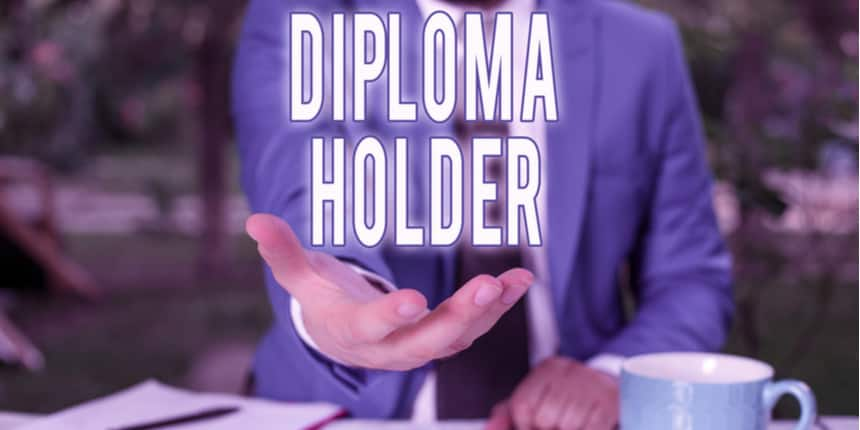 Why Diploma in Engineering?
Due to high course fees, students are unable to enroll themselves in Bachelor of Engineering or Bachelor of technology. So the students enroll themselves in a diploma in engineering course in order to get direct admission into the 2nd year of B.tech and B.E programme by a lateral scheme. Diploma in engineering acts as a back door entry into the B.tech/B.E reducing the overall fee for students taking up a diploma course.
Engineering courses, which are a total of six years including two years in class 11 and 12th and then four years in the completion of the complete course, the same qualification is achieved with the 3-year diploma course which students can pursue after 10th. Entrance engineering exams like JEE Main and JEE Advanced or state or common entrance exam can be skipped with the diploma courses.
Patterns of Diploma Programmes
The study of diploma in engineering courses can be in a yearly or a semester pattern depending on the institution. Majority of the yearly pattern diploma in engineering courses have a duration of three years. Whereas, the institution which follows the semester pattern provides the courses in four years. These four years are combined by three years of study and one year for an industrial internship. These courses can be classified into two types depending on the entrance exam qualification required, first is the post-senior secondary certificate and the second one as post-higher secondary certificate. Students after class 10th can pursue the post-senior secondary certificate courses offered by the institutes. Students after 10+2 can pursue the higher-senior secondary certificate courses offered by the institutes.
Eligibility Criteria for Diploma in Engineering
The minimum qualification required for admission in the diploma in engineering is senior secondary(10th) or higher secondary(10+2). The minimum aggregate of percentage varies from institution to institution, so candidates must check it before applying for diploma courses. Subjects like mathematics and science are mandatory subjects required in order to apply for any diploma course. Entry in diploma courses is mostly done through entrance examinations held by the state boards of technical education. After the successful completion of a diploma degree, students are eligible to enter B.Tech/B.E programmes. Not only students are eligible to get admission in B.Tech/B.E programme but a direct admission to the 2nd year is also possible. The test by which this is possible is known as Lateral Entry Test (LET). If students meet the criteria of the B.Tech/B.E programmes in the LET then students can apply for the 2nd year for their respective courses. The contents of the B.Tech/B.E programmes and diploma course are similar during initial stages but changes in the latter stage. Those who have a diploma in engineering may have an upper hand in terms of the fundamentals of the course than the regular B.Tech/B.E students who join the course after completing 10+2 board examinations.
Diploma Institute of Electronics and Telecommunication Engineers is a diploma level examination held by the Institution of Electronics and Telecommunication Engineers (IETE). The exam is conducted twice in a year (June and December) in various institutions across India.
Colleges offering Diploma in Engineering
Amrutvahini Polytechnic, Maharashtra
Ghousia Polytechnic For Women, Karnataka
Guru Tegh Bahadur Polytechnic Institute, Delhi
Hindustan Electronics Academy Polytechnic, Bangalore
Indira Gandhi Institute of Technology (IGIT), Orissa
Jalpaiguri Polytechnic Institute, West Bengal
Jawaharlal Nehru Institute of Technology, Pune
Diploma Courses in Engineering
Some of the popular diploma programmes in engineering are:
Diploma in Automobile Engineering
Diploma in Computer Science & Engineering
Diploma in Electronics and Communication Engineering (DETCE)
Diploma in Mechanical Engineering (DME)
Diploma in Aeronautical Engineering
Diploma in Information Science
Diploma in Civil Engineering (DCE)
Diploma in Electrical Engineering (DEE)
Diploma in Metallurgical Engineering
Diploma in Electronic Instrumentation & Control Engineering
Diploma in engineering helps students to gain practical and skill-oriented knowledge. These courses are focused more on application-based learning, helping the candidates to be technically sound with thorough understanding of key concepts and systems. This article provides brief information about diploma in engineering, patterns of diploma engineering, eligibility criteria, and institutes offering diploma in engineering courses which would be beneficial to the aspiring students.
Frequently Asked Question (FAQs) - Diploma in Engineering
Question: Is a diploma an engineering degree?
Answer:
Diploma in engineering is basically skills-oriented training, focusing primarily on technical expertise and engineering skills. It is a technical degree taken up at the undergraduate level.
Question: What is meant by a diploma in engineering?
Answer:
A diploma in engineering is primarily a technical degree and is a class below an undergraduate degree. A diploma helps the students to understand some basic knowledge of engineering.
Question: How many courses are there in diploma?
Answer:
There are 256 courses that a person is eligible to pursue after 10th and 10+2.