My PSU Interview Experiences - Revanth Dongre (GATE 2017 AIR 70 CH)
My PSU Interview Experiences – Revanth Dongre who scored an All India rank of 70 in Chemical Engineering in GATE shares his PSU interview experiences with GATE aspirants on this page. Speaking to Careers360, Revanth who has chosen to join ONGC talks about his preparation for the PSU Interviews, questions asked by the panelists in the PSU interview, his firsthand account of each interview he as appeared for. A chemical engineering from IIT Madras, Revanth appeared for GATE to join a good PSU and build a successful career in his chosen field. In addition to his experiences, he also cautions about some hiccups he faced during the PSU Interviews, some dos and don'ts for all PSU aspirants. Future GATE aspirants can read the interview to get an inkling of the preparation they may have to undertake for PSU recruitment if they qualify in GATE.
Stay up-to date with GATE News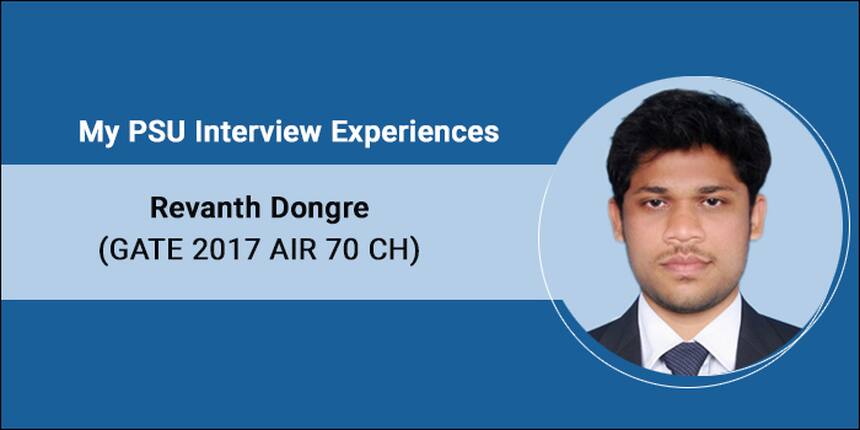 Careers360: Tell us something about yourself; Where have you done your engineering from and in which branch?
Revanth Dongre: My name is Revanth Dongre and I belong to Sirpur Kaghaznagar from Telangana. I pursued Chemical Engineering from the Indian Institute of Technology-Madras.
Careers360: What was the GATE Paper you appeared in? What rank did you get in GATE 2017? What is your GATE score and how many marks did you secure out of 100 in GATE paper?
Revanth Dongre: I appeared in the GATE 2017 Chemical Engineering paper. I secured an All India Rank of 70 in GATE 2017. I scored 77 out of 100 marks and my GATE 2017 score is 767.
Careers360: Which PSUs did you apply to? Which ones did you get a call to?
Revanth Dongre: The PSUs to which Iapplied are ONGC, HPCL, IOCL and GAIL. I got the interview calls from all of them except GAIL, which is yet to start its recruitment process.
Careers360: Which PSU have you joined in? Any particular reason?
Revanth Dongre: I am yet to join one. I got the selection letters for HPCL and ONGC. However IOCL is yet to announce its results. My personal preference is to join ONGC because it is one of the fortune 500 companies and has a Maharatna status. Since ONGC is an exploration and production company, there will be a lot of opportunity to learn. The salary package and the allowances provided by ONGC are also quite attractive.
Popular Online Engineering Courses and Certifications
Careers360: What are the general GATE cutoff marks for the PSUs you appeared in interviews for?
Revanth Dongre: The GATE cutoff for the PSU's in which I had appeared for are given in the table.
PSUs and GATE Cutoff
| | | | |
| --- | --- | --- | --- |
| S.No | PSU Name | Post Applied | GATE Cutoff |
| 1. | ONGC | Production- Chemical | 659 Gate score |
| 2. | HPCL | Officer- Chemical | 73.36 gate marks |
Careers360: How many candidates were called for the interviews? What are the factors that play a role according to you in the interview calls?
Revanth Dongre: The number of candidates that were called for interview by ONGC was 1:6 while HPCL called the candidates in the ratio of 1:3.
The major factor that is taken into account to get the interview calls for the IOCL and the ONGC is your GATE score.
Careers360: How did you prepare for the PSU interviews? Any factors one needs to keep in mind like knowing about the company and such things?
Revanth Dongre: Once I cleared the GATE exam with a good rank, I focussed on preparing for the technical questions. At the same time, I kept myself abreast of the current affairs and tried my best to ensure that I do not miss much. I also made some short notes for the technical questions and also prepared answers for some standard HR questions. I studied comprehensively about the company because you need to be aware of the company you are working for as well as be able to answer any questions if the panel asks you.
When I say well versed about the company I mean that one should know about the operating sites, capacity, revenue, turnover as well as about the ongoing projects. It is advantageous to also know the names of the top management and other key persons of the company.
Careers360: How many members were in the interview panel? If possible, can you specify how many technical people and others were in the interview panel?
Revanth Dongre: There were seven members in the interview panel of ONGC and nine members in HPCL. The panelists comprised of experts from the technical team, HR and there was a psychologist. In the IOCL interview, there were 3 panelists from the technical and the human resources department.
Careers360: How did they start the interview – apart from personal introductions? How long was the interview?
Revanth Dongre: In the ONGC interview, after the personal introduction, they asked me about the majorproject which I had undertaken at the time of the graduation. They also asked me about the internship which I had done during my college days. Technical questions were asked about the project which I had taken up. Some questions related to chemical engineering were also asked. The interview lasted for approximately 15 minutes.
The HPCL interview lasted for around 45 minutes. In the HPCL interview, the questions were mostly related to HR as they were asking me about my family background apart from the standard HR questions.
At IOCL, they focused more on asking technical questions. They also enquired about my family background. The interview lasted for 20 minutes.
Careers360: What was your experience at the PSU interview? What kinds of questions were asked? Core subjects questions, Current Affairs G.K etc? Please specify.
Revanth Dongre: The different type of questions that were asked by the interview panelists of different PSUs are given below.
Technical Questions:
S.No

Questions Asked

Name of the PSU

1.

Types of Control Valves

Types of Re-boilers

Orifice meter working

ONGC

2.

Pressure drop in a pipe

Moody chart

Azeotropic Distillation

Pressure effect on Distillation Column

Working of Pumps

NPSH

IOCL
About the Company
S.No

Questions Asked

Name of the PSU

1.

About the Company

Name of the CMD

Major Products

Plant locations

2.

Capacity and work in the company
General Awareness:
| | |
| --- | --- |
| S.No | Questions Asked |
| 1. | Ministers Portfolios and Sports |
HR Questions:
S.No

Questions Asked

Name of the PSU

1.

2.

Short and Long term Goals

Positions of Responsibility

Extra-curricular Activities

Why this company

Strength and weakness

HPCL

IOCL

IOCL,HPCL, ONGC

HPCL
Careers360: At any point of time, did you feel confused about any questions or was any part of the interview tough? In what way?
Revanth Dongre: My confusion was for two questions
1. Which company would I join if I get placed both in ONGC and HPCL – this was a personal dilemma and tricky to answer as well.
Q. What would be the work for a chemical engineer in a refinery - This was asked in HPCL. I was a bit confused. However I do know now that one can get placed in the process, planning, pipeline and downstream operations.
Careers360: Did you participate in any group discussion during the PSU recruitment? If yes, How was the experience? What kind of topics should one expect? Any tips.
Revanth Dongre:I participated in the group discussions & group tasks in HPCL as well as IOCL. Though, I did not initiate the group discussion, I participated later on and encouraged others to speak. Towards the end of the interview, I feel I was able to make an impact.
Some of the topics of group discussion commonly asked are

Demonetisation

Swachh Bharat

Make in India

Olympics

Women in India

Online transactions

TV Advertisements and

Corruption etc.
There is a need to focus on the current as well as general topics for group discussion.
Tips for Group Discussion
Try to initiate the group discussion as others might air the same views as yours

Your voice should be audible but do not unnecessarily raise your voice

If you are unaware about any topic, try not to speak unnecessarily, instead support someone else's point or opinion

Defend your views with valid points

Take the initiative to summarise the group discussion well

Don't argue and be loud about your points
Remember that speaking eloquently in English is not the criteria to judge the person in group discussions. Candidates are evaluated for their communication skills, leadership qualities, whether they are team player or not. It is advisable to give your best and express your views.
Careers360: Were the PSU Interviews easy or tough? Any tips on what not to do for the interviews?
Revanth Dongre: The interview for PSUS recruiting through GATE was neither too difficult nor too easy. However, there are certain do's and dont's, which may be kept in mind.
Do's:
Eat healthy food and sleep properly prior to the interview

It is important to dress up formally. First impression plays an important role.

Have a genuine smile

Establish Eye contact

Remain calm and confident

Accept if you do not know

Speak in a polite manner. Try to make your interview more interactive
Dont's:
Think before you speak.

Do not lose confidence if you do not know any answer

Do not get confused
Points to remember:
The interview panel is basically testing you on how you behave in stressful situations and how convincing you are. You are not expected to answer all the questions. So accept gracefully if you do not know the answer to any question.

Interview is an elimination round. There are many candidates, who have decent ranks but are not able to get selected as they are not able to perform well on the day of the interview. Do not neglect preparing for the interview. In fact, start preparing for it from the day your GATE result is declared.


Careers360: Any other important tips to GATE aspirants who wish to join PSUs?
Revanth Dongre: Draw a proper time table and adhere to it. I would suggest that you start preparing for the interview with the subject/Topics in which you are comfortable in as it will boost your confidence. After that, focus on the difficult topics or the ones which you find boring.
Visualise your dreams. Try to use your leisure time effectively and at the same time keep an eye on your goal. Spend time with people who boost your confidence and morale. Identify your weak areas and convert them into your strengths.
It is not easy to achieve all your goals but hard work definitely pays off. Do not lose confidence and keep trying till you achieve your goal.

Important things to focus while preparing for the PSU recruitment interview:
Prepare in a manner that minimizes your mistakes.

Keep revising on daily basis.

Keep updated with the current affairs

Know the company before you go to the interview
Lastly be confident. All the very Best to GATE 2018 aspirants!
Stay tuned to engineering.careers360.com for more news and information on GATE 2017.
Get real-time alerts on exam & colleges at your fingertips with Careers360 App! Click Here to Install or Give a missed call on 08080944727 to get app link.
Questions related to GATE
Showing 16237 out of 16237 Questions