If you are confident in your abilities and work ethics, you don't have to bet on hundred things, hoping that at least one bet will strike gold. Instead you zero in on a target and punch on it with all your might. That is what Ameya Dileep Zarkar did in MHT CET 2018, where he came in 2nd in the state. From the start, Ameya's only dream was to do well in MHT CET so that he can get into a top college in his state. And once the goal was locked in, he worked at achieving it meticulously and relentlessly. To ensure that no efforts were spared, he even used JEE Main as a prop to assess his preparation in the last few days and ensure nothing went wrong. A firm believer in quality over quantity, the MHT CET 2018 Topper is a multi-layered genius waiting to explode.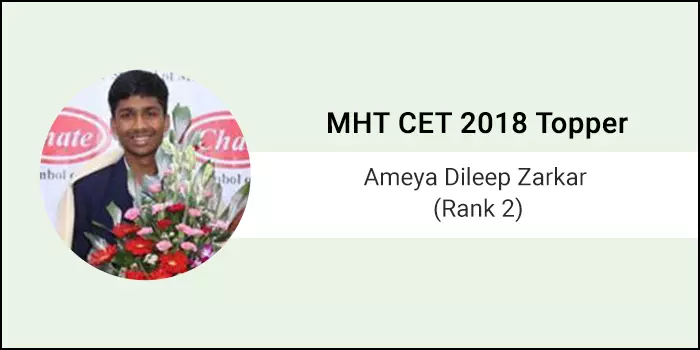 MHT CET 2018 Topper Interview: Ameya Dileep Zarkar (AIR 2) "Quality matters more than quantity"
Careers360 got in touch with the MHT CET 2018 Topper for an interview and to congratulate him on his wonderful achievement. Read on to find out what he has to say about MHT CET preparation, success mantras, and much more.
Careers360: Congratulations for your outstanding performance in MHT CET! What was your reaction upon knowing your rank?
Ameya Dileep Zarkar: I didn't know what to do, whom to tell, because at that moment it was not clear I stood second in MHT CET 2018. It was only after I confirmed with two to three sources that I was sure that I have secured the second rank. I was surprised and at the same time felt very happy.
Careers360: Tell us something about yourself. Where did you do your schooling?
Ameya Dileep Zarkar: My college was Chate Coaching Classes. It was Sant Tukaram Junior College, Pune, which is owned by Chate Classes.
Careers360: What is your score in MHT CET? What is your all state rank and category rank?
Ameya Dileep Zarkar: My score in CET is 191 out of 200. Subject-wise scores are 92/100 in Mathematics, 50/50 in Chemistry and 49/50 in Physics. My state rank is 2.
In 10+2 exam, I scored 95.38%.
I scored 182 in JEE Main 2018 and that too without any IIT coaching. My JEE Main rank is around 9000. I gave only three exams – JEE Main 2018, MHT CET 2018 and board exams.
Careers360: When did you start your MHT CET preparation?
Ameya Dileep Zarkar: I started my preparation at the end of class 11. When we were starting our preparation, we came to know that questions carrying around 40% weightage will also be asked from 11th standard. A lot of us panicked a bit, thinking we have to go through the 11th syllabus once again, along with the 12th syllabus. But luckily, the 11th syllabus is not so difficult especially if your concepts are clear.
Also, there were only a few selected chapters of 11th that was in MHT CET syllabus, which made my job easier.
Careers360: Tell us something about your preparation strategy and daily routine for MHT CET?
Ameya Dileep Zarkar: Because of classes and other things, I had very little time to prepare at home. So I stressed on quality over quantity. I made it a point to read the entire text books, word-for-word, because no questions are asked outside the textbooks in MHT CET exam. I also worked hard to understand the concepts. If I had difficulty understanding a concept, my teachers were always there to help me. They always had convincing answers to my questions, and if I was not doing well, kept pushing and encouraging me. In fact, the moral support I received from my teachers was a great asset during the exam as I was able to have a stable mind.
Careers360: Was there a difference in the preparation strategy in the last months of MHT CET considering that the board exams also are during this period? How did you manage preparation for both?
Ameya Dileep Zarkar: After board exams, we had around two months or so to prepare for MHT CET. So, I could easily concentrate on my board exams in the days leading up to the exam. Once the board exams were over, I plunged into my MHT CET preparation.
Interestingly, I managed to do most of the preparation in the class itself. So, I was able to accommodate both the exams without much difficulty.
Careers360: Did you take coaching for MHT CET and if yes from where? What are the benefits of coaching according to you?
Ameya Dileep Zarkar: I took coaching at Chat Coaching Classes. It was helpful in that it helped me polish what I had learnt. Then there were also many shortcuts that I learnt and found to be very useful in the exam. Personally I feel coaching classes helped me remember key points more clearly.
Careers360: Mock tests and sample papers – how extensively did you practice with the help of these? Do you think practising from the previous year papers help and how?
Ameya Dileep Zarkar: I took lots of tests, as it helped me judge where I stood with regard to my preparation, and identify areas that needed to be plugged. Mock tests also tell you where you are going wrong, so course correction becomes easier. I have not counted, but probably I have given more than 50 tests.
Time management skills also get enhanced through mock tests. For example, initially I was fighting to complete the paper in the allotted time, but through continuous mock tests my speed and time management skills improved, and by the end of my preparation I could complete the test with 15 or so minutes still left in the clock. When I took a test, I always set the timer to keep track of how quickly I was able to solve the problems. I also solved dozens of MHT CET 2018 sample papers and also previous year's question papers.
Careers360: Are there any special books that you feel have helped with your MHT CET preparation? Are the school text books adequate for preparing for MHT CET and Class XII?
Ameya Dileep Zarkar: I practiced study material provided by the coaching institute as well as text books. One advantage of reading coaching material was they contained lots of short cuts for solving problems. Meanwhile text books are good for concept-building and all-round knowledge.
I followed subject-wise books and practice papers by Nikita Publications Latur and Pradnya. The short-cuts given in these books, apart from those included in the coaching material, are very handy.
Careers360: How was the MHT CET exam different from JEE Main?
Ameya Dileep Zarkar: From the start, I wanted to do well in MHT CET, and JEE Main was just a prop, simply to assess my preparation. So after board exams were over, I barely spent more than a couple of days for JEE preparation, and instead worked on MHT CET.
The most important thing in CET is time management, as unlike JEE Main, questions aren't too concept-oriented or difficult. The extensive mock tests that I took helped also helped me sail through.
Moreover, while there is negative marking in JEE Main, there is no such thing in MHT CET. So candidates can attempt as many questions they can without fear of being penalized. Difficulty wise, JEE Main is much more difficult than MHT CET.
Careers360: Did you face any problem during the MHT CET examination? Which subject was the easiest and which was the toughest? What do you think is a tough thing to manage during the exam?
Ameya Dileep Zarkar: No, I didn't face any problems. Chemistry was very easy, as was Physics. Mathematics was may be a little difficult.