GATE 2021 Paper Analysis for ES by APSEd - Available Now!
GATE 2021 Paper Analysis for ES by APSEd - The concerned authorities of APSEd have released the GATE 2021 Environmental Science and Engineering paper analysis. Candidates can check the GATE paper analysis 2021 for ES by APSEd from this page. The GATE 2021 ES Analysis by APSEd provides details like difficulty level, overall analysis, subject-wise weightage, expected cutoff, etc. It should be noted that the compiled GATE paper analysis for ES by APSEd is memory-based since the examination is conducted in computer-based mode. IIT Bombay conducted the GATE Environmental Science and Engineering paper on February 7. Read the full article to know more about GATE 2021 Paper Analysis for ES by APSEd.
GATE 2021 Latest: Check GATE answer key 2021. GATE result 2021 to be released on March 22. Also, Check GATE 2021 cutoff.
Stay up-to date with GATE News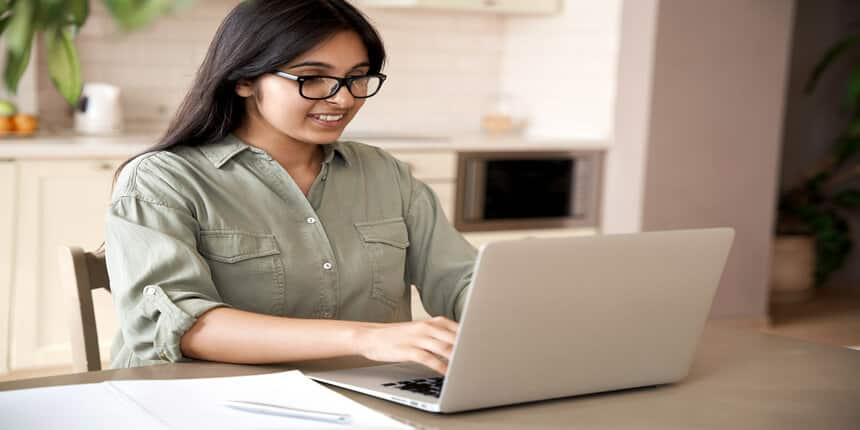 GATE 2021 Environmental Science and Engineering Paper Analysis by APSEd
GATE 2021 Environmental Science and Engineering [GATE ES] was conducted on February 7. This GATE ES paper was introduced this year and conducted by IIT Bombay. A total of 15,000+ aspirants appeared for the paper. If you are an environmental enthusiast and want to pursue it as a career, this paper could open doors for you.
Students had a mixed opinion on the level paper; But definitely, not too many surprises and the questions were in line with the initial expectations.
Overall Analysis of GATE 2021 ES by APSEd
APSEd has analysed the GATE 2021 paper. The key highlights of the ES papers are as follows:
GATE 2021 ES paper being introduced for the first time, the only source of information we had to access beforehand were the ES syllabus and sample paper. Overall the paper was moderate, neither too tough nor easy.
The paper had more conceptual questions rather than memory-based questions. A clear understanding of topics was required to attempt the questions. There were a few tricky questions as well.

The GATE ES paper had about 10-12 MSQs.

Aptitude and Mathematics turned out to be easy and direct questions were asked from these subjects.

There was a good emphasis on NATs with 12-15 questions asked, especially from subjects like Solid Waste Management, Water & Waste Water Engineering and Environmental hydraulics.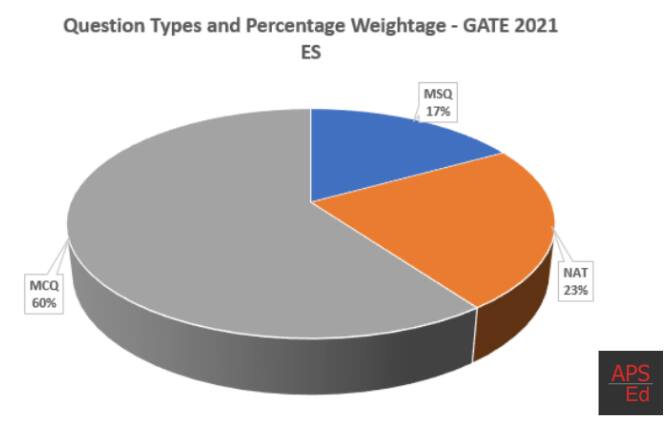 The questions were divided amongst all subjects, almost in-line with the Environmental Science sample paper subject weightage
Subject-wise Weightage GATE 2021 ES
Solid and hazardous waste management carried the maximum weightage in the paper out of all the ES subjects. Water & Waste Water Treatment and Management was next to this, in the paper around 8 questions were asked from the same.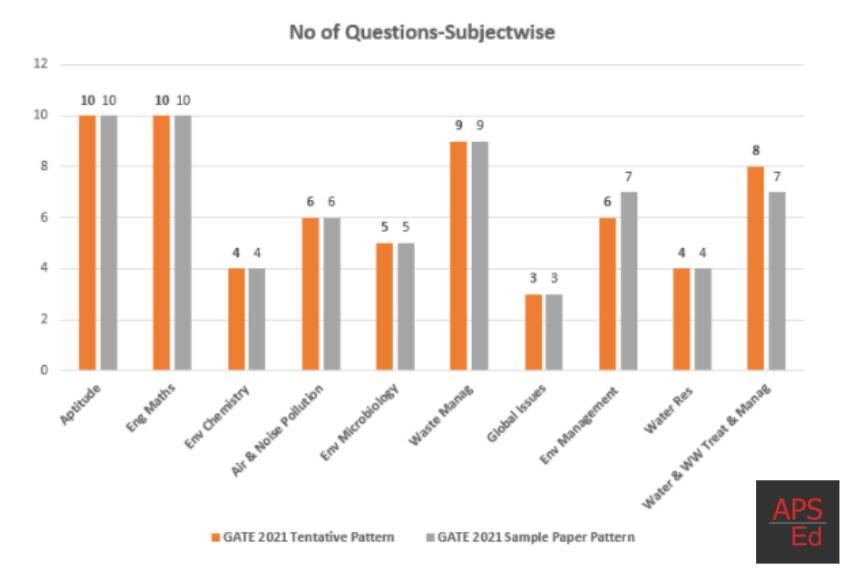 Global and regional environmental issues, Environmental Chemistry carried the least weightage in the paper.
APSEd will release the answer key as soon as the response sheet is out by IIT Bombay Officials in the 3rd week of February.
Expected GATE ES Cutoff 2021
Based on the paper analysis, and previous year new GATE papers introduced - experts at APSEd have predicted the cut off for GATE Civil Engineering 2021.

In recent years when they introduced some new papers in GATE, their cutoff went pretty high, as high as 35. The cutoff of these papers(having less candidates) are very volatile in nature, so difficult to predict. It goes 35 in one year and 25 in the next year. This was probably due to less number of candidates appealing for the paper or easy level of the papers.
This GATE ES paper had around 15000 candidates, so we compared the paper with GATE Physics, Chemistry and Instrumentation, which had around the same number of candidates. The OC cut off may swing around 30.
Coming to the rank part, a paper which has less number of candidates generally gives you a very good rank with a comparatively low score. Talking about GATE Physics, a 70+ mark would give a top 100 rank, a 60+ in GATE Chemistry would give you a top 100 rank. In these papers, just 40+ marks give you a top 1000 rank. The GATE ES paper is comparable with these papers.
Disclaimer: The highlights, paper analysis, subject weightage and expected cutoff are memory-based and based on students who appeared for GATE 2021 ES.
Questions related to GATE
Showing 16217 out of 16217 Questions