Yogesh Singh Dosad who has secured AIR 23 in Agricultural Engineering in GATE 2021 is a final year B.Tech student. Due to much interest in the concepts of engineering, he opted to appear for the GATE 2021 exam in Agricultural Engineering. Yogesh believes that the most important strategy to crack the exam is to stay consistent in the preparation rather than thinking about GATE results. During an interaction with Careers360, Yogesh talks about his preparation journey and how he managed to crack GATE in one attempt. Read the detailed interview of Yogesh Singh Dosad below.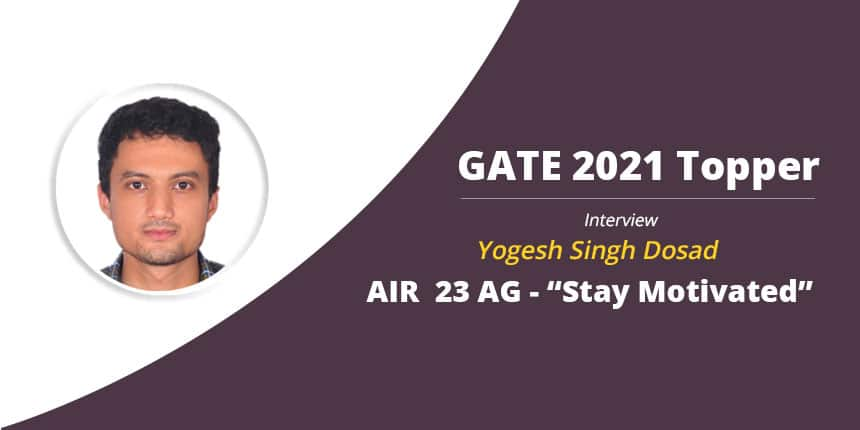 GATE 2021 Topper Interview, Yogesh Singh Dosad, AIR 23 AG - "Stay Motivated"
Careers360: Tell us something about yourself; Where have you done your engineering from and in which branch?
Yogesh: I am Yogesh Singh Dosad and I am from Haldwani ( Uttarakhand) . I appeared in the ICAR exam in 2017 and got a seat in ANGRAU. So, currently I am in final year and pursuing Btech AG from Acharya N G Ranga University , AP.
Careers360: What was the GATE Paper you appeared in? What rank did you get in GATE 2021? What is your GATE score and how many marks did you secure out of 100 in GATE paper?
Yogesh: I appeared in the GATE 2021 Agricultural Engineering exam and have secured AIR 23. I have obtained 45 marks out of 100 with a GATE score of 723.
Careers360: Was GATE 2021 your first attempt or did you attempt GATE earlier?
Yogesh: Yes , it's my first attempt.
Careers360: What was the reason you appeared for GATE 2021? Pls elaborate.
Yogesh: From my B.Tech days itself, I was keen to have a good set of knowledge and skills. I always wanted to pursue a masters degree and my interest in B.Tech core topics helped me opt for GATE rather than other exams like CAT , CDS , AFCAT and all.
Careers360: Have you applied to any PSUs recruiting through GATE? Which ones?
Yogesh: No , I haven't applied to any PSU
Careers360: When did you start your preparation? How did you prepare for the GATE exam ? How many hours did you put in per day as per the stage of preparation?
Yogesh: When I was in the 2nd semester of 3rd year, I started my preparation for the GATE 2021 exam . My main preparation strategy was self study and I usually prefer standard books rather than other stuff and youtube videos. During the initial days, I used to put 3 to 4 hours a day, but during the end months like 2-3 months before exams, I have spent around 8 to 9 hrs.
Careers360: Have you taken any coaching? If yes- From where? How did it help?
Yogesh: No, I didn't take any coaching.
Careers360: Can you share any preparation strategies with our readers? When should one start their preparation for GATE? How to schedule study time and make timetables?
Yogesh: To be honest, 1 year is more than sufficient to prepare for GATE, however, it varies from person to person. It basically depends on factors like how much capacity he/she has to cover the syllabus and clear the concepts .
One suggestion I would like to give to future GATE aspirants is, "Always stay motivated by saying that yes I have prepared very well and I am going to perform well in the GATE exam" .
Usually, low scores in GATE mock tests make aspirants demotivated. Therefore, aspirants should make an everyday time table having the list of topics and concepts that must be covered by the end of day. Also, one thing that I have learnt is that you don't need to be a smart working person to crack the exam but having a schedule and following it sincerely will make you crack the exam with flying colours. Lastly, never compare yourself with others.
Careers360: How important do you feel mock tests are and why? Is it true that if one solves the previous year question papers, there is a good chance of cracking the exam successfully?
Yogesh: In my opinion, GATE mock tests play a vital role in getting good rank because it helps you know the weak areas like calculation mistakes, not reading questions properly , not applying correct formula or concepts , speed and accuracy to solve a question.
Careers360: Which books did you follow for GATE preparation? Pls name some very important must read books for GATE.
Yogesh: Some of best books for GATE 2021 exam are:
GATE digest by Sanjay kumar

Tractor at a glance by Sanjay kumar

Soil and water conservation engineering by R.suresh

Concepts and applications in Agricultural Engineering by M K Mohanty and N B Dash.
Careers360:: Name some important topics that you feel are a must read for any student attempting the GATE exam?
Yogesh: Soil and water conservation , irrigation , hydrology , soil mechanics , surveying and levelling ,IC engine ,Governor , lubrication,drying , psychrometry , heat transfer ,milling , seed drill , thresher , tillage implements are some of the major topics for GATE Agriculture Engineering exam.
Careers360: What did you do for leisure? Any specific activities that helped you unwind?
Yogesh: I enjoy going for a walk. As I am somewhat more inclined towards fitness, I used to play sports like cricket . table tennis and badminton.
Careers360: How should you schedule answering the GATE exam – which section to attempt first and which next? Did you have any strategy? Kindly share your exam experience with us.
Yogesh: I prefer to go with aptitude and attempt only those questions in which you are confident. Next, proceed towards the technical part and follow the approach as in aptitude. Remember that every minute counts and you have to utilize every minute. Don't waste time on questions that are not familiar.
Careers360: What did you feel was a tough thing for you in the GATE exam?
Yogesh: The toughest part is to be consistent for the GATE exam in college days. Though its somewhat hectic, it is important to manage it and prove your real hard work.
Careers360: : Any advice for the future aspirants?
Yogesh: Stay consistent in your preparation rather than thinking about GATE results. This will help the aspirants to crack the exam.